McKinley County Humane Society
---
Our Featured Pet: A variety of kittens are available for adoption as well as many nice adult cats.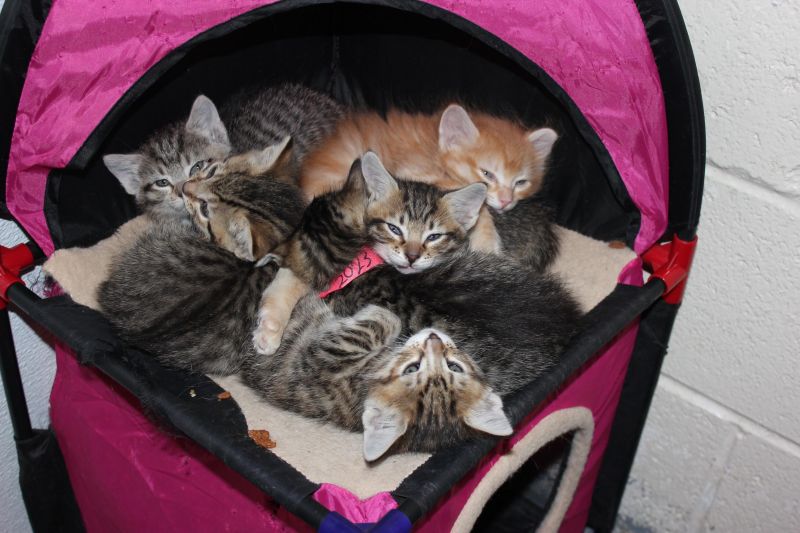 SPAY & NEUTER! MAKE YOUR PETS A PART OF YOUR FAMILY! TRAIN; DON'T CHAIN!
Who We Are
McKinley County Humane Society takes in 500+ dogs and cats per month from the city-county limits as well as from the outlying reservations. If you are looking for a new pet, it is best that you visit the shelter in person to meet your new companion as online listings may not be up-to-date. All adopted animals are sterilized prior to being released for adoption. Shelter Data - Animal Counts Data - 2016 (through July 2016) 2285: total, year-to-date animal intake 1970: total, year-to-date live outcomes 263: total, year-to-date all other outcomes 1669: total, year-to-date canine intake 1493: total, year-to-date canine live outcomes 149: total, year-to-date canine all other outcomes 616: total, year-to-date feline intake 477: total, year-to-date feline live outcomes 114: total, year-to-date feline all other outcomes


Mission:
McKinley County Humane Society envisions a future of no more homeless pets living in loving responsible forever homes and a safe community for pets and people.
---
SHELTER SPAY/NEUTER PROJECT!
MCHS has a spay-neuter clinic open three days each week to reduce our area's EPIDEMIC PET OVERPOPULATION. We offer discounted spay/neuter services for low income owned dog owners to reduce the stray population and shelter intake. MCHS is honored to partner with the Zimmer Foundation's "For the Love of Cats" program to offer FREE feline spay and neuter surgeries for low income owned pet cats and feral cat colony caretakers. More "fixed" cats mean fewer stray cats and fewer unwanted cats/kittens surrendered to the shelter. We want to reduce the number of intact cats in our area so stop by the shelter to set up your spay/neuter appointments.. Stop by the shelter for more info and to make an appointment for your pets!

---
Donate to the McKinley County Humane Society through PayPal using the link below.
Click Here to Donate by PayPal
---
Wish List
• Foster cat & dog parents • Spay-neuter dog fund sponsors • Transfer fund sponsors • Volunteers to walk dogs/care for cats • Pet food • Name-brand puppy and kitten food • Blankets & towels • Kitty litter • Pet beds
---

Our dogs love to sleep on Kuranda Dog beds. If you would like to donate a bed at a special wholesale price for a another dog to sleep in comfort, please clickhere.

Adopting a friend
Check at the shelter weekly for new cats & dogs coming into the shelter. Shelter animals make the best pets and will reward you with their loyalty and love.

---
OUR AVAILABLE ADOPTABLE PETS!
Come Visit Us!
McKinley County Humane Society
P.O. Box 550 - N. Hwy. 491
Gallup, NM 87305
Phone: (505) 863-2616

---

[Home] [Information] [Shelters] [Search]