McKinley County Humane Society
---
Our Featured Pet: A variety of kittens are available for adoption as well as many nice adult cats.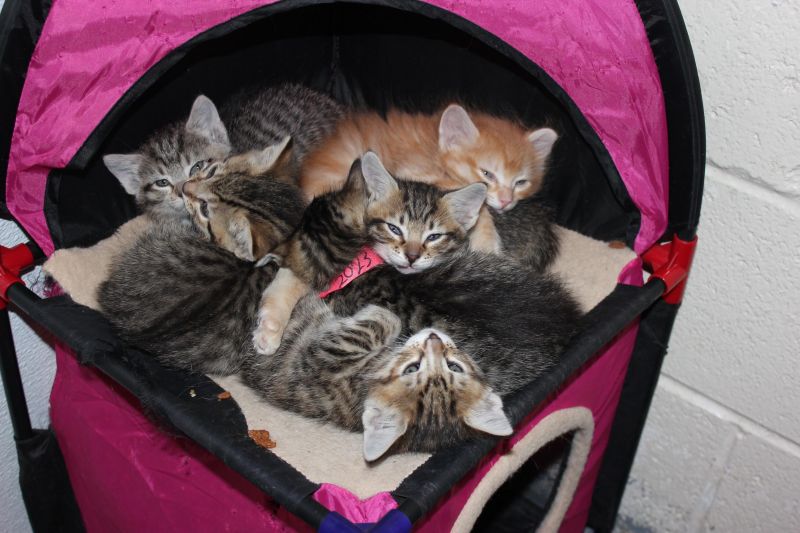 The shelter has many beautiful animals waiting for their forever homes. Stop by to see new available cats, kittens, puppies, and dogs. Adult dogs and adult cats make wonderful pets. Save a life by adopting a pet. No pets released w/o spay/neuter. Take good care of all of your animals. SPAY & NEUTER! MAKE YOUR PETS A PART OF YOUR FAMILY! TRAIN; DON'T CHAIN!
Who We Are
McKinley County Humane Society takes in 500+ dogs and cats per month from the city-county limits. Many of the outlying reservation strays are also brought to the shelter. Animals are held for a minimum of 5 days unless injured or ill. Due to the high intake of animals, limited cage/kennel space, and limited funding, their stay time is usually short; listings on the website may no longer be available. If you are looking for a new pet, it is best that you visit the shelter in person to meet your new companion. All adopted animals are sterilized prior to being released for adoption.


Mission:
The McKinley County Humane Society exists to protect animals from cruel, neglectful and exploitative treatment.

LOCAL PET OWNERS CAN HELP SAVE LIVES AND PREVENT SHELTER DEATHS BY SPAYING AND NEUTERING THEIR PETS! Please be a responsible pet owner and get your pet fixed. Make an appointment with a local vet or call the shelter to get an appointment at the shelter's spay/neuter clinic. There are not enough homes for the unwanted litters of kittens and puppies being produced in our area. SPAY DAYS weekly and on some Saturdays. Call for an appt. A limited number of foster homes care for and socialize animals, though many more foster homes are needed. Save a lives by fostering! We appreciate any support offered which helps us save lives and reduce pet overpopulation. Spaying and neutering saves lives; spread the word!
---
SHELTER SPAY/NEUTER PROJECT!
McKinley County Humane Society has a spay-neuter clinic within the shelter which is open every Wednesday to reduce the EPIDEMIC PET OVERPOPULATION. Stop by the shelter for more info and to make an appointment for your pet/s. Donations to fund this program are greatly appreciated as many pet owners need assistance in getting their pets "fixed."

---
---
A COOKBOOK TO SAVE LIVES!
Order your MCHS COOKBOOK TODAY! Order extra for unique gifts. All proceeds will benefit the animals in our community. MCHumaneSociety@gmail.com



Cookbook Order Form


---
Donate to the McKinley County Humane Society through PayPal using the link below.
Click Here to Donate by PayPal
---
Read Our Newletters
Summer 2013 Newsletter as a PDF file
May 2011 Newsletter as a PDF file
October 2010 Newsletter as a PDF file
March 2010 Newsletter as a PDF file
Winter 2009 Newsletter as a PDF file
Summer 2009 Newsletter as a PDF file
Spring 2009 Newsletter as a PDF file
Fall 2008 Newsletter as a PDF file
Spring 2008 Newsletter as a PDF file
Fall 2007 Newsletter as a PDF file
Spring 2007 Newsletter as a PDF file
Fall 2006 Newsletter as a PDF file
---
Wish List
• Foster cat & dog parents. • Spay-neuter fund sponsors. • Volunteers to walk dogs/care for cats. • Name-brand puppy food. • Blankets & towels. • Kitty litter. • Pet beds.
---

Our dogs love to sleep on Kuranda Dog beds, but we don't have enough for all. If you would like to donate a bed at a special wholesale price for a another dog to sleep in comfort, please clickhere.

Adopting a friend
Check at the shelter weekly for new cats & dogs coming into the shelter. Shelter animals make the best pets and will reward you with their loyalty and love.

---
OUR AVAILABLE ADOPTABLE PETS!
Come Visit Us!
McKinley County Humane Society
P.O. Box 550 - N. Hwy. 491
Gallup, NM 87305
Phone: (505) 863-2616


---

[Home] [Information] [Shelters] [Search]