Labradors + Friends



Visit our "Pet List" to learn more about the dogs on our site who need homes.


Once you are on our "Pet List", click on each dog's name to learn more!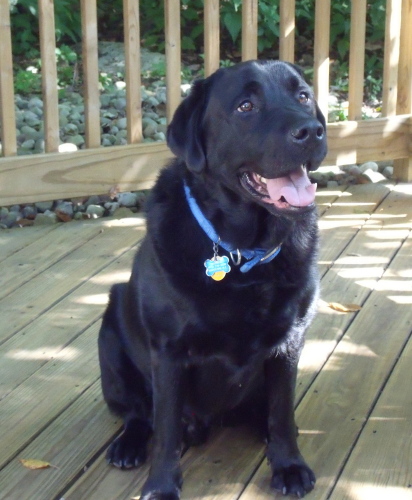 We encourage you to consider adopting an older dog. They are perhaps even more devoted since they know what it is like to be without a family or friend to love them. Most will return all the affection you have to give tenfold. Often, older dogs are harder to place because so many people want puppies. Give an older dog a chance. They can still bring years of love into your hearts and homes!Just ask Kathi of Denville--she adopted 9 yr old Molly, who saved Kathi by going for help after her new owner had fallen and hurt herself!


Rescued Dogs Can Show Off Their Talents!
Remember, you can show a rescued Labrador or other apparently purebred dog in American Kennel Club or United Kennel Club Companion Events with the proper application, following spaying/neutering. You don't even have to have the name of the parents of the dog or the exact birthdate--have your vet give your dog an approximate birthdate. Your children can even compete in Junior Showmanship in Breed, Agility, Rally, or Obedience Rings!See www.akc.org for their Indefinite Listing Privilege application, now called Purebred Alternative Listing Program.
http://www.akc.org/news/index.cfm?article_id=3427
and http://www.akc.org/reg/ilpex.cfm
and for info on Junior Showmanship
http://www.akc.org/kids_juniors/index.cfm?nav_area=kids_juniors


Your dog not coming with the proper paperwork need not keep you from participation in dog sports! Go online and get the blank PAL form, just in case you ever decide to show off your new rescued dog alongside all those dogs with pedigrees.
RESCUED LABRADOR ACCOMPLISHMENTS!
NEWSFLASH!!!

New Master Agility Champion! Sin, a black Lab adopted with assistance from Labradors & Friends, survived surgery for megaesophagus, thanks to owner Michele. Michele and Sin then went on to start competing in agility, earning several titles with first place ribbons. They have their first QQ toward their second MACH, racking up the Qs and speed points. Thanks, Michele, for loving Sin so much and for training her so well.

NEWSFLASHES!

Congratulations to Mary Ann and rescued Lab, Astro. Lab Friend's Field Of Dreams CDX RA OA NAJ has come in FOURTH in Rally Advanced at the Rally National Championship. Good dog, Astro! Not bad for Mary Ann, either, as this is the first dog she has ever formally trained or entered in competition.

CONGRATULATIONS TO RESCUED LABS AND THEIR DEDICATED OWNERS FOR THEIR WONDERFUL ACCOMPLISHMENTS!
Who We Are
"Labradors & Friends" is a small group of people throughout New Jersey and southeastern Pennsylvania dedicated mostly to finding good Labradors their next good homes. We also participate in rescue of Cavalier King Charles Spaniels and mixes of that small breed, the Friends of our Labradors. Most of our adoptions are now through referral, due to lack of time, funds, and space. Feel free to e-mail us to see what we have in rescue and on our referral list, in addition to what is on our pet list.


"Nobody made a greater mistake than he who did nothing because he could only do a little."--Edmund Burke


"I am only one, but I am still one. I cannot do everything, but still I can do something. And just because I cannot do everything, I will not refuse to do the something that I can do. "--Helen Keller

Adopting a Friend
Please e-mail us to receive additional information. Consider adopting a Lab this year--there are lots of dogs out there literally dying for a good home. Don't necessarily wait until after vacation!
Volunteering and Donations
Volunteers and foster homes are always needed. COUPONS for free dog food or supplies or paper towels are quite helpful.




NOTE: Labradors & Friends rescue of Parsippany NJ is NOT affiliated with Kentucky rescuer Lisa who has been adopting out Lab type pups at a Morris Plains pet supply store.

Labradors + Friends
PO Box 8244
Parsippany NJ 07054
Email: labf2@earthlink.net