Nelson is a very affectionate boy who loves everyone he meets!
This sweet dog has been with with for a long time and needs a home of his own.

OREO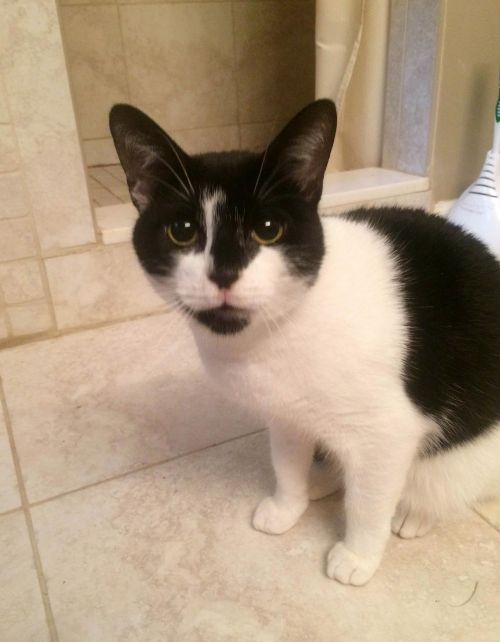 OREO NEEDS A FOSTER OR HOME ASAP.

Oreo was DUMPED on Route 22 in Union and we got her to safety.
She was fully vetted and even adopted 6 months ago. She's 1-2 years old.
BUT Oreo is being attacked by 2 resident cats! Oreo is petrified and is hiding in a bathroom!
The family believes she will do better in another home, and we agree.
This pretty girl needs a new home or foster ASAP!
She will be better in a home as an only kitty or with another submissive/gentle one.
Please help us find this sweet girl a foster, or better yet, a permanent home!

Many of your dogs are in boarding facilities while good homes are found.
They desperately need beds to make their stay more comfortable. Please consider donating one! Thank you!




Introduce Your Dog To Your Baby


CAT DECLAWING - The Paw Project


Pit Bull Blues by John Shipe (video)


The Senior Dog's Project:
Adopting A Senior Dog



HELP FEED AN ANIMAL IN NEED

Over ten million animals are abused, neglected or abandoned yearly.
Visit The Animal Rescue Site every day to give a bowl of food to an abandoned animal
-- At NO Cost To You--
and participate in the fight to save animals in need.
Funding for nutritious food, paid for by site sponsors, is generated
when you click on the "Feed An Animal In Need" button on the Home page of the Animal Rescue Site.
Please do this simple task to help animals in desperate need!
THE ADOPTION PROCESS

Our goal at Best Friend is to keep our pets as safe, healthy, and happy as possible until we find them forever homes.
This means trying to match them with the best family possible. This is why we ask potential adopter's a lot of questions.
Some people feel that the adoption process is a tedious one but please understand, we want everyone to be happy with the new addition.
Adopting a homeless pet can be extremely rewarding. You save a life and receive a lifetime of love in return.
Adopting any pet is also a lifetime commitment that requires careful consideration.
One must allow the proper time, patience, and funding and should consider family and lifestyle issues when making this choice.
In order to adopt one of our feline and canine friends you must first fill out an application in person.
Upon approval of your personal and vet references (yes, we WILL call them) a home visit will be scheduled.
This is not to invade your privacy; it is to ensure the safety of our pets and to verify your application.
Please remember that volunteers run this entire organization.
Most of us have full time jobs, families and animals of our own we must take care of.
It may take us a few days (up to a week) to get back to you but your patience will pay off.
We hold the right to deny any application. We try to make the best possible fit and we try to make the best decision possible.
If the pet you wanted is no longer available please don't give up.
We always have new friends coming in and we can help you find that perfect soul mate.
All our pets are vet-checked, vaccinated and neutered prior to adoption if old enough.
If a kitten or puppy is adopted too young to neuter, we follow through with the adopter/s to make sure the pet is spayed or neutered
by the time he or she is 6 months of age.
ANIMAL HOMELESSNESS and EUTHANASIA are tragic problems in the United States.
Every year thousands of pets are given up because they are unwanted, inconvenient, or do not behave.
And now because of home foreclosures, the problem has gotten a lot worse. Animal shelters, communities,
and pets experience the terrible results, whether animals are abandoned on the street, in homes, or surrendered to a shelter.
Many people adopt, but there are just not enough homes for the number of animals that are born.
You can help to reduce pet homelessness and euthanasia.
Prevent a litter by spaying or neutering your own pets before they have a chance to reproduce.
If your pet is already sterilized, consider sponsoring a friendís or neighborís pet.
Educate your family and friends on the importance of spaying/neutering their pets.
SECOND CHANCE THRIFT STORE



Visit and support the resale shop. WE NEED YOU to continue our life saving mission.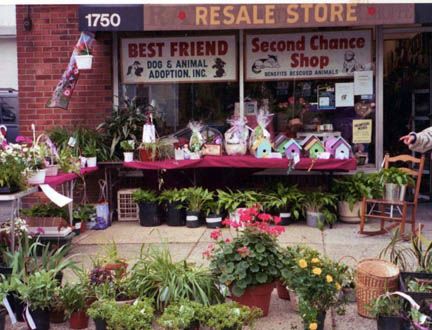 1750 East Second Street, Scotch Plains, NJ
Open Wednesday through Saturday during the winter
10:30 a.m. to 4:30 p.m.

All funds raised at the thrift shop are used directly to help our pets with
spaying and neutering, boarding, food and veterinary bills.
The shop is also used as a drop-off for much-needed cat and dog food.
Donations of good quality jewelry, collectibles, gift items, CDs, DVDs, and small pieces of furniture are greatly appreciated.
No books or vinyl records can be accepted at this time. We have limited space at the shop and we have plenty of both.
It is always best to call the shop ahead of time.
Volunteers are desperately needed! The thrift shop is run by our volunteers. We are currently short-handed.
If you can spare just a few hours a week to volunteer at the shop, please call the shop and ask for Lorraine at 908-322-2502.
(must be 16 years or over). Thank you!