Pets In Need Rescue Team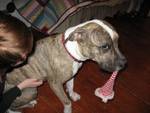 ---
News: 11-11-10 Update: Thank you to Lina and her family for opening their heart and home to fostering this poor little girl!!!
10-09-10 We are in need of a foster home for a FIV positive cat who is the sweetest girl you will ever meet. She is otherwise healthy and just yearning for affection. Please email us if you can help. We will supply her food, litter, meds and vet care. Thank you!
UPDATE: Thank you to all who helped us with this very important project. Everyone was spayed/neutered as planned. We are all very happy :)
2 cat colonies are scheduled to be trapped for spaying/neutering. Foster homes needed for their recovery period. Thank you for helping.
About Us
Pets In Need Rescue Team is dedicated to the rescue, rehabilitation and placement of homeless animals, many of whom are rescued at the very last moment from euthanasia. We provide a safe haven to all those who find their way to us through whatever circumstance, whether abandoned, injured or neglected. No matter the breed, health or age, we believe that all should live secure, healthy lives and we work endless hours in our attempts to find the right homes with people who will love their pets for a lifetime. We strive to make perfect matches, not only for our dogs, cats etc. but for prospective families.
Our volunteers commit their free time to helping to place homeless dogs and cats into loving adoptive homes. The majority of our dogs and cats originally come from a shelter environment and are then placed into foster homes. This foster care environment better enables us to evaluate these dogs and cats in a home environment and provide more information about the dog and cat to potential adopters. Our adoption process is very thorough but it is instrumental in finding the best dog or cat to match you and your lifestyle!
We do not have a shelter, but rely solely on a network of foster homes. We receive no public funding and count on the generosity of fellow animal lovers to help defray our costs, which include vet bills and other medical expenses for the many animals who come to us sick or in need of special care, as well as food, supplies and other items needed for the safety and comfort of our rescues. We are a rescue that does not discriminate. We take in dogs, cats, squirrels, possums, birds, raccoons...anybody who needs help.
Adopting
We strongly believe that a pet is a member of the family and therefore we understand how important it is for a home to be right for all. We carefully screen all potential adopters, check references and conduct home visits to ensure that our rescues will receive the love and attention they deserve and just as importantly to make sure that our adopters find the pet that is most suitable for them. If we do not currently have the right pet for you, we will work with you to try to find the perfect match for you. Each cat and dog is carefully matched with it's new adoptive family. We are all volunteers and work full time jobs in addition to doing this so please be patient with us. We will get back to you as soon as possible. We ONLY adopt to loving, indoor homes. If you see a pet you like, fill out the adoption application.

Adoption fees vary from every dog and cat. Puppies under 6 months of age are generally between $300-$400. Adults 6 months and older are between $150-$250. Cats are $75 and Kittens are $95. All the money collected from adoption fees helps pay for not only the costs involved in caring for the dog or cat you adopted but also for the care of those dogs and cats who nobody wants and stay with us until their time comes. At this time we are unable to take checks for the adoption fee due to checks being returned with insufficient funds.

Love pets but not yet ready to commit? We are always looking for loving homes to foster our pets while they await a permanent home. Providing a safe haven for our rescues enables us to save many more animals and is a vital part of our rescue team. If you would like to be a part of our rescue efforts and are interested in short term or long term fostering, please contact us.


Our dogs love to sleep on Kuranda Dog beds, but we don't have enough for everyone. If you would like to donate a bed at a special wholesale price for a another dog to sleep in comfort, please donate a Kuranda dog bed
Top 10 Adoption Considerations Checklist

1. When you adopt, you need to make a real commitment to care for your pet for its entire life, no matter what that entails, just as you would with a child.

2. Be prepared for a pet to affect other parts of your life for as long as you have the pet (can be up to 15 years for a dog and 20 years for cat). Your petís well-being will have to be considered in all kinds of decisions, including travel, social life, relocating to a new home, adopting other pets, having children, etc.

3. Verify in advance that youíre allowed to keep a pet where you live, especially if you rent or belong to a homeownersí association.

4. Make any necessary modifications to your yard and fence, if you have one, to provide for your petís safety and to prevent your pet from escaping.

5. Never give a pet as a gift.

6. Choose a pet appropriate to your living situation and lifestyle. Figure out what size, age, and energy-level pet is most appropriate for you.

7. Never adopt a pet on a whim or because you feel itís love-at-first-sight. Do your research and carefully consider all the aspects and implications of adopting before you make a decision.

8. If youíre adopting a pet for your kids, understand that the responsibility is yours. Kids, by their nature, often tire of things that were once new and exciting, and this includes their pets. You will most likely end up being the one who provides most of the petís care.

9. Plan for a several-week adjustment period during which there will be challenges.

10. Provide sufficient exercise and stimulation. (Walk dogs according to individual need, provide playtime and appropriate toys for both dogs and cats, spend time just petting and talking to your pet, include pet in family activities.)
We do not have a physical shelter. All our rescues are in foster homes. Appointments will be made once your application has been approved for the pet.
Pets In Need Rescue Team
P.O. Box 616
Lincoln Park, NJ 07035
Thank you St. Jude ....ALWAYS xoxo
I Rescued a Human today.
Her eyes met mine as she walked down the corridor peering apprehensively into the kennels. I felt her need instantly and knew I had to help her. I wagged my tail, not too exuberantly, so she wouldn't be afraid.

As she stopped at my kennel I blocked her view from a little accident I had in the back of my cage. I didn't want her to know that I hadn't been walked today. Sometimes the shelter keepers get too busy and I didn't want her to think poorly of them.

As she read my kennel card I hoped that she wouldn't feel sad about my past. I only have the future to look forward to and want to make a difference in someone's life. She got down on her knees and made little kissy sounds at me. I shoved my shoulder and side of my head up against the bars to comfort her.

Gentle fingertips caressed my neck; she was desperate for companionship. A tear fell down her cheek and I raised my paw to assure her that all would be well.

Soon my kennel door opened and her smile was so bright that I instantly jumped into her arms. I would promise to keep her safe. I would promise to always be by her side. I would promise to do everything I could to see that radiant smile and sparkle in her eyes. I was so fortunate that she came down my corridor. So many more are out there who haven't walked the corridors. So many more to be saved. At least I could save one. I rescued a human today.

Click here for a list of pets at this shelter

---

[Home] [Information] [Shelters] [Search]