Welcome!

PLEASE NOTE:



Father Natures is back again. We have rebuilt a wonderful new rescue for all our fuzzy friends. We have many ferrets in need of FOREVER LOVING HOMES. Please check out our adoptable list and if you are unable to bring a fuzzy into your life now, please consider sponsoring one of our permanent residences. PLEASE BE PATIENT AS WE ARE HAVING ISSUES WITH OUR SIGHT PROVIDER. IF YOU WOULD LIKE TO ADOPT ONE OF OUR FUZZIES, PLEASE CALL US AT (201) 438-8677. THANK YOU FOR YOUR INTEREST.










---
11/05/08 We are down to the final few days. The floor is getting finished, moldings going on and then the paint. You can even tell the fuzzies know something is up. We are all excited and want to thank everyone that has waited to adopt and surrender till this project is done.
Keith


Thge Project, with a ew delays is completed. Just a few more cages to move to the ne w fuzzy room. We are taking applications and surrenders again so for adoptions go to http://www.fathernaturesferretrescue.com/wb/pages/adoption-policy.php and fill out the application in full. We are sorry but we get so many that if the form is incomplete we move on to the next one. To surrender please call 201-952-8677 or 201-438-8677. Our web site gives all the info on our process. Happy Holidays to all.
Keith and Evelyn


It all started about October of 2006. I got a phone call from woman who said she needed to surrender one of her ferrets. See, she had two but a co worker was going to take the healthy one as she put it. Father Natures was just starting to really take off so to speak and Evelyn and I had made a decision to take as many fuzzies as we could, especially the sick ones. We set a date for the woman to come by and drop of Blondie Boy. From questioning the woman on the phone and hearing of the lack of care she gave to BB I felt it was best that Evelyn not be here for the surrender. Well, my gut feeling was on the money because when she showed up with BB he looked like a concentration camp victim. If Evelyn would have been here we would have needed to do a fund raiser for her bail money. Blondie Boy was a real train wreck, bi-lateral adrenal, he had a cordoma tumor the size of a grape on his tail and a mastic tumor completely closing off his right ear. The woman handed him over to me and promised that even though she had nothing to help with his medical bills, she would send a couple of hundred dollars soon. We never heard from her again. BB was scheduled to have his surgeries and we went to work on getting him in better shape. The Doctor gave him a 30% chance of surviving the surgery and a 40% chance post operative. BB came through like a champ. He was doing just fine up until the day his stitches were to come out. When I removed him from the carrier he went into a full blown insulinomic seizure. Thank God we were in the room with the vet and he gave him a shot of dex and BB bounce up like nothing had happened. So began the life of BB at Father Natures. His fur never grew back due to his age and the adrenal remnants on the right side. He would still love to get up each morning, eat his Duck Soup, have his meds and go for a cruise through his 25 foot tube and thats when we nicknamed him Scooter or Scoots. The little man that had such a slim chance was beating the odds. BB taught us so very much here that has helped to save the lives of countless fuzzies. His will to live and tough guy attitude was magnificent. Little by little BB started to develop cataracts that slowly stole his sight. He was no longer comfortable going through his tube and we were worried that he may get into something. BB had the run of the upstairs at the rescue except for the quarantine room. The downstairs was ruled by the general population and adopt ables. The only place you didn't see a fuzzy was our living room. Evelyn had put her foot down that there would be NO CAGES in that room and I agreed. Once BB started to get worse with his vision and the insulinoma, he was moved into a brand new FN cage in the living room front and center. Momma wanted to keep a close eye on her boy. BB would seem to play games with us, whenever we would make plans for a day trip to a ferret show or to a just to get away for a few hours. He would always seem to crash on us and we would cancel the plans. It got to the point where we would go outside whenever we would talk about leaving the house for any period of time. Blondie Boy is a definite miracle fuzzy and there was many many times that we considered helping him to the bridge but he showed such a strong will to live and enjoyed his life with us. We prayed that if the time did come that he would pass in his sleep or in one of our arms. We dreaded having to take him to the vet to be helped even though Dr M is wonderful and compassionate. Today at 1:30 pm Blondie Boy told Momma that he had enough and would be waiting for us at the Bridge. He gently took his last breath in Mommas arms and closed his eyes, slipping into sleep. I cursed not being here for him and Evelyn and then realized that it was perfect. BB was Evelyn's special boy and although I don't think I could love a fuzzy more, she needed this special moment with him. I will miss the way he would shove the Duck Soup bowl from my hand when he had his fill. I will miss the way he would tunnel through his bedding looking for just the right spot. I will miss the way he tolerated us holding and trying to cuddle with him even though it was for a short time. Most of all I will always remember the strength he had to live and the way he cuddled up with me last week and slept on my chest. In all the time BB was here he never did that before with Evelyn or me and I guess it was his parting gift for Father. It is going to be very hard for the both of us, getting up and not saying" did you feed Scoots yet?" or " has Scoots had his meds yet?" He has been a great part of our lives here and all in all I would not trade one good ar bad moment. Anyone who ever got a chance to meet our Scoots knows how hard this is going to be for us but he is now ruling the roost at Father Natures Cottage, just this side of the Rainbow Bridge. Sleep well my Scoots Momma and Poppa will see you again. Sorry for this being so long but for some reason it helps my heart to tell everyone about our BB. Thank You All
Keith, Evelyn and Scoots



Sadly Tessa has gone to the rainbow bridge. She looked up at me as if to say poppa i've had enough. She was in too much pain to let her suffer and she gently passed in my arms. Dear Tessa we will meet again someday. Even though you were here with us at Father Natures a short time you captured our hearts.

We have started the Tessa fund to help other ferrets in the same condition. If you would like to help contact fnferretrescu@cs.com.







---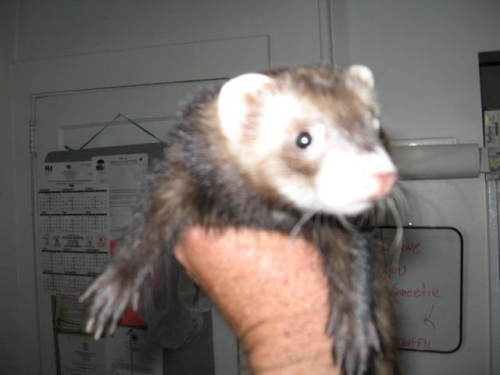 Sissy!
---
We are Father Natures Ferret Rescue. After spending countless hours going to county shelters we decided we could no longer watch these little theives of the heart sit alone for hours on end. My wife Evelyn and I decided to start a rescue just for them. They have been our teachers in so many ways. We have learned patience, compassion, and real unconditional love. (Also where to find the best deals on trash bags and paper towels). If you like we will accept donations to our Vet Dr .Mecheal at the Lyndhurst Animal Hospital. 100% of funds go to the health and care of the ferrets at our rescue. All administration costs come out of our own pockets. Our one goal is to find forever loving homes for our fuzzy friends. All ferrets adopted come with proof of current rabies and distemper vaccination.
---
To adopt one of our little guys or gals call to set up a time to stop by and fill out our adoption application. We will meet with you and make a decision the same day. Ferrets are not temporary. They are not disposable. They are not commodities either. They are a loving family member who depends on you to love and care for them forever. Most commonly ferrets will grieve when left behind, or abandoned by their family. So, think before committing! Take a good look at your lifestyle and your habits. How much time do you have to devote to a ferret? Are you financially ready to meet a new ferret's needs or an unexpected emergency? Remember, animal shelters exist because people create the need for them. No one needs a ferret RIGHT NOW! Do your homework. Take your time before making any decision. Ferrets do not make good gifts, and all family members should be involved in a decision like this. We teach our children a lot just by how we treat and value our pets. What do you want to teach your child? (Quoted from Kim Schilling) Please be ready to provide us with info such as... The Name of your Vet. Your experience level regarding ferret care. Have you ever surrendered a ferret to a rescue or shelter? Are you prepared to devote the time needed to care for your new ferret? Among other non personal questions. If you are unable to provide a home for a fuzzie you can always sponsor a little carpet shark through our Paypal donation button below.





---
Our new home/rescue is complete. The fuzzies have a wonderful play area including a staircase tube to slide down. Please call us at 201-438-8677 or 201-952-8677 or email fnferretrescue@cs.com to make an appointment. PLEASE, PLEASE when leaving a message speak slowly and clearly. Repeat your contact number at least 2 times in the message. Many cell phones break up during the call and we want to make sure we get back to you. We are available on Sundays also to see our happy and loving fuzzies.

---

Father Natures Ferret Rescue
33 Fifth St.
Wood Ridge, NJ 07075
Phone: 201-438-8677
Phone: 201-952-8677

Email: fnferretrescue@cs.com
Our web address is www.fathernaturesferretrescue.com