Our feature kittens...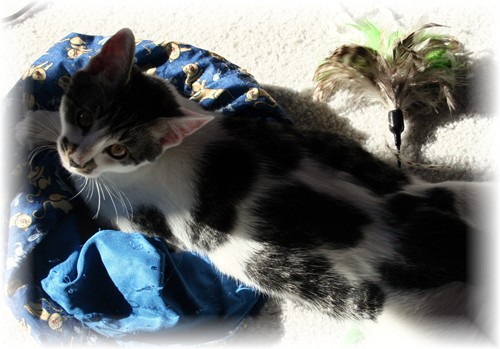 Jack got adopted!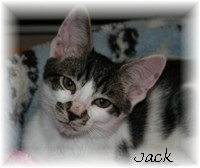 Who We Are..
Paws-itive Kneads is a safehaven and orphanage for abandoned, abused, neglected or rescued kittens in the New Jersey and New York area. It is not an organization, a shelter, or a non-profit establishment--we are a private home. It is a stable home for unwanted kittens, where they are treated and raised in a loving enviornemnt before adoption. Our family gives kittens a chance to grow up in a home enviornment, something of which would be denied them in a shelter. Free from the restraints of a cage, all of our kittens know a warm bed, full bellies, and the loving arms a dedicated person can give. Here, they learn the comfort and security a person lends; an important lesson to kittens who have been neglected and mistreated.
Paws-itive Kneads is more than a foster home for these kittens. Its a place where they are safe, its a place where they can obtain a second chance perhaps not otherwise possible. By visiting, you are aiding one of the greatest gifts you can give any homeless pet: a permenant place to call home.


Why choose us?
The answer is simple: because these kittens deserve a second chance. They were raised in a home -- a shelter life may destroy the value and trust they have in people. We recieve kittens between the ages of 1 day to about four weeks. We release them for adoption at around 8 weeks old, but people are always free to visit their future pet at any point in time during their advancement in life. We also offer constant updates on the conditions of your pet if they are too young yet to go home. We're honest and up front about everything, including any medical conditions. Its important there are no surprises for you -- its not about getting the cat a home as quickly as possible, but getting the kitten a permanent, loving home.
Paws-itive Kneads is about devotion, knowledge, and the undying love for animals. Our purpose is to save these kittens, and provide them with kind homes sutibile for their adult life. Adopting from us will change your life, and the life of a little one that desperatly needs your help. So, when you consider adopting a kitten, consider our Paws-itive Kneads Foster Home. If you give us your time, you'll be giving them a chance.


If you Need our Help
We offer help to those in need twenty four hours a day, seven days a week. If you have found an orphaned kitten and are not sure how to handle it, please don't hesitate to call us. Time means everything to a newborn, and we want to make sure each one of them gets their second chance at life.
If you have a cat or kitten you need a home for, please contact us as well. Its not problem placing your cat or kitten on this website. If your kitten falls under the guidelines for our foster home, we may accept the young kitten into our complete care.
Our group is here for you -- and its here for the kittens and cats. If you have questions or concerns, we'll be glad to help with all your kitten needs.


Our Adoption Policies
Adoption Fees can vary from litter to litter, depending on vet check ups, age, and length in our care. The minimal fee is usually ninety dollars.
We never release kittens prior to 8 weeks of age, usually 10-12. Sorry but no exceptions. Stability, mental health, and the positive attitude of the kitten depends on their need to stay with their 'Mom' (human or kitten) until this time. Changes may disrupt, stress, and alter the behavior and attitude of a maturing kitten in this critical stage.
A kitten can go on hold at six weeks of age. Meet-and-Greets can be held at any stage in the kitten's life.
A kitten never goes home on the first visit, again, no exceptions.
Adoption fees must be paid at time of formal adoption.
Pre-Adoption questionares must be filled out prior to a home visit, and a phone 'interview' is conducted when an appointment is set-up.
Home Visits are made when a kitten is brought to your home for formal adoption OR during the meet and greet.
We have the right to reasonably refuse adopters, even after a hold has been placed.
Appointments are honored in the time they are taken.
Vet referances are required.
These rules are important and have been learned from problems in the past. We are a private home who save the lives of these very small bundles -- we need you, and so do they...a few simple procedures just ensures they go to best quality home possible.

Please Visit Us
Please visit our official website at http://www.PawsitiveKneads.com for a list of our pets, adoption, contacts, affiliates, if you have an orphaned kitten, and more! Contact for more info.
---
Paws-itive Kneads


Ridgefield, NJ 07657
Phone: 201-943-5383

Email: EccentricNovelst@aol.com
Click here for a list of pets at this shelter







---

[Home] [Information] [Shelters] [Search]