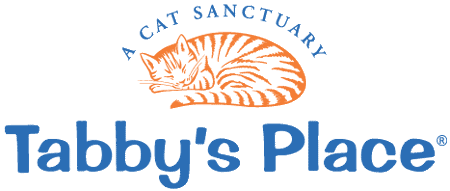 ---
---
Our Featured Pet...
Natalie has been turning heads since she arrived at Tabby's Place, thanks to her lovely orange tabby coat (she also has a little white on her chin). She's of medium size, with a lanky build. We think she's just about 2 years old (as of May 2010).
Natalie is a very social, outgoing girl and can be very demanding when she wants attention. It's best to keep a close eye on her when visiting her suite. If you don't, she will likely spring onto your back, so you don't have any choice but to give into her wishes. Natalie also loves to play, but can get carried away when she's in "play mode" and sometimes mistakes a finger for a toy. She's not a mean cat; she just seems to get over-anxious. Because of this, we recommend she go to a home without small children.
Natalie has definitely calmed down since she first arrived, and we expect she'll continue to do so more and more. If you're looking for a lovely female cat and can provide a relaxed environment and lots of attention, check out this beautiful orange tabby.
Who We Are
Tabby's Place is a cage-free sanctuary that provides refuge to cats in hopeless situations. Our residents come primarily from public shelters where they had once been scheduled for euthanasia.

Tabby's Place does not turn cats away due to age, medical need, or "lack of adoptability." It is, therefore, a safe haven for several older, chronically ill, or handicapped cats. These cats have special needs such as heart disease, diabetes, cancer, or blindness. At Tabby's Place, these cats are able to live full and happy lives with the medical care, love, and affection they deserve.
This one-of-a-kind facility serves as:
An Adoption Center - Finding loving homes for cats.
A Hospital - Providing medical and surgical treatment for sick or injured residents.
A Hospice - Providing palliative care and a warm, loving environment for chronically or terminally ill cats to live out their lives in comfort. Cats with Special Needs.
Unique Features of the Sanctuary:
Provides communal living environments for cats, with plenty of horizontal and vertical space for exercise and play.
Provides outdoor enclosures for cats to enjoy fresh air and sunlight.
Contains special group rooms for cats who are FIV+, overweight, or on prescription diets.
Contains an in-house medical facility.
Uses specialized materials to facilitate cleaning and encourage a disease-free environment.
Adopting a friend
Please visit http://www.tabbysplace.org/adopt-a-cat.html for information on adopting from Tabby's Place.
Come Visit Us!
Tabby's Place is open to visitors 12-5PM, 7 days a week. For directions please visit http://www.tabbysplace.org/directions-hours.html
---
Tabby's Place
1100 US Highway 202
Ringoes, NJ 08551
Phone: 908-237-5300
Email: info@tabbysplace.org
Click here for a list of pets at this shelter

---

[Home] [Information] [Shelters] [Search]