"AUSTIN"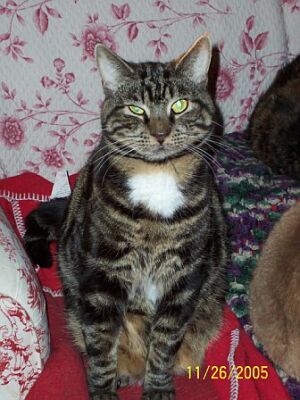 FERAL CATS NEED OUR HELP, TOO!!!! AND SPONSORING IS JUST THE WAY TO DO IT! Even if they may not be suited to a life of leisure and safety as a housecat, they can have safer, healthier life if we feed them, have them spayed and/or neutered and vaccinate them to prevent disease. The cost to support the care of feral cats is rather expensive, but with your sponsorship and a small monetary donation either on a regular basis or just once, will help us to continue to care for these poor helpless kitties. Feral cats by nature pose a unique challenge, they are afraid of humans and avoid contact as much as possible. Even though caretakers are providing food on a regular basis for the many ferals colonies, they will hide until we are gone, usually the kitties only come out at night to feed. A FERAL CAT is cat who has been born outdoors without human socialization thus labeled "feral." The cycle of feral cats begins when an unsterilized cat is abandoned or lost by his or her guardian. The only difference between a housecat and a feral is that the latter has a strong fear of humans. Ferals are erroneously labeled as "wild cats." A bobcat is a wild cat; a feral cat is a homeless domestic cat.
Saved Whiskers Rescue Organization, Inc. would like to give you the chance to help these feral cats, through our sponsorship program! When you sponsor a feral cat, you help us provide the food, shelter, and medical care they desperately need. A safe, healthy environment is something EVERY cat deserves! These poor kitties are only homeless due to human ignorance and we at Saved Whiskers Rescue Organization, Inc. care enough to want to help what has been done to these cats. Through our Trap, Neuter, Release (TNR) program we can bring these homeless cats' populations down. TNR: Trap, Neuter, Return is an effective, internationally recognized method of population control for cats who are living outdoors without human socialization. The cats are humanely trapped and brought to a veterinarian for sterilization and vaccines and are then returned to the area where they had been living. A MANAGED COLONY is a group of feral cats living in one area are known as a colony. The term "managed colony" is used when a group of feral cats have been spayed/neutered, vaccinated, and have food, water, and shelter provided by a caregiver. A CAREGIVER is a designated person, usually a volunteer, who takes on the management of a feral cat colony. Responsibilities include spay/neutering all cats living within the colony, as well as providing food, water, shelter from extreme weather, and maintaining records of the colony. This person also provides medical care when needed and will assure that any new cat who joins the colony is spayed/neutered. All monetary donations of ANY amount are welcome and appreciated!!!! For more information, please contact Pam at SavedWhiskers@aol.com Below you will see many of the feral cats that Saved Whiskers' Volunteers care for on a regular basis, won't you please sponsor one of them?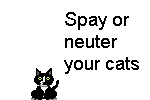 NOTICE:
IT IS ILLEGAL TO DUMP ANIMALS ON PRIVATE PROPERTY AND ON THE SIDE OF
THE ROAD! EXPECTING THEM TO FIND FOOD FOR THEMSELVES IS CRUEL!
This is not a "cat problem"--this is a "people problem"!
Please spay and neuter all pets!