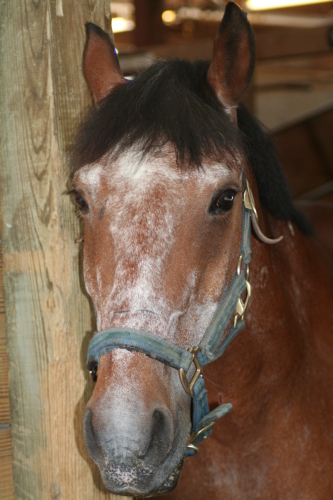 SHOW Retirement Program
---
Our Featured Pet...


Seven is now available for adoption. He is a 20 years old, 15.2 hand Bay Gelding. He served the Watchung Troop Program for 11 years, and has been retired due to arthritis issues. .

For more information on how to adopt, Please e-mail Judy March

Thank you for looking at our site.


Out to Pasture....
TopDeck has been adopted!!
TopDeck has found a wonderful person to adopt and care for him. He will be staying at his current home as a permanent placement. He is living with Marshall and several other horses there. He has really filled out, and is very happy.

Sebastian has been adopted!!
Sebastian has found a loving woman to adopt him. He is living on a 30 acre horse farm in Warwick, NY with three other horses and dogs. He is very happy there.

Marshall has been adopted! He is living with TopDeck on the farm in Flemington. What a Life!

Tar has been adopted by a wonderful family in monmouth county. He is living on a farm with other horses, lots of fowl friends, cats, rabbits etc. A real 4-H family!

Charming has finally found her forever home. After 18 months living as a SHOW horse in the Watchung Stable, She has been moved to RYERSS retirement home. She is living large with all her new friends in a wonderful barn with grass fields and turnout companions. It is situated on several hundred acres in Pottstown PA.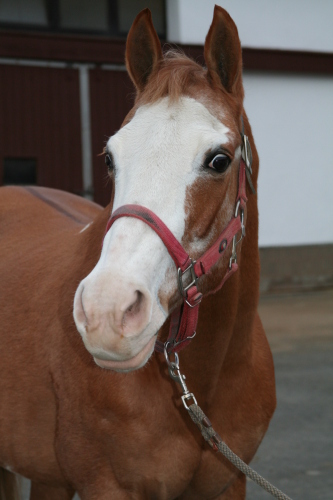 Charming is pictured here with her new companion Matisse at RYERSS in October 2009.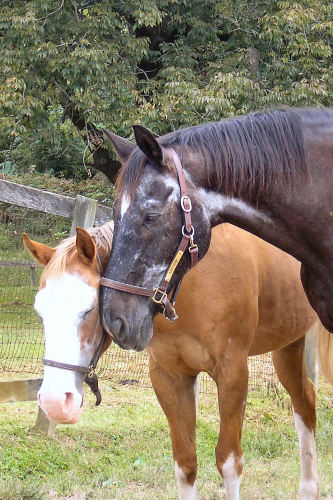 A Great Fund Raiser

REDUCED!! Great News!!! We have in stock for immediate purchase, two wrist bands at a cost of only one dollar each! They feature "show support" in dark blue, and "ride strong" in baby blue, You can pick them up in the Stables office. To obtain any of the above wristbands, or for questions on any fund raising activities, please e-mail Nancy

Our first official retiree, Picasso, our beloved old man, had been retired from the Watchung Troop Program, which he had diligently served for 20 years. He started his service to the county in 1982 as a six year old, serving many generations of riders. He was residing on a horse farm in Flemington, NJ. where he was very happy, until his untimely passing on 9-10-05
COLLECTIBLE COFFEE MUGS AVAILABLE!!!!!!
NEW NEW ****SEVEN MUG IS NOW AVAILABLE****NEW NEW!!!!

SHOW has COLLECTIBLE mugs available featuring Top Deck, Houston and Sebastian, as well as Napoleon, George and Marshall. Contact Nancy for your mugs. TAR and Teddy mugs are now available. The Picasso mugs are SOLD OUT!!

ALSO AVAILABLE!
We have in stock a WATER BOTTLE available with the SHOW logo on it. Call Nancy for more information on this great item.

We have a short sleeve tee shirt and a long sleeve tee shirt now in stock at reduced clearance prices! Get one of each while they last. Limited sizes now available.

Please email Nancy to inquire about receiving your own mug and shirt today!
Select sizes are available.

Thank you for supporting our efforts.

The Trailer
Our trailer has affixed to it the logos of each club at the stable to show support for their efforts. The members of these clubs have all shared time with these fine retired animals. Please support them in their efforts to improve their skills....... We wish to thank the County of Union for their generous donation of this wonderful piece of equipment, and for sprucing it up for us.
Who We Are
SHOW(School Horses Of Watchung)Retirement Program has been developed by the Watchung Stables Auxiliary to further assist the school horses with their needs as they grow older and are no longer suited for the program. The organization identifies potential adopters to accept the horses and provide a comfortable living arrangement so they can live out their lives while providing companionship to their adopter and/or another horse.
Our Mission Statement
"To provide dignified, healthy and comfortable retirement for the School Horses of the Watchung Stables"
Adopting a friend
For information on possibly adopting a retiree of the Watchung Stables, please e-mail a letter of interest to the SHOW Retirement Program. We will evaluate the request and contact you for further information. Anyone interested in providing an appropriate placement home for our horses is encouraged to send an email to SHOW at the following address. Nancy At SHOW

Adoption forms will be mailed to any person(s) who emails the club expressing an interest in adopting, and once the adoption forms are returned completed, via US mail, they will receive serious consideration from the SHOW Retirement Program.

***SHOW requests an adoption fee of $500.00 for our fine steeds***
Come Visit Us!
We are located at the Watchung Stables, in Mountainside, NJ. We can be reached by any of the major highways, including US Rts 22,24,78,GSP,NJ TPK and Rts 1&9. Rt 22 west from Newark, Hillside, Union, Springfield; Travel into Mountainside and take the first right turn(at the Getty gas station)onto Summit Rd. Travel north, up Summit Road to the top of the hill, where you will come to a traffic light. Turn left, (west) on Summit lane, and proceed past the first street (Sylvan Lane) to the next right turn. This is the driveway to the Stables. Proceed down the drive to the first parking area on your right; or, keeping to the right, around the center island, turning left, past the admin building and straight to the parking lot ahead. Sundays are a good day for the public to visit the Stables and barn.
---

SHOW Retirement Program
Watchung Stables Auxiliary, Inc.
1160 Summit Lane
Mountainside, NJ 07092
Web address: under construction
SHOW is a committee of the Watchung Stables Auxiliary, a registered non-profit 501(c)(3) corporation. Registration number available upon request.
Please e-mail your requests for information. The Stables Management does not want phone calls requesting information on these horses. Thanks.

Email: Nancy At SHOW
Click here for a list of pets at this shelter

---

[Home] [Information] [Shelters] [Search]