Visit Our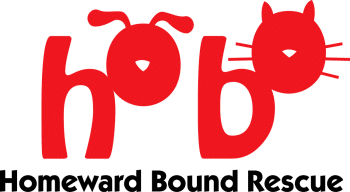 Homeward Bound Rescue of NJ seeks to improve the quality of life for sheltered cats and dogs through rescue, rehabilitation and by finding loving, adoptive families and homes.  We aspire to treat all pets and humans with compassion, respect and the grace that they deserve.  We believe that euthanasia is not the answer to pet overpopulation and that mandatory spay/neuter laws must be invoked.  We proactively seek to educate the public about responsible pet guardianship and work cooperatively with humane organizations and municipal shelters to re-home adoptable animals. We help animals in need of a safe, loving environment and people in need of a new companion.
Don't breed or buy while shelter dogs die,
adopt and save a life!

WHAT WE DO
| | |
| --- | --- |
| | Rescue companion animals from high kill shelters and provide them with all of the necessary veterinary care. |
| | Provide loving foster care for rescued companion animals such that they may live as members of the family in the homes of our volunteers where they are evaluated, socialized and housetrained in preparation for adoption. |
| | Coordinate the adoption of rescued companion animals into permanent, loving homes. |
| | Advocate the practice of spaying and neutering along with refusal to support the profit driven pet industry as the ONLY means of putting an end to the senseless destruction of millions of homeless companion animals every year. |
| | Organize weekly adoption events to rehome rescued companion animals. |
| | Organize monthly special events which provide an additional opportunity to showcase our rescued companion animals as well as promulgate animal education issues to the public. |
| | Organize quarterly training and education seminars with issues that range from the need for spay/neuter laws, temperament testing dogs, child safety around companion animals and responsible pet guardianship.  |
| | Fundraise to provide much needed assistance to local animal shelters.  |
ADOPTING A FRIEND
Adopting requires a completed application, a telephone interview, an adoption contract, an adoption fee, and a home visit by us to ensure that you and the new addition to your family are happy and comfortable with the adoption so you can start your new life together!

COME VISIT US
You can find us at PetSmart in Hamilton on Route 130, Hamilton Township, from 12:00 noon until 3 :00 pm every Saturday.
  
CONTACT US
  
Homeward Bound Rescue of NJ 
P.O. Box 5501
Trenton NJ 08638 
  
Phone: 609.586.9143
Email: info@homewardboundrescuenj.org



Join Our
Mailing List!
 We proudly support the effort to relocate & rebuild