We will have an adoption representative present at our adoption center at PetSmart located on Route 18 (North Bound) in East Brunswick, NJ Saturday 11pm to 4pm and Sunday 11pm to 3pm. If you're looking to add a new member to your family, please visit us at PetSmart and find that special new addition who is eagerly waiting to meet you. If you are interested in making an appointment, please email Michelle @ animallifesavers@hotmail.com or call Michelle at 732-259-6530
Animal LifeSavers Pet Adoption Inc.
OUR FEATURED PET...
My name is Patty. I am a very special kitty. One reason I am special is because I have extra toes (polydactyl or Hemingway Kitty). The other reason I am special is that I am very lovable cat who doesn't have a home. I used to have a home, until my owner got sick and could not take care of me anymore. Please come by petsmart to say hello to me.
Patty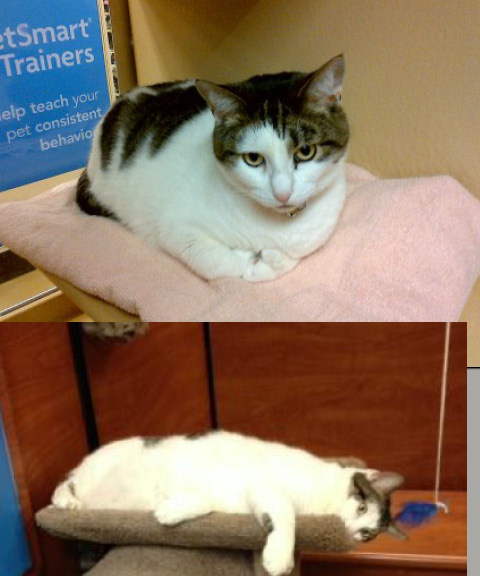 DUE TO LIMITED FOSTER SPACE & FUNDING, WE ARE NOT ABLE TO ACCEPT ANY ADDITIONAL CATS OR KITTENS AT THIS TIME.
PLEASE CONTINUE TO CHECK WITH OTHER RESCUE ORGANIZATIONS LISTED ON THIS SITE WHO MAY BE ABLE TO ASSIST YOU.
This does NOT apply to previous adopters of Animal LifeSavers - we will honor our contractual obligation to take any cat or kitten back if adopted from us.
ADOPTION DATES FOR CATS & KITTENS
We will have an adoption representative on site at PetSmart in East Brunswick, NJ (Rt. 18 south) this weekend, by appointment.

In addition to our adoption hours at PetSmart on weekends, many of our adoptable cats live right in the store's adoption center throughout the week! So feel free to stop by and see who is looking for a new home. Information on how to contact us if you are interested in a cat you see is available right inside the store during PetSmart's hours of operation. Adoption applications are ALWAYS available on site and by email request (animallifesavers@hotmail.com). You can also call Michelle at 732-259-6530
NEWS
Due to the overwhelming kitten boom this season, our aggressive Trap, Neuter, Return campaign, and the number of cats/kittens we have rescued from other facilities, we are in desperate need now, more than ever, of your support. Our current veterinary bills are in excess of $5,700.00 and that does not include the daily costs of food and medication. We still have many cats and kittens in need of our care and we can not deny them the resources they need, but we need your help! Please see our information below about how your donations help and how to get them to us. Please remember, we are 100% donation based, so your help is critical to the work we do.
CURRENT EVENTS
SPONSOR A SPAY (or Neuter)
Help us control overpopulation by SPONSORING A SPAY OR NEUTER.

Please make your check payable to Animal LifeSavers Pet Adoption, Inc. in the amount of $65.00 (the cost of a female spay) or $51.00 (the cost of a male neuter). You can include a note in the "memo" section of your check and we'll be sure to use your check for the purpose you intended. Please mail your check to Animal LifeSavers Pet Adoption, Inc. PO Box 552, South River, NJ 08882. YOU CAN MAKE A DIFFERENCE IN CONTROLLING CAT OVERPOPULATION! Please help us by participating in our "SPONSOR A SPAY" (or neuter) campaign.

THANK YOU FOR YOUR FOOD DONATIONS
Thank you !! To all who have so kindly donated food at our adoption room in Petsmart, Route 18 East Brunswick, NJ, your generosity is greatly appreciated & desperately needed!!
WHO WE ARE
Founded in 1994, and based in East Brunswick, NJ, Animal LifeSavers Pet Adoption, Inc. is a 501C not for profit, private, all volunteer, no kill rescue group that takes in homeless, injured and mis-treated animals. The animals are provided with immediate medical care, are disease tested, and vaccinated. Those that are old enough are spayed/neutered before being put up for adoption to homes that have been diligently pre-screened. Our group of volunteers depends solely on donations and fund raising to meet our expenses.


Animal LifeSavers realizes that not everyone can take in a new cat at this time. But you can help in other ways. The medical care and daily upkeep of our cats is very expensive and we depend on your help to make these services available to them. We are in continuous need of your support to help care and provide for our animals. The amount you wish to contribute is up to you. PLEASE SPREAD THE WORD. We are continuously in need of the generosity and good will of others to continue to care for and ensure the well being of our shelter animals.

We gratefully accept monetary donations addressed to:


Animal LifeSavers Pet Adoption
PO Box 552
South River, NJ 08882

**Please check with your employer**
Many companies have a "matching gift" program that may double your financial donation to our organization. Please check with your Personnel Department today.


If you would like to donate food (dry or canned) or other items from our "WISH LIST," please feel free to drop them off at our adoption room located at PetSmart on Route 18 South Bound, East Brunswick, NJ.
DONATION WISH LIST
- Cash/Check donations in the amount of $65.00 or $51.00 for us to purchase low cost spay/neuter certificates
- Gift cards (in any denomination) to PetSmart, WalMart or Petco
- Cash/Check donations in any increment
- Canned Cat Food
- Dry Cat Food
- Kitty Litter (scoopable and clay)
- Towels & Blankets
- Cat Toys
- Dry Dog Food
- Canned Dog Food
- Cleaning Supplies: Clorox Bleach, Anti-Bacterial Dishwashing Liquid, Plastic Garbage Bags
- Paper Towels

** Click on the link above, or donations can be dropped off at our Adoption Room at PetSmart, Route 18, South Bound in East Brunswick, NJ, or call 732-254-5002 to arrange for a pick up.
Adopting a Friend
SAVING A LIFE - Animal LifeSavers currently has several cats ready for adoption who will warm your heart and home with love. All of our cats are tested for Feline Leukemia and AIDS. All are treated for worms and checked and treated for ear mites and fleas. They are up to date with ALL shots and if old enough, spayed or neutered. We carefully screen potential adopters and match them with the cat that best suits their personality and lifestyle. Animal LifeSavers, a NO KILL SHELTER, provides a haven for our cats until they are adopted. However, adoptions must take place so that we can make room for the many pets waiting for a safe refuge.

SPECIAL HOMES NEEDED. Because ALS is a NO KILL SHELTER, we are also looking for a home for a Feline AIDS positive cat.

ADOPTION FEES

Kittens (not neutered/spayed) $100.00
Cats (neutered/spayed) $100.00
Cat (neutered/spayed AND declawed) $100.00


While ALS's success rates for adoption is high, we stand behind our cats. If for any reason, at any time, you can no longer keep an ALS cat, we want our cat back!!!
Come Visit Us!
See a particular cat you are interested in? Please contact animallifesavers@hotmail.com (attention Michelle) or call Michelle at 732-259-6530 for more information and/or to make an appointment to meet the cat/kitten. Many of the animals pictured here are cared for by foster families and are anxiously awaiting a permanent home. We have several cats/kittens ready to meet you who can be visited at our Adoption Room in PetSmart, located on Route 18 South Bound in East Brunswick, NJ. Please feel free to visit our virtual adoption center on this site. Take a look!
---
Animal LifeSavers Pet Adoption Inc.
PO Box 552
South River, NJ 08882
Phone: 732-485-02665 or 732-259-6530

Please be sure to include your name AND phone number with email correspondence so we can get right back to you!
Email: animallifesavers@hotmail.com

Click here for a list of pets at this shelter
---

[Home] [Information] [Shelters] [Search]