Atlantic County Animal Shelter
Please call or stop by the shelter and check out all the wonderful cats and dogs anxiously awaiting loving homes!!
---
Pet of the Month
Our Pet of the Month is..."GHOST"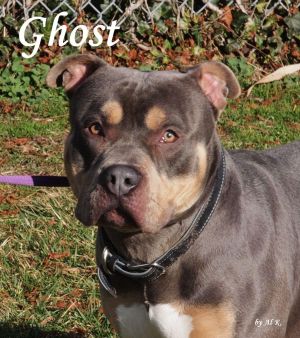 Greetings folks! My name is "GHOST" and I am a 2 year old Rottweiler/Pit Bull mix. People comment all the time on my unique coloring and they say I am a handsome dog! I am a happy dog that loves playing with toys and exploring the environment. I am looking for a family without small children, small pets and no dogs. Adopt me and we can explore the great outdoors together.
Free Rabies clinics are conducted at the Shelter and are available for those residents who miss their town's clinic. Our next free rabies vaccination clinic will be held at the shelter on Saturday, May 13th, 2017 from 9:00am - 11:00am.
Residents are urged to vaccinate their pets early in the year to ensure timely compliance with municipal licensing requirements.
Who We AreThe Atlantic County Animal Shelter was developed in 1995 as a response to the needs of the municipalities for a regional animal control facility. Since its opening, the number of intakes consisting of stray, unwanted and abused animals has drastically decreased by 50 percent. This achievement is attributed to the implementation of several programs, including all animals being spayed or neutered prior to adoption and early-age spay and neuter services. The primary goal of the Animal Shelter is to reunite lost pets with their owners and to facilitate meaningful adoptions that benefit both pets and owners. Community outreach programs and free canine obedience classes help support adopters and further promote responsible pet ownership. Visit www.aclink.org/animalshelter to learn more. Volunteering and DonationsVolunteers must be 18 years of age. If you are interested in helping to exercise and socialize the many animals we have for adoption, just stop in during opening hours and fill out a volunteer request form or you can fill out a volunteer application online by visiting our county website www.aclink.org. Donations are always welcome. If you would like to donate to the many homeless animals we have, call the shelter and we will provide you with a list of items the animals could use. Donations are tax deductible. Come Visit Us!If you would like to visit our shelter, please call (609)485-2345 and we will gladly guide you to our awesome facility. The shelter is open 7 days a week from 1-4 except on Tuesdays, which the hours are 1-3. Lost Pet/Reclaiming a PetIf you have a lost pet, please call, e-mail or visit the shelter and we will take a detailed description of your pet and escort you through the dog and cat rooms. If you file a lost report by phone, we recommend that you still visit the shelter since you will recognize your animal immediately, should it be housed here. There will be a fee for reclaiming lost pets. The fee is as follows: $20.00 administration fee and $4.00 for each day the animal is housed here. Payments can be made by cash, check, money order or visa/debit. Surrendering Your PetTo surrender a pet you must be a resident of Atlantic County. The following fees apply: Dogs-$50.00, Puppy under 6 months of age- $20.00, Litters-$20.00 for 1st, $10.00 for each additional puppy. Cats-$35.00, Kitten under 6 months of age-$20.00, Litter-$20.00 for 1st, $10.00 for each additional kitten. Animals surrendered are NOT guaranteed to be placed for adoption, please use all methods possible to find your pet a responsible new home. Stray Dogs and CatsYou can surrender a stray cat or dog to the shelter during the hours of operation listed above or call the shelter for a listing of the numbers for your local Animal Control Officers.

Atlantic County Animal Shelter
240 Old Turnpike Road
Pleasantville, NJ 08232
(609)485-2345 Fax (609)484-0767