---
Our Featured Pets...
"Lucy" is a playful attention hound. She gets along with other dogs. She is a German Shepherd/ Hound mix.




"Jonah" is utd on vaccinations and has been neutered. He is a shy cat until he gets to know you. Like many white cats, Jonah is deaf.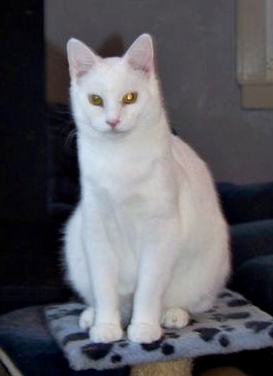 News
The Humane Society of Richardson County has set up an account with First National Bank in Falls City. All contributions to this account are designated for the "Shelter Building Fund". Donations can be made at either the drive through or main office of the bank. Or contributions can be sent directly to the Humane Society (P.O. Box 365 Falls City, NE 68355), designated for the "Animal Shelter", and they will be deposited into that account. All contributions are tax deductible.
Who We Are
We are a non-profit organization working in Richardson County Nebraska. The mission of the Humane Society of Richardson County, Inc. is to prevent pain and cruelty, to place all adoptable animals in suitable homes, with the goal of zero euthanasia. To educate the community on the humane care and treatment of all animals, with emphasis on the importance of spaying and neutering.
Adopting a friend
Call or e-mail us for details. Adoption fees vary, depending on funds invested in each animal. To fill out an adoption application go to homesite page, How To Adopt
Come Visit Us!
The Lela & Sam Schuler Memorial Shelter is located 1510 East 14th Street (look for a white house with blue tin roof on the north side of Hwy. 159). The shelter is open to the public by appointment only. Please call or e-mail to arrange a meeting with any animals which are available for adoption.
Want to Donate?

Our dogs would love to sleep on Kuranda Dog beds. If you would like to donate a bed at a special wholesale price for a shelter dog to sleep in comfort, please donate a Kuranda dog bed.
---
Humane Society of Richardson County

Falls City, NE 68355
Phone: 402-245-2779
Email: Ardis Ramsey
Email:Julie Phroper

Humane Society of Richardson County website
Click here for a list of pets at this shelter

---

[Home] [Information] [Shelters] [Search]