Animal Rescue Society, Inc
---
Our Featured Pet...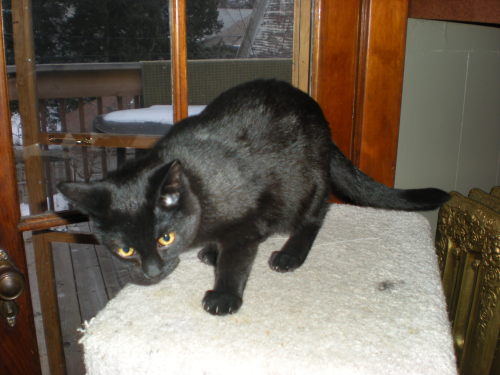 "Loveball" was found by one of our volunteers while picking up trash in a dry creek bed near an area where we had been doing TNR. Evidently he became separated from Mom or Mom had been killed, as this little guy was all alone and crying his little head off. Loveball was accepted by one of our surrogate Moms and grew up with three other "unrelated" siblings. He is a gregarious explorer and like his name implies, he is nothing but one little ball of love!
Who We Are
Animal Rescue Society - What we are not about ARS is not about perfection. You will not find what you may consider perfect animals on our site. You will not find animals that will enhance your self-esteem by their perfect looks or their perfect bloodlines. What you will find are animals that are in desperate need of homes as they have no where else to go. If the public does not welcome these animals into their homes, we will not be able to help the numerous animals that so desperately need our help. So if you are looking for perfection or that perfect specimen of a particular breed, you might as well look elsewhere. We are about helping those in dire need and, as such, we are looking for humans who understand that animals who are old or who have disabilities need homes even more desperately than the young perfect ones. We look for humans with gigantic hearts that will welcome a special-needs animal into their home as readily as a perfectly normal animal. The world is not only perfect kittens and puppies. The real world is full of adult animals, many of which were discarded or thrown away by their families, not because of something the animal did but because of something their caretaker failed to provide--obedience training, proper diet, necessary veterinary care or many other things that animals require to be happy and healthy. When we feature animals in our adoption room and we get query after query about the youngest animal featured while the others sit there month after month, in all honesty, in our opinion, that in itself speaks volumes about the potential home. When we receive calls from people wanting to help an animal in the greatest need, that speaks volumes also. The kittens and puppies will always get a home. We are looking for people who want to help the animals more than they want to help themselves. The people involved in our Organization must view all animals as equally important, with needs unique to that animal. Unfortunately, there are very few people like that. To do what we do you must be able to open your heart and arms to any animal in need, not just the babies or cute ones, or the healthy ones or the perfect ones. More than anything else, what we want to accomplish is changing the way people who say they love animals think about animals. We want them to understand that the greatest sense of reward and fulfillment is not in helping only perfect animals, but rather helping those in greatest need.
Adopting a friend
Policies & Procedures: We ask for a minimum donation for each animal so that we may help the one that takes it's place. $50 - Cats/Kittens (If adopting a bonded pair, the second one is free) $150 - Dogs/Puppies (If adopting a bonded pair, the second one is free) **There could be fee exceptions on certain breeds. $50 - All other animals $30 - If you are over 60 and you adopt an animal over 9 years of age. We are not in the business of making money but of making sure that all animals are given a first or second chance at life in the right home. However, in order to provide a decent lifestyle for the animals it does require public support. We prefer the animals are allowed some access to the outdoors which means you must have a relatively safe area for them around your home. We do not allow declawing or body alteration of any kind or for any reason and request the animal live in a smoke-free environment. We ask that you read through our materials regarding diet and lifestyle in order that you may provide a quality life for the animal. An application is available online or you may make an appointment to come see the animals in person. Please make sure that all family members are present in order to make a consensual decision.
Come Visit Us!
Please email us at info@animalrescuesoc.org or call us at the number below to set a time to come see our many wonderful animals. We are open seven days a week from 12 - 6 PM for phone calls and adoptions by appointment. These animals are literally depending on you to save their life! Please visit our Website at www.animalrescuesoc.org for additional information
---
Animal Rescue Society, Inc
P.O. Box 80663

Lincoln, NE 68501
Phone: 402 488 4623

Email: sanderson27@neb.rr.com
Click here for a list of pets at this shelter

---

[Home] [Information] [Shelters] [Search]