Tailless Cat Rescue
---
Our Featured Pet...
&nbsp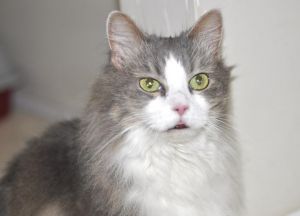 Cerena wound up in a high kill shelter when her owner became too old to care for her. The vet found it difficult to estimate her age, saying she could be from 8-12, so we'll go with 10.
She is a stunning girl who likes to be brushed, and should be brushed weekly because of her long fluffy coat. She also loves to be petted, tolerates having her nails trimmed, and likes to play with a fishing pole toy. She loves to bring you her toys.
She was originally living with a dog, and while she can get along with another cat she really doesn't like cats, so would do great as an only.
She is spayed, is up to date on vaccinations, has been wormed and treated for fleas, microchipped, tested FeLV/FIV and heartworm negative, and had a blood panel run to make sure she is healthy. She also had a dental and teeth cleaning. Her adoption fee is $50.
Who We Are
Dedicated to finding exceptional homes for exceptional cats
Specializing in Manx, but we'll accept Japanese or American Bobtails and Pixie-bobs
In 1995 my neighbor's Manx cat had kittens. There was a tiny runt in the litter that wasn't expected to survive. I was there when the kittens were born, and I volunteered to provide a home for the runt if she made it. That was Misty, and the beginning of my love for the Manx breed. After several years of rescuing Manx and other tailless cats through all breed rescues, in 2006 I decided to start my own rescue and TCR was born.
TCR is run entirely out of foster homes. So the number of cats we can take at a time is limited to the space we have. We also have to respect NC law which limits the number of animals that can be fostered at a time. And we will only have as many cats as we can afford to care for at one time.
TCR is all about the cats. The rescue is based on the highest standards of honesty, ethics, and care for the cats in our program. Our motto is "Dedicated to finding exceptional homes for exceptional cats". And Manx and other tailless breeds really have exceptional personalities and deserve the best homes possible.
Most of the cats come from animal shelters or pounds where they have run out of time and are going to be euthanized. We generally don't take owner surrendered cats. We believe that once you make a commitment to a cat, it should be for a lifetime. We will assist owners in how to find homes for their cats if they can no longer keep them, and will provide access to expert advice on solving behavioral or health problems so that it is more likely they can stay in their homes.
Adopting a friend
Adoption fees are approximately equal to the basic vet costs required to get that cat ready for adoption, and will be listed on the individual page for each pet. In some cases, sponsors have allowed us to lower that fee. We do have an adoption contract, and a vet reference and home check are required. The contract can be viewed on our website at www.taillesscatrescue.com
---
Tailless Cat Rescue

Liberty, NC 27298
Email: taillesscatrescue@hotmail.com

Click here for a list of pets at this shelter
---

[Home] [Information] [Shelters] [Search]