Kitty Connection
---
Our Featured Pet... Sassy!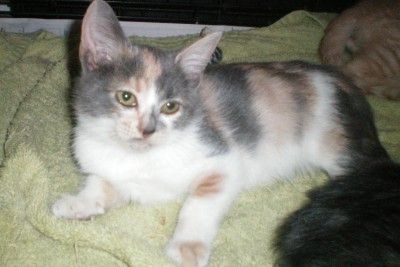 Who We Are
Kitty Connection is a FOSTER HOME for rescued cats / kittens. We rescue from local kill shelters (we do not take animals from the public)before the animals are euthanized (though we can't save them all). Since May 2004 over 1000 cats and kittens have been placed in homes!! All of our felines are spayed / neutered, up to date on shots, and receive flea and ear mite treatment and deworming. We operate solely on donations.....Donations of food (can and dry), cat litter, and monetary donations is greatly appreciated!!
Spay / Neuter
Please spay and neuter your pets...there are too many unwanted pets that go euthanized each year simply because there are not enough homes....in New Hanover County alone in 2007 close to 1500 cats were euthanized. The CAPE FEAR SPAY / NEUTER CLINIC does low cost spay / neuter and can be reached at 910-602-1101. SNAP is also a program for families of low income. This is a mobile clinic that will spay / neuter your pet based on your income. Look up info on this program on the web.
Adopting a friend
All kitties are fostered for the CAT ADOPTION TEAM RESCUE GROUP..some of them MAY be seen at THE LUV A PET CENTER AT PETSMART on MARKET STREET in the TARGET SHOPPING CENTER, but most of the kitties listed are in a foster home and can be seen by calling 910-233-5339 to schedule an appointment.
Come Visit Us!
KITTIES fostered by KITTY CONNECTION are available for adoption at THE LUV A PET CENTER with the CAT ADOPTION TEAM at PETSMART or by appointment by calling the foster home. You may want to call 1st as most kitties are in foster care and NOT yet at PETSMART. This website is updated regularly and any kitties adopted are removed within 24 hours.
---
Kitty Connection
Wilmington, NC 28403
Phone: 910-233-5339

Email: swaters@ec.rr.com
Click here for a list of pets at this shelter
---

[Home] [Information] [Shelters] [Search]