Southern Siberian Rescue
---
Our Featured Pet...
Keren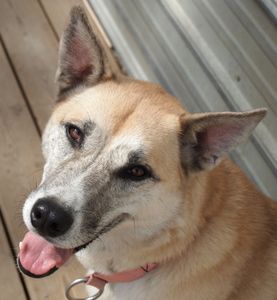 Keren is an absolutely fantastic girl that continues to get overlooked in our program because she is a mix. She is very sweet and well mannered. She is a little bit shy and skittish until she knows she can trust you then she is just a doll baby. She does great with other dogs and may do well with cats. She's a great pick so please don't overlook her.

News, Events and Activities
Please visit our Events Calendar to find out what events and adopt-a-thons we will be attending and where. Please join our SouthernSibes Yahoo Group list to learn what we are up to and what help we need for our foster dogs SouthernSibes. We also have an events list for information on hikes and other fun activities we do with our dogs. You can find that at SSR Romps.
Who We Are
Southern Siberian Rescue is a group of dedicated volunteers responsibly rescuing Siberian Huskies in need throughout North Carolina and surrounding states. Our sole purpose and priority is to help unwanted, misunderstood, abandoned or neglected Siberians find homes. We do this by providing needed health care, rehabilitation and training for all our foster dogs and carefully screening potential adopters. The Siberian Husky is not a breed for everyone and adopters need to understand this breed and all of its quirks and beauty. We also spend a great deal of time educating potential owners and the public about the Siberian Husky, their special requirements, temperament, personalities and traits. We promote the importance of adopting from a reputable rescue or working with a responsible breeder when inviting a Siberian to your home. If you chose not to rescue, please contact us at SouthernSibes@yahoo.com on how to find a reputable breeder. With so many homeless Siberians and Siberians facing death in shelters, it goes without saying that we are serious advocates on spay and neutering your pets. Not only is it the responsible thing to do, it is the right thing to do medically. Statistics show that unaltered females have a higher risk of mammary cancer and unaltered males are a higher risk for testicular cancer. PLEASE love your pets and spay or neuter them.
What We Need
Regardless of what your passion is, rescues and shelters across the board always need foster homes, help with temp testing pets in shelters, pulling and transporting said pets, references, homechecks, helping with a pet at events or adopt-a-thons, monetary donations to help cover the cost of food and medical expenses, blankets, towels and crates. Just to mention a few. There are rescues for all breeds, whether purebred or mixes, so find your passion and contact that group for ways you can help.
Adopting a Friend
To begin our adoption process, please fill out our Adoption Application. We check both vet reference on existing pets and personal references. A homecheck is mandatory, whether it is done by one of our volunteers and you come meet our foster dogs or we bring the foster dog that you are interested in to you. We do this to be sure it's a good fit for all involved, not to see if your house is clean or not. We strive to provide a happy, loving, permanent home for our foster dogs.


Southern Siberian Rescue is based out of Raleigh, NC and serve SE states only (NC, SC, VA, WV, KY, GA, TN) due to our required home check. We will try to serve other areas, only if there is no comparable Siberian Rescue or Siberian in your area. If we have a volunteer in your area that can do a home check for us, we will ask that you be prepared to drive to Raleigh, NC to meet the foster dog of interest. You will need to bring all of your existing pets and immediate family members to meet our dogs. We need to know that it is a good match for all involved. For local adopters, we will bring the foster dog(s) of interest to you at the time of the home check. We will not and do not ship our foster dogs.

SSR can not and will not hold dogs for anyone. If we do, that means another Siberian will die in a shelter because a shelter dogs time is very limited, as is our foster space. We do our best to process applications in the order received and first application gets first interest in our foster dog(s). We understand that there will be scheduling conflicts with home checks and meet and greets with our foster homes and foster dogs. We will accommodate for that if a potential adopter has interest in a particular foster dog in our program.
Come Visit Us!
Southern Siberian Rescue has volunteers across the state of North Carolina that foster our dogs in their personal homes. We do not have a facility that you can visit. Please email us at SouthernSibes@yahoo.com to find out how to meet the dogs. You can also visit our Events Calendar at www.SouthernSiberian.com to find out where we will be with the foster dogs.
---
How ShelterCare Pet Insurance works
Alleviate the financial stress associated with your petís unexpected medical expenses and generate funds for our shelter at the same time! Simply apply for a ShelterCare Pet Insurance Program by using the ShelterCare banner-link. Hereís how it works: ShelterCare Pet Insurance Programs cover you when your pet needs essential veterinary care from an illness or injury. Also, every time a completed application for a ShelterCare program is generated through our shelterís website, we automatically receive a $25 donation to help cover common needs like blankets, litter and food. This donation is of no cost to you and provides us with essential funds. Make the right move and enroll today!

Southern Siberian Rescue
PO Box 98601
Raleigh, NC 27624
Phone: 919-868-0798

Email: SouthernSibes@yahoo.com
Click here for a list of Siberians in our foster program

---

[Home] [Information] [Shelters] [Search]