Protective Animal Welfare Society (PAWS)
---
Our Featured Pet...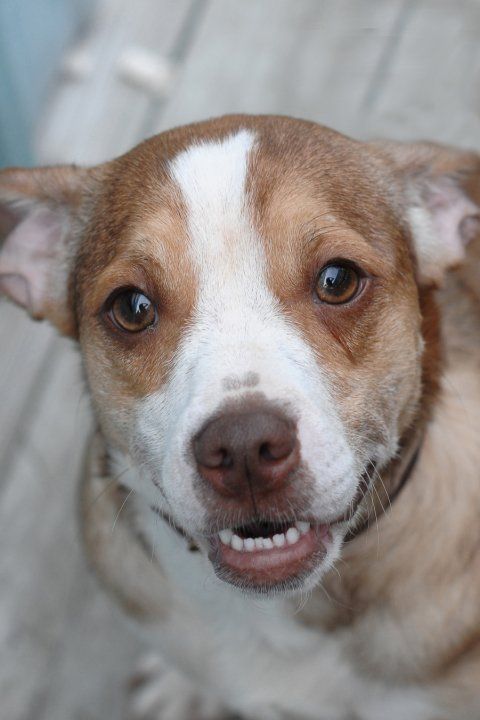 Cinnamon is a sweet energetic little Boston/Beagle mix (our best guess).

Cinnamon is about a 2 year of age and is the size of a small beagle...probably weighs around 25lbs. She does play well with other dogs, but she does like to be the boss so if she goes into a home with another dog she'd do best with a submissive dog.

Cinnamon does not seem to care for small children, I think she views them as little space aliens...because of this Cinnamon cannot be placed in a home with small children although she should be fine with older children.

She is a sweet, affectionate energetic dog that is just waiting for her forever home!

If you are interested in Cinnamon, please complete our online adoption application or contact us.


News
We are pleased to announce that regular adoption events will be held at our facility the 1st and 3rd SUNDAY of each month from 12pm to 4pm. The adoption events will be a joint effort with several other rescue groups so there will be not only the wonderful PAWS dogs but many other wonderful rescue dogs from other prominent rescue groups to consider adopting. We hope to see you there! We are located at 7833 Wornall in Kansas City Missouri. We are located inside the A Dog's Fun Playce facility.
Who We Are
We are a 501(c)3 non profit organization determined to work for the benefit of animals in need. Whether it be helping to find new homes for our adoptable friends or working in connection with local and City agency's to investegate cases of cruelty and neglect. We have a large facility and staff that is able to handle a wide variety of these types of issues as well as working with animals with behavioral, socialization, or training issues.
Adopting a friend
All dogs adopted from PAWS come with 6 months of free day care at A Dog's Fun Playce (a $2,700.00 value). All dogs adopted from PAWS will be current on their vaccinations, spayed or neutered and microchiped prior to their release.
Come Visit Us!
We are housed inside of A Dog's Fun Playce located just north of 79th Street on Wornall Road. We are open 7 days a week. Hours of operation are 7am to 6pm Mon-Fri, 8am to 5pm Sat and 9am to 4pm Sunday. Our dogs are available to meet you between noon and 2pm every day or by appointment. PLEASE CALL AHEAD as some of our animals are in foster homes and may not be in the facility every day.
---
Protective Animal Welfare Society (PAWS)
7833 Wornall

Kansas City, MO 64114
Phone: 816-361-7829

Email: outlaw7148@yahoo.com
Click here for a list of pets at this shelter
---

[Home] [Information] [Shelters] [Search]