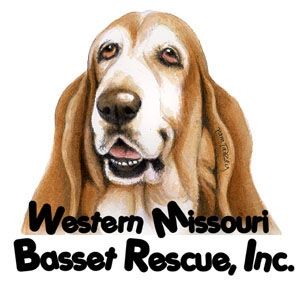 Western Missouri Basset Rescue Inc
If you are intersted in adopting a Basset Hound from us please click HERE to be directed to our ADOPTION APPLICATION.
---
Our Featured Pet...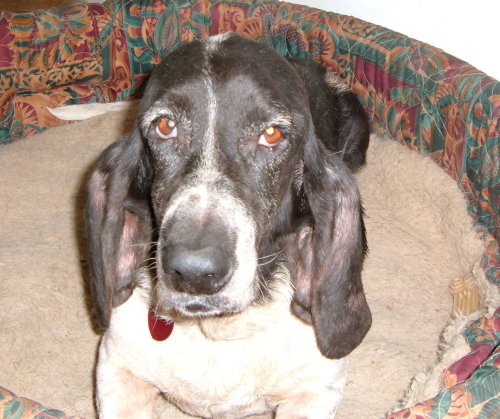 Our featured pet is Stewie. Hi my name is Stewie. I am a very nice nine year old male Basset Hound. I was left behind in the yard as my owners moved away, I almost died from the lack of food and water. I was so thin and weak when the Animal Control came to rescue me I could not lift my head. I have broken teeth from trying to eat rocks to keep me alive. I am getting Heartworm Treatment right now because I was Heartworm positive so I will not be available until December. My previous owners starved me, I was so full of fleas I looked grey brown but once I got rid of the fleas I was really a black and white Basset. I am nearly bald from flea bites but am getting better and better every day with good food and a clean place to lie down. I am so sweet and forgive easily I do not blame anyone for my past and look forward to a happy future. If you are interested in me please fill out an application on me at wmbri.org.
Stewie is on Heartworm preventative and is getting better every day! Please won't you give him a chance to warm your heart.? We know you will not be dissapointed.
Our next upcoming event!
Check back we have no plans yet.
Who We Are
We are a non profit charitable organization, saving hounds from bad situations and adopting them to good homes.

Western Missouri Basset Rescue, Inc. (WMBRI), is a not-for-profit volunteer organization. We are dedicated to the rescue, rehabilitation, reducton, (through our spay / nueter program) and placement of relinquished, abandoned, neglected or abused Basset Hounds in greater Kansas City and outlying areas. WMBRI. takes ownership of basset hounds that are obtained from previous owners, animal shelters, humane societies, puppy mills, and animal welfare agencies. WMBRI provides these Basset Hounds with medical care, food, shelter, and safety in foster homes, until they find permanent loving homes.
Adopting a friend
If you are interested in adopting one of our hounds you may email us at chris@wmbri.org and ask for an adoption application.
We are also seeking foster Homes and are needing volunteers and sponsors!
---
Western Missouri Basset Rescue Inc.
P.O. Box 9434
Raytown, MO 64133

Email: chris@wmbri.org
Click here for a list of pets at this shelter
---

[Home] [Information] [Shelters] [Search]