Humane Society of Freeborn County
---
Kitties in need of loving homes!
We are in desperate need of homes for cats. More and more are coming in, and we are full to bursting already. All our cats receive Rabies and Distemper/FeLeuk combo vaccinations. They are FeLeuk tested and vet checked. Adults are spayed/neutered. All are Frontlined monthly. They are all wonderful, loving kitties who deserve to have a home and someone to love. Please consider making one or more part of your family. You'll not only be saving the kitty you bring home, but also the kitties who are able to come in because we have room.


---
Featured Cat
MaryAnn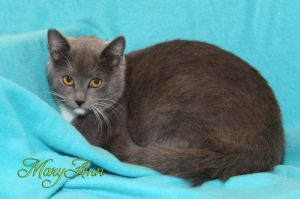 MaryAnn is a sweet, affectionate girl who likes to be brushed.
---
Featured Dog
The Humane Society of Freeborn County loves pet meds pawsome donation program! See 1800petmeds.com for all your petcare needs!
---
ADOPTING A PET

The Humane Society has entered an agreement with the City of Albert Lea to share the City Animal Shelter that is located in Frank Hall Park. Many of our animals are now housed there. For Shelter open hours see the bottom of this page. We also have pets housed in our outstanding foster homes, so please call or email to find out if the pet you are interested in is at the shelter or in foster care.

We require that you fill out an adoption application form which can be mailed to you or downloaded from our website. All our animals are up to date on routine shots. Most of our pets are already spayed/neutered. We require that all animals of breeding age be altered before they are released to their new homes. If the animal you wish to adopt has not been altered yet, you are responsible for the cost of alteration. We require kittens and puppies adopted from us to be altered at the appropriate time.

---
DONATIONS
Donations to the Humane Society of Freeborn County are tax-deductible. Monetary donations are always needed. Checks can be made out to Humane Society of Freeborn County and mailed to:

Humane Society of Freeborn County
P.O. Box 423
Albert Lea, MN 56007
Please include return address to receive a receipt.

ONLINE DONATIONS
Donations can also be made on our website.
DONATE A KURANDA BED
Kuranda pet beds are comfortable, durable, and easy to clean. Having something that can be easily cleaned is essential in a shelter environment. Our kitties would dearly love to be able to take cat naps on some Kuranda cat beds. Please keep them in mind. Here is a link to make a bed donation:

http://www.kuranda.com/donate/5747/wishlist .
WISHLIST
We also have a wishlist of needed items on our website.
---
NEWS AND UPCOMING EVENTS
Meeting
Meetings are held the second Wednesday of each month at 6:30 pm. MEETING LOCATION CHANGE--meetings will be held at Prairie Wind Coffee, 211 South Broadway, in Albert Lea. This meeting is open to the public and everyone is welcome to share their opinions and ideas. We hope to see you there.

Unsocialized Stray Cat Initiative
We have a program to help people neuter or spay the stray, feral, and barn cats in our county. If you have barn cats, or are taking care of a stray cat or feral colony, and would like more information about the program, please contact us. We are also desperately in need of monetary donations from individuals, groups, and businesses to make this program a success. Please consider donating to help control feline overpopulation! Donations can be sent to: HSFC--USCI, p o box 423, Albert Lea MN 56007. Requests for applications can also be sent to that address or a PDF version of the application can be downloaded from our assistance programs page.

Low-Income Spay/Neuter Grant Program
The program's purpose is to help low-income residents of Freeborn County who cannot otherwise afford to alter their pets. Cats or large breed dogs (those that will weigh 50 lbs or more when fully grown) are the primary focus of the grant. We are not accepting applications for small or medium dogs this year.***An application and proof of financial need is required.***If you have any questions regarding this program, please contact the spay/neuter program coordinator (Michelle) at 507-396-3659 and leave a message. Please be patient as it may take a day or two to return your call. A PDF version of the application can be downloaded from our assistance programs page. We have exhausted our funding for this year, but we will be making a waiting list for next year's program. Requests for applications can also be sent to: HSFC S/N Grant Program, p o box 423, Albert Lea MN 56007

Please go to our on our Facebook page for our upcoming events!
---
CONTINUOUS FUNDRAISERS
Goodsearch.com

GoodSearch.com is a search engine that donates half its revenue, about a penny per search, to the charities its users designate. You use it just as you would any search engine, and it's powered by Yahoo!, so you get great results. It includes more than 100 great stores, so you can do your shopping online and a percentage of each purchase goes to the Humane Society. Just click on the GoodSearch logo above.


Cans For Critters
We are collecting aluminum cans to raise money for our shelter pets. There is a wire kennel drop-off area right outside the shelter at 101 James Ave. (past the boat dock in Frank Hall Park). Please put your cans in garbage bags and tie the tops closed so the cans don't fall out. The program helps us to purchase and provide food, medical supplies, and medical treatment. This is a great way to help the homeless pets and the environment at the same time!
Read a Book, Help a Pet!
Ole's East Side Shell station in Albert Lea sells good-quality used paperback books. Stop in to buy a few, or if you have gently used books you would like to donate, call the Humane Society.


Kwik Trip Milk Moola
The Humane Society earns 5 cents for every cap or bag top collected from Kwik Trip or Kwik Star's Nature's Touch, and Kwik Quencher products. For every Glazers Dozen or Half-Dozen price oval we earn 10 cents each. These can be dropped off at the shelter doring open hours.


Empties 4 Cash Ink Cartridge & Cell Phone Recycling
The Humane Society collects empty ink jet cartridges, laser printer cartridges and digital cell phones. We send them to be recycled and earn up to $4 for ink jets, up to $15 for lasers and up to $5 for digital cell phone. These can be dropped off at the shelter during open hours. A list of the cartridges we can use can be found here.

Custom Buttons
The Humane Society has a button machine, and can turn your pictures into buttons! We can also do phrases or your logo. Please give us a call or email if you are interested.


---
WHO WE ARE
The Humane Society of Freeborn County is a non-profit, charitable, volunteer organization that is an advocate for the humane treatment of animals.

Services we provide include:

A 24-hour answering machine (507-377-8501) to handle any animal related calls.

Education to the public with regard to animal welfare laws and proper pet care.

Offer advice to persons who have lost their pets.

Discourage the illegal practice of animal abandonment.

A pet referral service.

Sheltering homeless animals and providing tender loving care until they are adopted.

Contact Information
To report abuse/neglect within Albert Lea city limits call 377-5215, outside the city limits, but within Freeborn County call 377-5200.

If you have lost your pet or are looking to find it a new home, we recommend calling KATE radio 1450AM at 373-2338. You can also place ads in the Freeborn County Shopper at 373-1310 or the Albert Lea Tribune at 373-1411.

We are all volunteers, and there are not many of us. We will try to return your calls and e-mails as quickly as possible, but sometimes delays can occur. Please be patient with us. When e-mailing us, please include your phone number. If you do not receive a response to a message left on our voicemail within 48 hours, please email us, letting us know the time and date of your call. Sometimes the phone system gets cranky, and won't give us our voicemail messages.



Humane Society of Freeborn County
P.O. BOX 423
Albert Lea MN 56007
Phone: (507)377-8501
Open Hours for the Shelter:
Tuesday and Thursday 1pm-5pm; Friday Noon-5pm ; Saturday 10am-2pm
Email: hs_of_fc@hotmail.com

---

[Home] [Information] [Shelters] [Search]