Southern Minnesota Animal Rescue Team, Inc.
---
Our Featured Pet...Kinto!!
Kinto is currently fostered by SMART founder Denice DeVito. Kinto is an American Staff Mix with a long handsome tail.

A nice lady saw Kinto tied to a tree for over a year and finally convinced his owner to surrender him to SMART so he can find a family who will love and treat him right!

He is 3-4 years old and although Kinto was tied to a tree outside for all that time he is AMAZINGGGGG and good with the world.

He is house trained and crate trained, LOVES people and being in a house, but he's kind of a bed hog :-)

He knows sit, down, come and gives great kisses! Kinto also walks really well on a leash and is very attentive.

If you are interested in meeting, fostering or adopting Kinto, contact SMART at 612-708-7242 or by email at denice@smartrescue.org.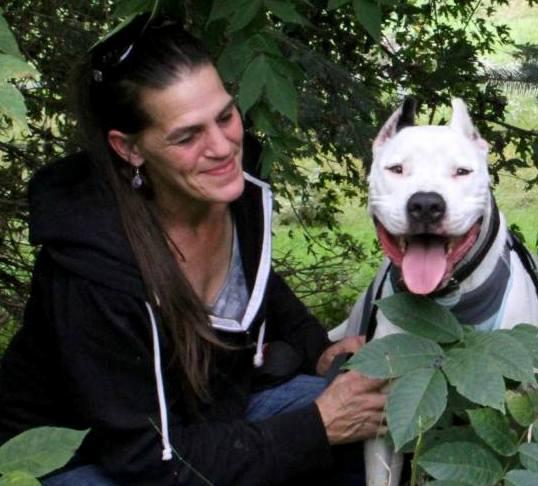 Aboout S.M.A.R.T.
S.M.A.R.T. was founded in 2008 and is an all-volunteer organization with no paid staff. Our purpose is to provide safe haven for abandoned and homeless pets, to provide front-line rescue of companion animals impacted by natural, technological, or other disaster, and to facilitate community education programs with respect to disaster mitigation, personal responsibility, and the plight of homeless pets.
S.M.A.R.T members have vast experience in pet rescue and disaster response, and gained most of our experience during nine months spent performing animal rescue in New Orleans following Hurricane Katrina. It was that life-changing event and the efforts of many that led to the formation of S.M.A.R.T.
It is our promise to adhere to the highest standards of professionalism, to exercise the most responsible stewardship over the animals in our care, and to act with honesty and integrity in all business we conduct.
Our goal is to become one of the most capable animal rescue organizations in North America. It takes great people, often in great numbers, to do great things. If you share our vision, we invite you to join us in our efforts by either donating your time as a volunteer, foster family or by becoming one of our generous providers of financial support.
On behalf of S.M.A.R.T. and animals everywhere, thank you…
---
Southern Minnesota Animal Rescue Team, Inc.


Lonsdale, MN 55046
Phone: 612-708-7242

Email: denice@smartrescue.org
Click here for a list of pets at this shelter

---

[Home] [Information] [Shelters] [Search]