Adopt-A-Pet, Inc.
13575 N. Fenton Rd.
Fenton, MI 48430
(810) 629-0723
email: info@adoptapetfenton.com
www.adoptapetfenton.com
FOSTER HOMES SAVE LIVES!
---
Pet of the Month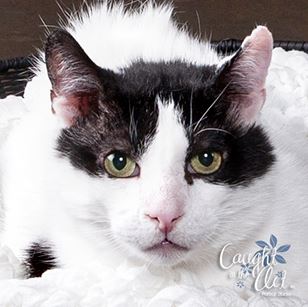 Introducing BULLDOG...


My name is Bulldog, but there isn't anything dog-like about me! In fact, what I really like is to hang out in someone's lap and purr. That's not to say that I don't have some energy left in me though! I can be quite mischievous, when the mood seizes me. There are a couple of other things you should know about me...I'm FIV positive. What does that mean? Well, first of all, it means that I should be an only cat OR live with cats that are also FIV positive. FIV is NOT a mandatory death sentence and with a healthy diet and proper treatment of any secondary infections, an FIV postive cat can lead a reasonably normal life span. I'm a great boy who deserves a great home. Don't let my diagnosis discourage you from meeting me. Speaking of adopting me, as I am more dignified cat (I'm a senior citizen), I qualify for the senior-to-senior program here. What that means is if you are a senior citizen and have no other pets, my adoption fee is waived and you can take me home (if you would like to offer a donation, that's OK though). The exciting thing about this though is that I'm still fully vetted, which means I'm neutered, up to date on my shots, FELV negative and microchipped. End your petlessness and take me home today!


About Us
Adopt-A-Pet Inc. is a growing, non-profit, animal rescue located in Fenton, MI. Our mission is to assist the community by providing a means to place unwanted pets in good family environments and to make the public aware of animal issues such as care, welfare, and hazards of overpopulation. For over 35 years, we have worked diligently to save the lives of hundreds of homeless, sick and abused animals. We never euthanize for space. We are committed to reducing the millions of animals being euthanized in shelters each year due to over crowding so we provide a subsidized spay/neuter program and a TNR program.

We have puppies, dogs, cats and kittens for adoption at our center on Sundays from 1pm to 4pm. You may also visit our in-house pets during the week, Tuesday through Saturday, from 10 a.m. to 3 p.m.

All of the animals are spayed/neutered prior to adoption (no exceptions) and up to date on all age appropriate vaccines and medical. We help people in the community find homes for the pets they can no longer keep, we rescue pets before they are euthanized and take in abused or abandoned animals. The Adopt-A-Pet center is located at 13575 N Fenton Rd in Fenton. We will be happy to do adoptions at our center Tuesday through Saturday 10 am to 3 pm or Sundays between 1pm and 4pm during our open adoption or by appointment.
Our Programs
We are proud to share three programs our organization offers.

Adoptions - whether it be a dog, puppy, cat or kitten, we have it. All of our animals are spayed or neutered prior to adoption and up to date on age appropriate vaccines, medical and are microchipped. We are looking for the best match for the animal and the family and not just any home or animal will do. We look at the animal's needs as well as the adoptive person's needs. Every decision that is made is always made in the animal's best interest. We require all of the potential adopter's current animals be spayed or neutered prior to adoption. We also require either speaking to an apartment/park manager or a copy of the lease stating animals are permitted. We strongly encourage dogs meeting prior to adoption to ensure compatibility. Adding an animal to your current family is a big decision and commitment. It is a wonderful, exciting and sometimes stressful time. We ask that anyone interested in adopting research what all is entailed prior to making this life long decision. Adoption fee for adult cats is $100 and kittens under six months is $120. Exotic breeds are $140. Large mixed breed adult dogs are $175, small breeds under 25 pounds and purebred dogs are $300 and all puppies are $250. All testing, sterilizing, microchipping and medical is included.

Trap Neuter Return (TNR) - we're excited that this program has been so successful for over 5 years. We have an incredible veterinarian on staff who is committed to helping to reduce the over population with spaying and neutering community cats (stray or feral) at a reduced fee. This program is run strictly on donations so we do request a donation to provide this service. There must be a caregiver for the cats feeding at least once a day and have some form of shelter for them. The cats must not be owned or family pets. Each cat will be ear tipped according to the national standard and released back to the owner. On rare occasions Adopt-A-Pet may have room to take in one of the cats but please don't count on this. Please go to our website at www.adoptapetfenton.com/tnr and download an application or contact our center at 810-629-0723 and leave a message with your name and address to have an application mailed to you.

Spay Neuter Assistance Program (SNAP) - We're excited this program has become so successful so quickly. We are committed to help our community and surrounding communities with the amount of animals being turned into local shelters. We believe spaying and neutering is the answer. For those people with financial need we offer a discounted spay or neuter fee. We will also give rabies vaccines. Spaying and neutering not only helps with the overpopulation problem it also allows for a healthier pet. Spaying/neutering can greatly decrease the chances of cancers and infections. If you know of anyone in need please share this information. Call our Adopt-A-Pet center in Fenton at 810-629-0723 and leave your name and address and ask for a SNAP application or more information.


Upcoming Events
EVERY Sunday from 1 to 4 at our center in Fenton - Adoption Event! Are you looking for a walking partner, a play mate, a confidant, a snuggler or a best friend? We have what you are looking for! Dogs, cats, puppies, kittens - all ages and all sizes - we have someone for everyone.

Euchre Tournament - April 24th at the Grand Blanc Senior Center in Grand Blanc. Admission is $15. Doors open at 6 and game begins at 7 pm. Food, drinks and raffle for sale for an additional charge. All proceeds benefit the animals at Adopt-A-Pet.

10th Annual Golf Outing Fore the animals May 16th at The Jewel in Grand Blanc. Registration is at 1130 am and shot gun start is at 1 pm. Fee is $85 per person and you must register in advance. Contact 810-624-0177 for more information.

Meet Your Best Friend at the Zoo adoption event - May 15th from 3-7 and May 16th from 10-5. Held at the Detroit Zoo. Hundreds of rescue groups and shelters participate so thousands of dogs, cats and pocket pets are looking for new families.




Come Visit Us!
You can reach us best at our Center in Fenton, by taking US-23 and getting off at the Silver Lake Road Exit. Turn east and go down Silver Lake to Leroy Street. Turn left on Leroy, which becomes Fenton Rd.

Map to our shelter

A Good Way To Help!
Do you know of a great fundraising opportunity? Do you have a desire to raise money to help allow Adopt-A-Pet to continue operating and saving lives of countless dogs and cats? If so, please email us at info@adoptapetfenton.com or call our center at 810) 629-0723.

****Add us as your VG community recipient! You can help the animals while doing your everyday shopping. Just go to the customer service counter as ask to have Adopt-A-Pet be your charity of choice and VG's will contribute a percentage of your total bill to Adopt-A-Pet. It's that easy.****


WE ARE IN DESPERATE NEED OF VOLUNTEERS AND FOSTERS! Becoming a Foster is easy and so rewarding! We will provide you with what you need and you provide the love and attention the animal needs. Please contact the Foster Coordinator, Jody at jodydogger@gmail.com or call 810.629.0723 for information.
Our Animals Would Love:
*Unscented Cat litter
Canned kitten food
High quality puppy or kitten food to help their immune system
Toys
Collapsible cages
*Cleaning supplies (paper towels, bleach, laundry detergent)
A million bucks
Bottles
*Stamps
Computer paper
br>
***Monetary donations are always accepted and greatly appreciated.***


Big ticket items we need:
New computer with Windows 7 or 8
Scholorships to conferences ($300 each person)
Chest of drawers for storage
Kuranda dog beds
If you would like more information on donating or volunteering, please email jodydogger@gmail.com or call Adopt-A-Pet at 810) 629-0723.

Thanks so much for keeping us in your thoughts! Thanks to all of you who have helped our animals in the past. And a HUGE thanks to all of our wonderful adoptive families!!

---

Adopt-A-Pet Inc.
13575 N Fenton Rd.
Fenton MI 48430
Phone: 810-629-0723
www.adoptapetfenton.com info@adoptapetfenton.com Email: info@adoptapetfenton.com
Click here for a list of pets at this shelter


---





[Home] [Information] [Shelters] [Search]