---
Hello!! Welcome to Faerie Tales Cat Rescue
Our featured cat, Titus!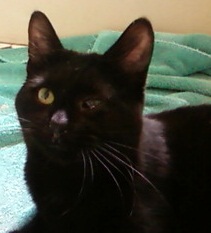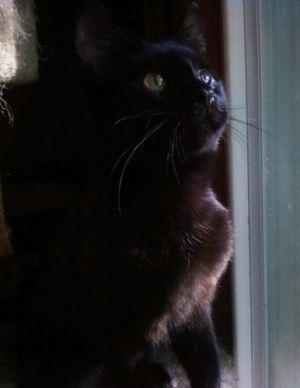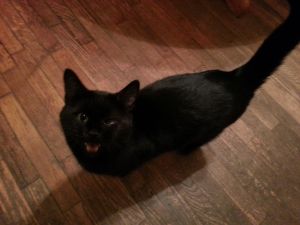 <>
<

You may complete an online adoption application for him through our website at www.faerietales.org



Titus is a nice example of how our rescue group became more holistic minded for all of our kitties. Titus was rescued from an animal shelter along with his siblings and mom. They were very sick at the time. Everybody recovered nicely and was placed into an adoptive home. Everyone, that is, except Titus. He continued to sneeze, sniffle, snort for many months. Always a soft hearted giant, Titus allowed us to dispense many different medications including many different herbal and alternative medicines. Finally, we brought Titus to a holistic vet that we consult with, Dr. Anne Rice, The Visiting Vet. She put Titus on the right path to recovery with eastern medicine philosophies and with some help from Titus himself, we began a new treatment regimine for him. We are happy to say that Titus is finally doing better and is maintaining well. He is on an all raw diet and herbal supplements.. Titus is a kitty that will need to be adopted by someone with a holistic mindset themselves. He will benefit from having the care of a holistic minded vet therefore too. we are recommending for Titus to not have any vaccinations given his delicate nature. His droopy eye lid will attempt to be corrected or reexamined prior to adoption. He does not paw or lick at his eye. If it starts to tear or become irritated, we have been told to give him goldenseal eye drops, which works wonderfully for him. He has already been felv/ fiv tested negative, dewormed,neutered, fecal checked, and had physical exams by the vet. Titus is a good natured cat, easy going and mellow. He loves being held and cradled like a baby. His favorite thing is to have his belly rubbed and he will slide down your ankle and onto his back to prompt you to rub his belly. He talks with soft churtling sounds when he wants your attention. Kind of like he is singing. Titus has a dark chocolately brown coat which is very rich, soft, and plush. The vet even thinks that he resembles that of a Burmese mix cat! http://www.cfa.org/client/breedBurmese.aspx His mother was a chocolate point siamese cat so we know he's got some uniqueness to him already! He is a calm and patient cat that is about 2 years old.. Because Titus is doing well now and has benefited from holistic medicine, we are not listing him as a special needs cat. He will be $100.00 to adopt just like the fees for our other cats. As many of our foster homes feed a raw diet and we are a holistic minded group overall, we feel this does not give Titus "special needs", rather, that we have adjusted our groups philosophy to meet that of each individual cats needs. Which, we think, makes our group special minded. If you would like to donate to his cause, please select the sponsor tab on his profile to submit your tax deductable donation. If you are interested in learning more about Titus, holistic care, or are even interested in giving this sweet boy a forever home, please contact us to discuss him at faerietalescatrescue@yahoo.com . For information about holistic care for animals, please check out these great websites: http://feline-nutrition.org/ and http://theholisticanimal.com/default.aspxFor more information email us at faerietalescatrescue@yahoo.com .


All of our available cats can be viewed and adopted from their foster home after we have an approved adoption application on file from the potential adopter. Please email us for an application to be sent to you. Our adoption application can also be found online at: http://www.faerietales.org/adoption/adoption-form.html
Check out our new rescue website! www.faerietales.org
NEWS
*********Please Note: We do not take in owner surrender cats but instead will offer to help people keep their own cat by giving behavioral advice or to courtesy post them on our website. We would like to help people keep their own cats as there are already too many that are homeless. If you are attempting to rehome a kitty currently in your care, please visit this link which will give you some excellent suggestions for placing your cat: http://purebredcatbreedrescue.org/rehome.htm We focus our efforts at helping the cats that most need rescue, mainly those that are scheduled to be euthanized at shelters and can not fend for themselves. Although we would like to help every cat in need, our resources are limited and feel they should go to those cats that most need our help.**********

WHO WE ARE

Once upon a time there lived a group of loyal, sincere, and trustworthy women. Their collective spirits sought to come to the aid of abandoned, unwanted, abused, and lost felines. They wanted to give these beautiful, if sometimes scruffy, creatures a new beginning. They showed the kitties love to heal their broken hearts, patience to learn to trust, and healing medicine to make them well. The women knew that their quest could not stop here for there were just too many kitties to care for all on their own. What were they to do?
They thought and thought and thought some more. Until one day, the women realized what they were meant to be! Faerie Cat Mothers who could light the way for felines to find the homes they were meant to be in. Now, the women were filled with hope once again! They all passionately agreed they could continue to offer the once forgotten kitties something their hearts had always longed for. That is, a place to call home.
Faerie Tales Cat Rescue is committed to placing felines in loving adoptive homes. Our shared vision is to help kitties and their families have their dreams come true.
And they all lived Happily Ever After....

We are a small, dedicated group of animal lovers who are working hard attempting to place neglected, abused, lost and otherwise homeless kitties. Our goal is to provide to as many kitties as possible, opportunities to find a loving home to call their own. We are very concerned about the ever growing over population of kitties and are diligent in our efforts to promote the spay and neuter of felines. We are an all breed rescue and work as a no kill group. All of our fosters are located in private foster homes as we are not a shelter. We are a very young group forming in June 2005, however all of our volunteers have years of rescue experience, countless contacts as well as a wealth of knowledge in caring for our furry four-legged companions. All of our rescues will be fully vetted, combo tested for FIV and Felv and fecal checked prior to any adoption. Additionally, all of our kitties will either be altered or a prepaid spay/neuter certificate will be required to those kittens not yet able to be altered. As with all rescues, we operate on a shoestring budget and donations are always welcome. Every penny we are able to raise is applied toward helping save one of our kitties. If you'd like to sponsor one of our furkids, donations can be sent to the address listed below. Additionally, we are also always in need of loving foster homes. Fostering gives these kitties the time they need to grow big enough to be adopted or time to heal. Fostering is an integral part of our success. Without foster homes we are unable to help these kitties. If you think you have a little space email or telephone us. It can be a wonderful, rewarding experience.

We also offer free advice to not just adopters who have adopted from us, but anyone who has questions about behavioral problems with their cats like inappropriate scratching, declawing alternatives, inappropriate litterbox elimination, biting, introducing a new cat to the house, and shy cats, just to name a few. We also have experience, knowledge, support and research to share about cats with Felv/FIV.

Please consider opening your heart and your home to one of our furkids giving them the faerie tale happy ending they all deserve. For more free information regarding behavioral issues visit this great web site: http://www.hsus.org/pets/pet_care/our_pets_for_life_program/index.html
Animals have feelings to! We use and recommend the following products to help our foster kitties feel as comfortable as possible. You may even find something in this collection for an animal you already have! http://www.greenhopeessences.com/Animal/index.html

Adopting a friend
Please email us for our adoption application. In some cases, we also ask for a spay/neuter contract to be completed prior to adoption. Our adoption prices are:
KITTENS Age 8 weeks to 11 months old
$100 Kittens already fixed by our group. Must be over 4 months old and healthy enough for spay/neuter surgery. (Includes felv/fiv test, fecal check, physical exam, any medications needed to get them ready for adoption, flea and ear mite treatment if needed, deworming, FVRCP vaccination to age appropriateness, rabies vaccination, spay or neuter.)
$125 Kittens too young for spay neuter surgery (under 4 months) Adopter signs a spay neuter contract and $25 will be refunded to adopter once kitten is fixed by the adopter. (Includes felv/fiv test, fecal check, physical exam, any medications needed to get them ready for adoption, flea and ear mite treatment if needed, deworming, FVRCP vaccination to age appropriateness)
* All kittens will be fixed by our group by 6 months of age prior to adoption unless extenuating health circumstances exist. In which case, the $25 refundable spay neuter deposit will apply.
**For kittens health and socialization reasons, 8 weeks old is the minimum age we can release a kitten to an adopter.
ADULTS Age 1 year old and up.
$100 All adult cats will be spayed or neutered prior to adoption. (Includes felv/fiv test, fecal check, physical exam, any medications needed to get them ready for adoption, flea and ear mite treatment if needed, deworming, FVRCP vaccination and rabies vaccination.)
All of our adoption monies/donations received go to pay our vet bills for our foster cats! We can not do this alone, thank you for adopting and donating!
We do not sanction giving a kitten as a pet. Read why here! Come Visit Us! Or email - we can be reached at faerietalescatrescue@yahoo.com. our foster pets can also be viewed online at http://www.1-800-save-a-pet.com/shelter73176-pets.html
FTCR kitties need YOU!


You can also help our kitties by buying professional handmade cat cards from www.barnlions.com A portion of each sale will help us fund a spay or neuter surgery on a rescue kitty!
Thank you for the generous support provided to our group by Liberty Inventories http://libertyinventories.org/index.html

A special thanks to Purina Rally to Rescue for their marketing help and additional resources: www.rallytorescue.org

http://www.facebook.com/rallytorescue
We are grateful for any assistance you are able to give in making a difference in the lives of our rescues. Please consider making a donation if you are able. We are also sponsored by iGive and thus any purchases that you ordinarily make can also benefit our group if ordered through our link:


Check out the Rally to Rescue FB page www.facebook.com/rallytorescue


Please feel free to donate via PayPal:



---
Faerie Tales Cat Rescue
Taylor, MI 48180
Email: faerietalescatrescue@yahoo.com
Click here for a list of pets at this shelter

---

[Home] [Information] [Shelters] [Search]