Cats Cradle
"Never be afraid to do what's right, especially if the well-being of a person or animal is at stake. Society's punishments are small compared to the wounds we inflict on our soul when we look the other way." -unknown
---
Our New Featured Pet...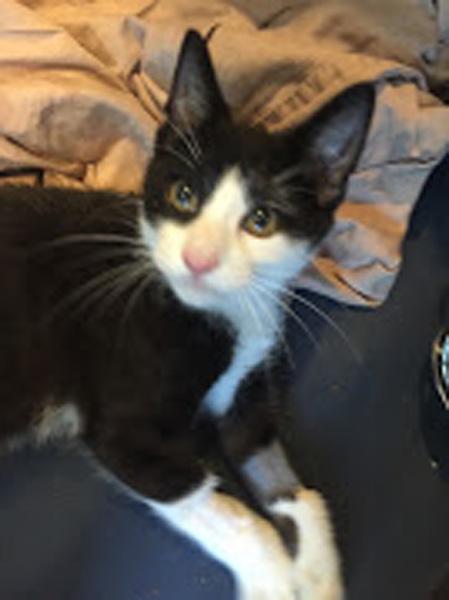 is Major. Major was part of an unwanted litter that was born at the beginning of March Major's foster mom noticed that he walked funny, but over the course of the next week or so, he seemed even more uncoordinated and off-balance. After a few visits to the neurologist, Major has been diagnosed with Atlantoaxial (AA) Luxation. This is a condition that is characterized by compression of the spinal cord and can either be caused by a congenital malformation or trauma. Right now Major has been put on cage rest and medication for the next 6-8 weeks, in an attempt to avoid surgery. Major is FLV/FIV negative and is just the sweetest boy!
News
Who We Are
Cat's Cradle is two women trying to make a little bit of a difference. We are only able to take a small amount of cats at a time, but are devoted to adopting out healthy, friendly cats. Cat's Cradle is a 501(c)(3) (tax-exempt) organization.
Adopting a friend
Adoptions can be done several ways. Contact us for an adoption questionnaire or come see us at our adoptions on Sundays. The 1st and 3rd Sunday of each month we will be at the Pet Supplies Plus at 41660 10 Mile Rd in Novi (10 Mile and Meadowbrook). The 2nd and 4th Sunday of each month we will be at the Pets Supplies Plus at 31130 Orchard Lake Rd in Farmington Hills (14 Mile and Orchard Lake Rd. ) Adoption fee is $125 dollars for kittens and $100 for cats over 5 months old unless otherwise noted (payable by cash or check). All adopted cats must leave in a carrier. .
Donations
Donations of cat food, toys, litter, perches, etc. are always greatly appreciated and needed. And of course, cash donations are always welcome!! We would like to thank Avon Animal Clinic and Pet Supplies Plus in Novi and Farmington Hills and our wonderful foster homes for all the help they give our rescue.
Come Visit Us!
Unfortunately we do not have a shelter for you to come visit. Our cats are in people's homes. Visit us at Pet Supplies Plus.
---
Cats Cradle
P.O. Box 275

Novi, MI 48376
Phone248-763-1922

Email: catcr8L@gmail.com
Click here for a list of pets at this shelter

---

[Home] [Information] [Shelters] [Search]