---
a Nonprofit animal rescue & adoption organization! - PLEASE email only : AdoptAPet4Life@aol.com..
---
---
If you are interested please e-mail:
AdoptAPet4Life@aol.com
---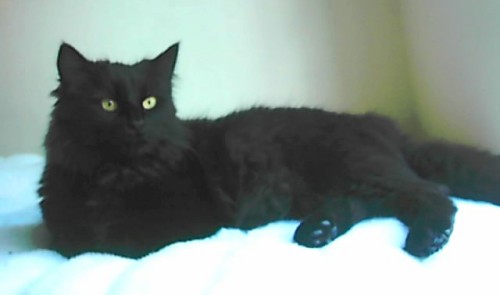 Our Featured Pet...


Hello, I am Lamont

And here is my story...

Hello! My name is LaMont! I am looking for a home with someone who loves to cuddle,snuggle and kiss and who loves BIG cats! See, I am a Maine Coon and we are big boys. I am a big black ball of LOVE! I love love love people! I love to lap sit, snuggle cuddle and if you tap your chest I will wrap my big paws around you. No kidding! I come when ya call my name I use my litter box like a champ and I eat dry food. What else could ya want?? My foster mom says I am the perfect kitty for someone who wants alot of love and affection. You are probably thinking "Why hasnt this stunning kitty been adopted if he is so loving and affectionate?" I think it is because folks like baby kittens more than adult cats like me. I don't know why that is. I have so many things going for me that baby kittens do not. I am already fixed, have all my shots and so I am ready to go! Kittens are cute but they are alot of work because you have to take them to the vet to get updated shots and all kinds of other stuff that I have already been through. You also know exactly what I am like personality wise. What is holding you back! Come on and take a chance with an adult kitty. You will not be sorry!









---
---
* Did you know that some "rescue" leagues will "rescue" a mom cat and kittens and put the mom cat to sleep and only keep the kittens?! Some will only keep the "cute" or "pretty" kittens. PLEASE be careful who you contact to help in the rescue and placement of your cat or kitten! If you need to place a kitty or doggy please email us and we will try and help in any way we can.

AdoptAPet4Life@aol.com
---
Click here to see our Cat Happy Tails!
---

Who We Are
We are a Non Profit, No Kill, Volunteer Run, Animal Adoption League. Affection Connection Rescue League or ACRL for short, is often the only hope for a homeless, abandoned, sick or injured cat. We also help cats escape situations of abuse, neglect or imminent death. We see terribly sad cases, but happily many of them have positive outcomes, thanks to all the caring cat lovers who have adopted from us over the years. We have so much to feel proud of: We're "no-kill," and we mean exactly that. Lifetime placements are our goal.Our foster home's careful screening gives us a less-than 1 % return rate.
What We Do
We do not have a shelter. Cats are housed in one of our foster homes to await their adoption, which is why foster homes are such an IMPORTANT part of ACRL'S program. Each foster home space that we have available represents one more cat that we can assist. All of our volunteers are IMPORTANT, without foster homes and adoptions, we couldn't do our work. We are also desperatly in need of donated items to help us to help the rescued animals, such as cat food, litter, blankets, washable cat beds and cages. All donations are tax deducatble and greatly appreciated.



Email: AdoptAPet4Life@aol.com

---
---
Click here for a list of pets at this shelter
---