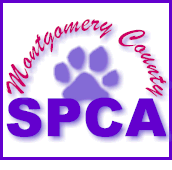 ---
Please visit our web site at www.mcspca.org
for more information and for upcoming adoption events!
Who We Are
The MCSPCA, founded in 1973, is an all-volunteer, no-kill organization dedicated to the humane treatment of animals. We are an independent, locally based 501(c)(3) funded completely by donations. We receive no financial support from the ASPCA or from any federal, state, or county government agencies.
Foster Homes
The MCSPCA is always in need of foster parents for both dogs and cats. We pay for veterinary care and find homes for the animals. You provide love and care for the animal until he or she is adopted.
The more foster homes we have, the more animals we can save!
If you are interested in fostering dogs, please send an e-mail to glxdvl@yahoo.com .
We have an urgent need for volunteers to foster cats and kittens. If you are interested, please read our FAQ and fill out an application.
Volunteering and Donating
Please visit our web site or e-mail us to find out how to volunteer at or donate to the MCSPCA.

Montgomery County SPCA
P.O. Box 637
Washington Grove, MD 20880
Phone: 301-948-4266




---

[Home] [Information] [Shelters] [Search]