NEWS
Habitat for Cats has very flexible adoption hours. Arrange for an appointment during the daytime, after 5:00PM or on the weekend. Our volunteers are ready to work with you to find a compatible pet. We pride ourselves on finding the right "match" for you and our cats.
Who We Are
Habitat For Cats is a non-profit, no-kill, all volunteer organization involved in a variety of efforts to care for homeless cats. We operate a network of foster homes in New Bedford, Dartmouth, Westport, Fall River and other local towns, to temporarily house and care for our adoptable cats. This method allows the cat to integrate in a home environment and allows the foster parent to assess the cat's personality and temperament. Our cats may be in foster homes with children, other cats, birds, or dogs. By knowing the cat's behavior, we can help you and our cats make compatible adoption choices to last a lifetime.
All of our cats were rescued from the "streets". They tend to be abandoned, former, house cats or cats that have joined up with a feral cat colony. Many of the kittens we rescue are born in yards, garages, sheds, etc. They are brought into foster care and quickly socialized. Many of the kittens are born to former housecats that were never spayed.
Visit our web site at www.HabitatForCats.org to learn of our other efforts in caring for homeless cats.
If you are interested in adopting a cat or kitten e-mail us at info@HabitatForCats.org. Also visit our web site at www.HabitatForCats.org and review our adoption policy and contract..
An adoption application and a signed contract is required. All our cats and kittens are spayed/neutered prior to adoption, tested for Feline Leukemia (Felv), rabies & distemper vaccinated (tests & vaccinations are age dependent). Habitat does requires an adoption fee to help offset the veterinary costs.
Adopting a friend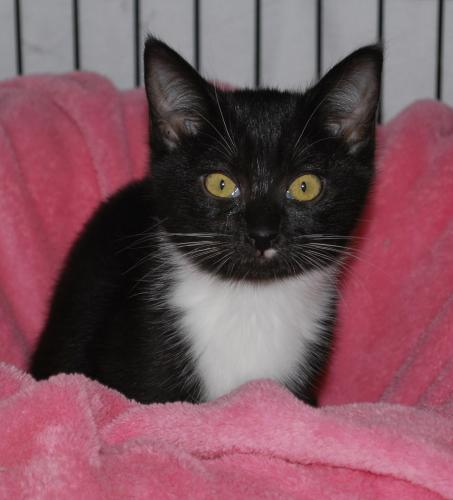 Click here to see our Cat Happy Tails!
Come Visit Us!
Please email adopt@HabitatforCats.org if you are interested in adopting one of our cats or for more information.
---
Habitat For Cats
1322 Ashley Blvd.
New Bedford, MA.
508-961-CATS

mailing address: P.O. Box 79571
N. Dartmouth, MA 02747

Email: info@HabitatForCats.org