NEW EMAIL - sheerak@verizon.net
---
Our Cat Happy Tails! (Cats Already Adopted Through Petfinder)

Check out our Amazon Wish List for items that we currently need! All purchases are sent directly to the shelter!

Like Us on Facebook
---
Pet of the Week Help Lady find her FOREVER home!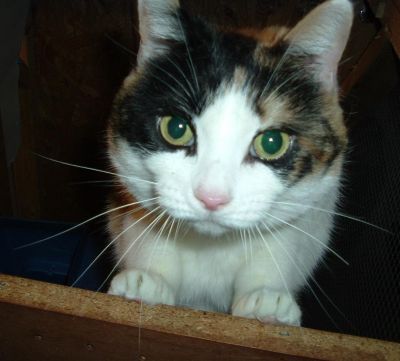 I was going to be euthanized at a major Boston shelter but Second Chance rescued me! Click here to read my story.
We are generously funded by the Massachusetts Animal Coalition's License Plate Program
Got your plate yet? Please support spay/neuter in Massachusetts with the "I'm Animal Friendly" plate!
HOW TO ORDER YOUR LICENSE PLATE
Shelter Bulletins
CHEAP SPAY/NEUTER is available! Email us & we'll be happy to inform you of options!
OUR NEW EMAIL ADDRESS: sheerak@verizon.net
SAVE A LIFE-ADOPT A CAT!
Email us now for an Adoption Profile
Who We Are
We are a small NO-KILL home-based shelter in the Forest Hills neighborhood of Jamaica Plain and a network of loving foster homes, friends, sympathetic veterinarians and feline rescuers, working to reduce the number of homeless cats in our backyards and on our local Boston streets. We are strictly NO-KILL. We believe that no one has the right to judge (as many shelters do) who is deserving of his or her own life. We euthanize only when a veterinarian concludes an animal is terminally ill with no hope of recovery. We are always asked our hours of operation. We are not staffed during the day, we receive no state, city or federal funding, we are all volunteers who give our time and money for love of the animals. We all work paying jobs during the day and care for the animals every evening. We use many private foster homes, so potential adopters must be screened first and come by appointment only. All adoptions involve completing an adoption application, vet and/or personal reference checks, and a nonprofit adoption fee which helps to recover our costs, and supports our work:
Adult Cat: $150.00-already neutered/spayed,combo-tested, vaccinated.
Kitten: $175.00-includes spay/neuter (whether already done or to be done before 6 months of age), combo-test, rabies & distemper vaccinations.
All cats/kittens are de-fleaed and wormed.
Dogs/Puppies: $200-250.-includes all medical
Fees may be increased/decreased depending on our costs for a particular animal. Fees may be reduced if you can adopt more than one! Email us now for an Adoption Profile!
Donations
Please help the cats with your TAX-DEDUCTIBLE donations. We are a registered, non-profit public charity. 100% of your donation goes to the animals because we are ALL VOLUNTEERS with NO salaries! We have a food donation box at Pet Supplies Plus in West Roxbury and would love any dry or canned cat food! If you can offer help to animals in some other way, please contact us. For those who've considered letting your female cat have 1 litter before spaying her, if you love her you won't expose her to the diseases the 1st flea-bitten, abandoned tomcat who walks by will give her. Consider taking in an already pregnant abandoned cat and giving her a safe place to give birth.

We have an AMAZON Wish List full of goodies for the kitties. All items are Prime eligible and are sent directly to the shelter.
Click for Wish List

SPECIAL THANKS TO Pet Supplies Plus of West Roxbury, Petsmart of Newton and Petco of Dedham for their support!

To help abandoned cats lucky enough to find space in our shelter, or find foster homes to safely have their kittens, please make check payable to: "Second Chance Shelter for Cats"
Mail To:

Second Chance Shelter for Cats
675 VFW Parkway #266
Chestnut Hill, MA 02467


Pet Supplies Plus in West Roxbury collects food, litter, toys, coupons, money and unused cat product donations for us! We accept ANYTHING that you think can help feed/house/place our rescued cats! Remember, if purchasing food for us, our motto is "quantity not quality" because we have a lot of mouths to feed!

Pet Supplies Plus
1665 VFW Parkway
West Roxbury, MA 02132
Volunteering
We have a variety of opportunities available depending on your interests and availability; help with cleaning around the shelter and yard work too(it's a house)! Water bowls need washing, litter needs scooping, floors need sweeping, etc. We are looking for volunteers to foster cats and kittens in their own homes. This allows us to save even more lives and people who can't commit to years of pet ownership an opportunity to enjoy having a cat! In spring and summer we face an onslaught of abandoned pregnant cats who need a safe place to have and raise their kittens-got a spare room, sunporch or pantry? We need fosters for adult cats and kittens getting over illnesses or need a little extra TLC before being put up for adoption.
Throughout the year we have special events that help us raise awareness about our Shelter. We always need volunteers to help us with these events. Some examples are:

Adoption Events -Volunteers staff an information table at a local pet store with information about our shelter and if possible some of our adoptable cats and kittens. These events can happen on the weekend or on weekdays.
Fundraising Events - New ideas are always welcome!

Call or Write, and Arrange to Visit Us!
---
Second Chance Shelter for Cats
Jamaica Plain, MA 02130
Phone: 617-522-1852
Email: sheerak@verizon.net
Like Us on Facebook