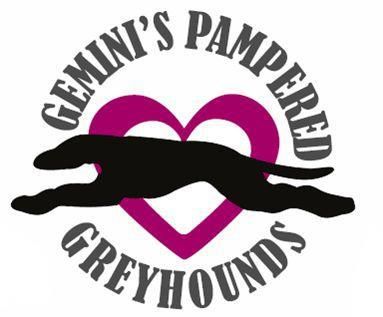 Gemini's Pampered Greyhounds, Inc.
Our Featured Pet...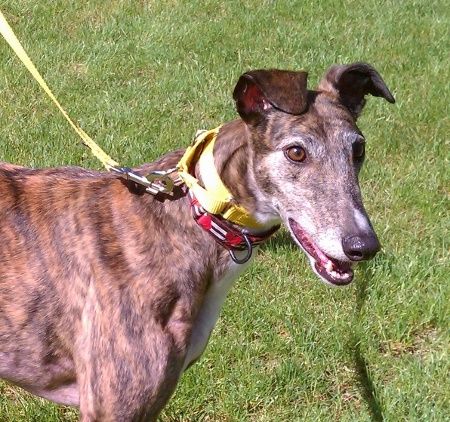 Events
Come meet some adoptable hounds at one of our events!


Who We Are
GPG (Gemini's Pampered Greyhounds, Inc.) is a 501c(3) non-profit Greyhound adoption group, based in Amherst MA. It is GPG's Mission to promote Greyhound adoption by finding responsible, loving, appropriate homes for Greyhounds that fail to qualify for racing, regardless of their age and health condition.

GPG will arrange and provide for all necessary medical care including making sure all Greyhounds/retired racers are spayed/neutered before they are adopted, and will gradually transition Greyhounds from their racing career to retirement and placement into a permanent (forever) home. GPG will arrange temporary volunteer (foster) homes for Greyhounds while they are waiting for their adoption by permanent (forever) homes/families.

Furthermore, it is GPG's mission to organize and provide Greyhounds/retired racers with socialization and training to prepare them for adoption. In addition to the care and adoption of the Greyhounds, it is GPG's mission to assist, instruct, and educate the public and adoptive families about the Greyhound breed, responsible pet ownership, and the overall care, treatment, and training of Greyhounds.

You can also visit GPG on Facebook.
Adopting a friend
We ask all prospective adopters to complete an adoption application. For an Adoption Application please click here. You can download the application and fill it out electronically, or print it out and mail it.

For electronic submissions please email the completed application to: GeminisPamperedGreyhounds@gmail.com

For paper submissions, please mail the application to:

Gemini's Pampered Greyhounds, Inc.
145 N. Whitney St
Amherst MA, 01002

GPG's adoption fee is $275. Each dog is spayed/neutered, given a dental cleaning (if needed), current on vaccines, tested for heartworm and tick diseases (4Dx), dewormed, and given heartworm medication and flea/tick prevention monthly.


Donations
As a 501c(3) non-profit organization, GPG relies on donations to continue to help Greyhounds. All donations are tax-deductible.

You can donate via PayPal here:



Donations can also be mailed to the address below. (Please make checks payable to Gemini's Pampered Greyhounds, Inc.)
---


Gemini's Pampered Greyhounds, Inc.
145 N. Whitney St
Amherst MA, 01002


Phone: 413-626-9879 (cell) or 413-253-4894 (home)

Email: : GeminisPamperedGreyhounds@gmail.com

Facebook: Facebook.com/GeminisPamperedGreyhounds



---
Click here for a list of Greyhounds waiting for homes
Click here to see our Happy Tails (Adopted Dogs)