People for Animals League
We'd like to thank Petfinder for this service!
Please visit our website at www.people4animals.org
PAL's Cat of the Month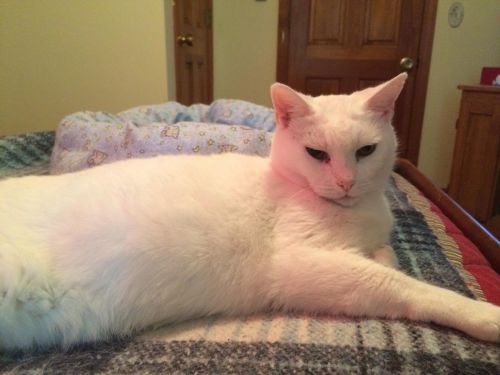 Hi! I'm Snowflake, a beautiful 8 year old short haired white cat. I would love to find a quieter home with adults who are looking to find an affectionate, but independent companion. I should be your only cat. Since I love to sleep I quickly find a comfy quiet place where I have a nice view of the surrounds. On occasion you might spot me playing with a toy, but why play with a toy when I could be cuddling or rubbing up against your legs. If you are looking for unique laid-back beauty, search no further I am your gal!
I qualify as a Senior Feline Companion and have a reduced adoption fee of $50.
To adopt, please submit an Adoption Application.
Who We Are
Founded in 1989, the People for Animals League is a private, non-profit organization dedicated to helping animals in local communities. We are striving to develop empathy and compassion, increase understanding, and promote responsibility toward animals. We coordinate the placement of pets into appropriate homes, provide humane educational programs to the community, assist with lost and found pets, and encourage spaying and neutering of animals to control population.
Adopting a Friend
We have many super cats looking for homes. All of our cats have been leukemia combo tested, vaccinated against distemper and rabies, checked for parasites, and spayed or neutered. We put a lot of love into our efforts to ensure that you will receive a healthy and sociable pet.
Donations
The People for Animals League is not financially supported by any national or state humane organizations, nor do we receive United Way or government funding. Our programs are supported by donations, memberships and fund raising events.
Location
We are located in south Central Massachusetts. Please call ahead for appointment and directions!
People for Animals League
Kingsbury Road
Spencer, MA 01562
774-745-8041
Email
---

[Home] [Information] [Shelters] [Search]