Click here for dogs available for adoption!
Click here for our Happy Tails
---
Donate securely through PayPal.
We are in need of a foster home for Astro (listed under our "adoptable dogs") and one for a female GSD we hope to pull next week from a local shelter. We also are in need of donations to help pay for Astro's surgery and Buck's heartworm treatment. That can be done through our PayPal account (link above) or you can contact us for a mailing address. If you need to contact us, please email toby_levering@msn.com or call 504-427-8391 between 10:00 and 6:00 7 days a week. We do not operate a shelter and all of our rescues are in foster homes. An application must be completed before we have a potential adopter meet any of our dogs in rescue. Thank you. LANE AND DUKE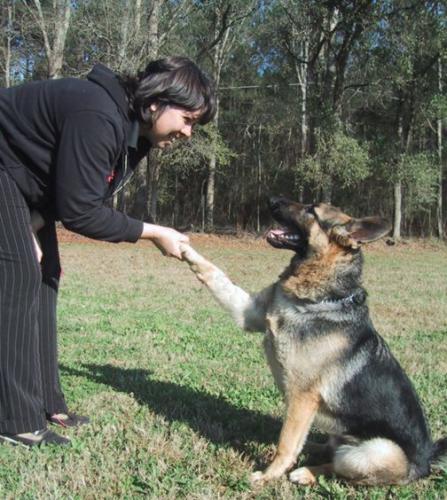 On Sunday, September 16, 2007 New Orleans German Shepherd Rescue and I lost a good friend. Lane Tranchina and her husband, Thomas were killed in a car accident in Mississippi and our hearts are broken.

Lane became involved with NOGSR in 2005 and she and her family were an amazing foster home for us. Over the years, they fostered at least twenty dogs for our group. Lane always found room for a dog we were trying to save and just had the best atitiude about everything. When a dog came to her with issues, she worked it out and never complained. She was so much fun to take on a rescue road trip, because she was so interesting, had a passion for life, adored German shepherds and just loved to talk about all sorts of things. She was a great road buddy.

She loved her family (both two and four-legged )and was so proud of her two children, Ashely and Nick and her husband, Thomas. She also was proud of her three German shepherds ( two NOGSR rescues and another she saved from a local shelter) and they were like her kids.

I know we could not have rescued so many dogs if Lane hadn't been Lane and Thomas hadn't been such a good sport. Lane use to tell me to "just bring the dog over and we'll worry about Thomas, later" We never did have to worry, because Thomas always fell in love with the latest foster dog and knew this was something Lane really wanted to do. She loved the breed as much as I did and had a soft spot for the dogs that were in bad shape. She would nurse them back to health and off they would go to their new home. She didn't turn away Blitz, who had megaesophagus, or "Tilt" who had a tilted head. It didn't matter to Lane that these dogs were special needs.

Lane's son will be taking their three German shepherds into his home. Financially, that is going to be a strain for him and his new wife. I told Nick we would help , so if anyone would like to contribute to the dogs' future vet bills, we are starting a fund whereby the money will go directly to their vet to pay for future visits, heartworm preventative and flea medicine. You can donate directly to their veterinarian: Claiborne Hill Veterinary Hospital at 985-893-1922..

The world was a better place with Lane and Thomas in it . You were loved and will be missed so very much.

Toby Burroughs President NOGSR
IN LOVING MEMORY--SASHA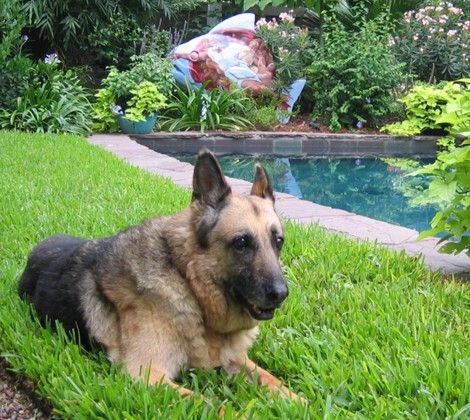 On July 3, 2007, my husband, our dogs and I had to say good-bye to our beloved adopted German shepherd, Sasha. I rescued her from the Abita Springs shelter where they were getting ready to euthanize her because she was "too old". I brought her home to be fostered, but we fell in love with her and she joined our family. We only wish we could have been blessed with her presence longer than three years.

Sasha was diagnosed with degenerative myelopathy, but didn't exhibit real problems until recently. Last week, she had a stroke that left her incontinent and her back legs paralyzed. Her eyes told us she had had enough and my husband and I made the painful decision to let her go.

We want to thank Lakeview Veterinary Hospital for helping us through this difficult time and especially, Dr. Amy Grayson for coming to our house to let Sasha die surrounded with love and cradled in my arms. Also, I want to thank Melanie Manning for caring so much for Sasha. You were her guardian angel.

Sasha was like so many rescued dogs we encounter. She was abandoned (twice we were to find out later), treated poorly but then was able to spend the rest of her days cared for and loved .

My husband and I are richer because of what Sasha gave us.Thank you Sasha for bringing such joy into our lives.

Toby Burroughs NOGSR

Foster Homes
| | |
| --- | --- |
| | WE NEED FOSTER HOMES!!! We are receiving emails and phone calls on a daily basis from shelters and owners asking us to take in German shepherds. Sadly, we are having to say, " no", because we have no place to put all of these dogs.. If you have ever considered fostering a German shepherd, now is the time. All you have to do is complete our online application and once approved, we will bring you a dog to foster. While in your care, NOGSR will pay for everything. |
| | |
| --- | --- |
| ZEUS-Adopted |   |

Success!

REUNITED AFTER FIVE MONTHS-ERICA!
Erica, the Sargents and her guardian angels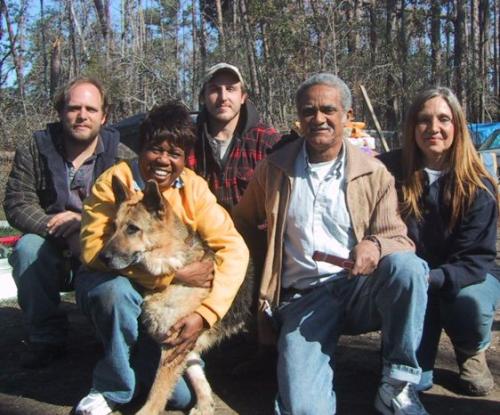 As Katrina approached New Orleans, Jeanie and Herbert Sargent made their evacuation plans. Herbert would stay behind with Erica (a New Orleans GSD rescue who was adopted from us in 2004 by the Sargents) and Jeanie would go to Houston. When the levees were breached, the Sargent's home was flooded, Herbert and Erica were rescued and brought to a school not far from their house. For three days, they stayed on the third floor of the school until Herbert was forced to evacuate and leave Erica behind. He was told she would be ok, but he was worried and very upset to have to leave his beloved dog behind. Little did he know, it would be almost six months before he and Jeanie would see Erica again.
It is a long story and we don't really have all the details, but we do know that somehow Erica got out of the building and was found about 2 miles away from the school by a group of private rescuers who had come to New Orleans from Mississippi to save animals. When they saw Erica on St. Charles Avenue in New Orleans, a National Guardsman had his gun to Erica head. They thought he was getting ready to shoot her, but in fact because it was nightime, he was using the scope on his gun to see if Erica had a tag or id. Unfortunately, Erica's tags were on the kitchen counter back at the Sargent's house. "Erica was always pulling them off", Jeanie told us later. They begged the guardsman to let them take Erica to safety and off she went with her guardian angels to Mississippi.
Meanwhile, the Sargents were devastated. They tried every possible avenue to find their dog. One day in December, Herbert went to a local hotel where Best Friends had volunteers with computers helping people find and post their lost pets. A local reporter met Herbert Sargent that day and listened painfully as Herbert broke down telling her his tragic story. "Don't give up hope", she told him and wrote about Erica in the Times Picayune.The Sargent's never gave up and prayed daily for Erica's return.
A few months later, Toby Burroughs (President of NOGSR) received a phone call on her cell (still no land phone in Mid-City) from the LA/SPCA. A volunteer told her that she had just received a call from a woman in Mississippi who found a German shepherd in New Orleans after the storm , just had her scanned and found out she was micro-chipped under the name "Erica" with NOGSR. She also told Toby Mrs. Sargent had just called an hour before she received the call from the woman in Mississippi asking if by chance Erica was at the shelter. What a coincidence!!!!. The SPCA volunteer gave Toby Jeanie's phone number and she called immediately. Jeanie correctly identified the collar Erica had on. It was blue with moons and stars. I guess it protected her on her journey. With this match, Jeanie was overcome with joy and the tears were flowing on both ends of the phone. Erica was one of our favorites. We remember this sweet dog had dumped off at the LA/SPCA because the owner wrote, "my wife didn't want her anymore". Maybe the wife didn't, but the Sargents sure did !!!!!.
A few days later, Jeanie and Herbert flew in from Houston. We met up with the reporter who had written about Erica and drove to Mississippi. There was electricy in the air and lots of unknowns: Would Erica remember us? Will she be healthy. Yes, was the answer and what an incredible reunion it was. There were lots of tears and hugs.
Jeanie and Herbert never gave up and because of a grain-sized implant in Erica, she is now back home where she belongs. A huge thank you goes out to our new friends in Mississippi for saving Erica's life.

Latest News
On March 15, 2005 New Orleans German Shepherd Rescue was awarded 501(c)(3) status from the IRS. This means that individuals who donate to NOGSR can take a tax exemption as they would for any other charitable contribtions. This advantage applies not only to general donations, but gifts of material goods and services. Rescue is a very expensive endeavor as most of the dogs we take into our program have medical issues and the adoption fee hardly ever covers our expensives. We hope our new status will encourage donations to our cause and will help us to save even more animals. If you have questions about how to donate, please contact us at toby_levering@msn.com.

Who We Are
Founded in 2002, NOGSR is a small not-for-profit 501(c) 3 group dedicated to rescuing German shepherds in southeast Louisiana. Most of the dogs come from local shelters. Some come from owners who have requested our help in finding a new home for their pet. We strive to save as many German shepherds as we can and to educate the public about this magnificant breed.

How To Help
If you love German shepherds, please consider fostering or adopting one in need. Local shelters regularly receive purebred German shepherds and most are not adopted; they are euthanized or gassed.
Because of their high intelligence, German shepherds quickly grow bored and depressed when confined to a shelter. Living in a foster home instantly improves the dog's health and helps him prepare for a new life with an adoptive family. Please fill out our online foster application and help save a dog's life today.
Most of our rescued dogs are heartworm positive or have other health care costs. Heartworm treatment varies depending on the severity of the worms and the weight of the dog, but is generally around $500.00. By sponsoring a rescued German shepherd, you are making a difference in the quality of that dog's life and helping him get ready for a forever home. Plus, you're allowing German Shepherd Rescue to help the next abandoned or neglected German shepherd in need.
For more info on fostering or sponsoring a German shepherd, please contact us at toby_levering@msn.com.
One person CAN make a difference!
Adoption Information
Caring for a German shepherd is a big responsibility, and one that we do not take lightly. We have invested a lot of time, money and love in these dogs and want to make sure they go to the best home. If you are interested in one of our dogs, you must fill out an Adoption Application.
Our adoption fee is $250 for an adult dog $225 for a puppy and $150.00 for a GSD over seven years old.. All dogs will have received annual vaccinations, be either spayed or neutered and tested, treated for heartworms and micro-chipped. While the fee might seem high, it helps offset our costs of providing veterinary care, food, medication, transport and more while the dog. Just recently, we rescued three dogs that needed extensive veterinary care that will run over $1,000 for each dog. is in foster care. Plus, our dogs are spayed/neutered, vaccinated and are treated or will be treated for heartworms. Heartworm treatment alone costs $350 minimum per dog and most of the dogs we rescue are heartworm positive. If you would like to sponsor a dog's heartworm treatment, please let us know!
We would be happy to hear from you, especially if you have any questions about our organization or would like to volunteer. Contact Toby at toby_levering@msn.com. Please keep in mind that our volunteers work full-time in addition to doing rescue so please be patient with us. We will return your email as soon as possible. Thanks!
Please click here to see more Success Stories!
Audrey Lee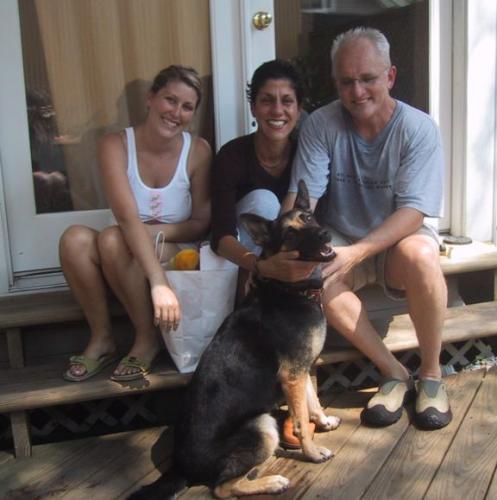 Audrey was found wandering the streets in uptown New Orleans by a wonderful couple who had recently moved here from California. They couldn't turn their backs on this little girl and stopped their car in busy traffic and picked her up. At their home, they spent hours picking ticks off Audrey while they watched an Audrey Hepburn movie (hence Audrey's name). The next day they took her to their vet for care and for the next few months, they fostered Audrey and sponsored her heartworm treatment. Then Audrey's lucky day came when we received a call from the Lee family who were interested in a rescued German shepherd. After looking at two of our dogs, they fell in love with Audrey and this lucky dog found a wonderful home with the Lees. Renamed Ricon, she lives a life filled with love and TLC. Congratulations to the Lee family.
Emma Freymire

Pretty, 1-year-old EMMA arrived at the LA/SPCA as a stray in July 2003. Rescue volunteer Toby Burroughs pulled her from the shelter and became her foster mom. She soon learned that Emma's favorite pastime was collecting toys and surrounding herself with them as she rested on her doggie bed. What a cutie! Emma was adopted August 10, 2003. Congratulations to Jerri Freymire!
Crystal & Orion (now Reilly Schaeffer) Dreisbach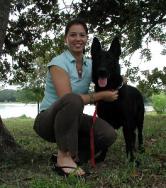 ORION's story begins in January of 2002, when his family was forced to surrender him to the Westbank Jefferson SPCA or face eviction due to a new landlord who decided against allowing dogs. We rescued Orion immediately and put him in the capable hands of foster mom Kathy Foley on the Northshore. Months passed and yet none of the potential adopters had the right chemistry with Orion. He needed someone very special. On July 22, 2003, Crystal Dreisbach of New Orleans called us in hopes of adopting a GSD in need. Just one week before, Crystal's beloved 15-year-old black GSD, Bo, passed away. Bo had been her constant companion since she was 10 years old and we can only imagine her heartbreak. After talking with her, we knew she was the one meant to love Orion for the rest of his life. On July 27, 2003, foster mom Kathy drove Orion to New Orleans to meet Crystal. It was love at first sight! In fact, if Crystal hadn't had to go out of town, he would've been adopted that day. Of course, Orion was well worth the wait, and on Aug. 2, 2003, Crystal officially adopted Orion and renamed him Reilly Schaeffer Dreisbach. It was quite a happy occasion and even Crystal's father was there to celebrate. Although foster mom Kathy had tears in her eyes as she said good-bye to Orion, they were tears of joy. Orion had found the home we all wished this extraordinary dog to have and Crystal found the dog to help her heal. Congratulations to Crystal Dreisbach!
Gypsy, Nancy & Basia Williams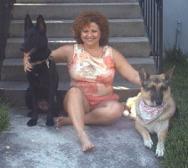 As her name implies, gorgeous 2-year-old GYPSY had lived in a number of places, including a shelter in Waveland, Miss., and the LA/SPCA of New Orleans. In fact, someone adopted her from the LA/SPCA and returned her the same week. Thankfully, we rescued her and fabulous foster mom Nancy Williams of New Orleans once again opened up her heart and home to a GSD in need. Even her 9-year-old GSD Basia welcomed Gypsy as if she was the sister she had been waiting for. Several people showed interest in Gypsy, but none of them proved to be a good match. Then one day, Nancy mentioned that she was thinking of keeping Gypsy. Our paws -- ahem, fingers crossed, we held our breath in hopes that Nancy's home was in fact Gypsy's final destination. On July 26, 2003, Nancy officially made Gypsy a part of the pack. Now, she says she can't imagine life without both of her girls. While we're sorry to lose such an awesome foster mom, we can't think of a better adoptive mom for beautiful Gypsy. Congratulations to Nancy Williams!
Edie & Scott Ledbetter with their pack and Shorty (now Shiloh) on the right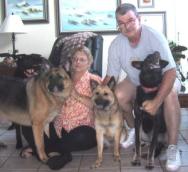 Despite his youth and sweet personality, 9-month-old SHORTY was abandoned by his owner at the LA/SPCA in June 2003. We quickly rescued him and fortunately, found a fabulous foster mom in Pat Senentz of New Orleans. She nicknamed him Shorty because compared to her five tall, lanky Greyhounds, he was indeed the shorty! Meanwhile, Scott & Edie Ledbetter of Harvey, LA, had always had four canine companions and one of their dogs passed away, leaving them grief-stricken. The house felt empty and they hoped to find another special dog in need of a good home. They contacted the rescue and after hearing about Shorty, thought he would be a perfect fit. They adopted him on Tuesday, July 22, 2003, and renamed him Shiloh. Now they're happy to have a full house again. Congratulations to Scott & Edie Ledbetter!
Miceal, Freya, Eileen & Dedalus O'Donnell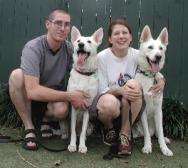 Before she was a year old, sweet adorable FREYA had been abandoned at not one but two shelters. She first appeared at a shelter in New Iberia, LA, in December 2002. The person who adopted her then dumped her at the Jefferson SPCA in Jefferson, LA, in March 2003. When we rescued her from the Jefferson SPCA, she had severe separation anxiety and was heartworm positive. Thanks to a stable foster home and crate training, Freya soon overcame her insecurity and built up her confidence playing with her foster family's dogs. And she just sailed through that heartworm treatment! When Miceal & Eileen O'Donnell of New Orleans saw Freya for the first time, they knew she was the one. They already had a white German shepherd, Dedalus, and wanted a companion for him. On July 19, 2003, the O'Donnells adopted Freya and gave Dedalus the little sister he always wanted. Now they enjoy trips to the dog park and Freya is a star pupil in her beginner's obedience class. Congratulations to the O'Donnells!
Family friend Chance, grandson Dale, Woody, Ruth & Johnny Plaisance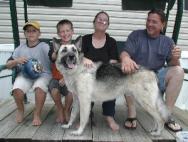 The director of St. John Parish Animal Control contacted us in hopes that we could rescue a very special German shepherd. WOODY had been found as a stray full of ticks and missing patches of fur. The staff loved him so much that they kept him for a month in hopes that someone would adopt him. Amazingly, no one did and they asked us to help find the right family for him. Ruth & Johnny Plaisance of Cut Off, LA, were looking for a companion for their grandson, Dale, and protection for Johnny's auto repair business. Dale really liked that Woody was named after a character in the movie Toy Story and asked Ruth if he could come visit. On Sunday, June 29, 2003, the Plaisances adopted Woody and he was following Dale around like he had been his dog his whole life. Ruth says he can look forward to walks on the beach, playing with the neighborhood kids, and boat rides on the bayou. Congratulations to the Plaisance family!
Karen, Shadow, Ben & Hondale (now Ask'im) Rosenberg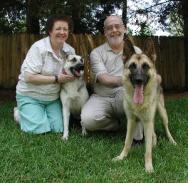 HONDALE's owner passed away and the family abandoned him at a kill shelter. Having lost so much in a short period of time, 3-year-old Hondale was depressed and confused. Fortunately, Ben & Karen Rosenberg of Clinton, MS, were looking for an adult male German shepherd as a companion for Shadow, their beautiful 18-month-old German shepherd. On June 22, 2003, Ben & Karen met and fell in love with Hondale and made him an official member of the pack. Now his new name is Ask'im and he has a wonderful home. Shadow has already taught him how to play hide and seek around the living room sofa. She also likes to chase squirrels in the backyard and we have no doubt that Ask'im will join in on the fun. Congratulations to the Rosenbergs!
Steve, Bonnie, Ellen, Mary Anne & Shelby (now Sophie) Levet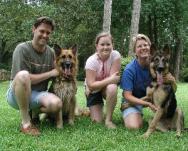 When 6-month-old SHELBY came to us, she desperately needed a stable family life. Her original owner had started dating a woman who didn't like dogs and before Shelby knew it, she was kicked out of the house and on the street. Fortunately, a kind co-worker of the owner offered to take her in and he contacted us. Despite her initial lack of love and attention, Shelby was affectionate and eager to please. We knew she would thrive with the right family. On the morning of June 14, 2003, young Ellen Levet was surfing the Net and read that Shelby was going to be at an Adoption Day at Jefferson Feed later that day. For months, her parents, Steve and Mary Anne Levet of Mandeville, LA, had considered finding a companion for Bonnie, their beautiful 6-year-old long-haired German shepherd. Ellen talked her dad into driving all the way across the lake to meet Shelby and we're sure glad they did! On Father's Day, June 15, 2003, Steve and Mary Anne officially adopted Shelby, whose name is now Sophie. She will enjoy the company of Ellen, her little brother Adam (who was at camp and will have quite a surprise when he gets home!), and of course, Bonnie. Hopefully, Bonnie will show Sophie how much fun it is to chase dragonflies and cool off in the pool. Congratulations to the Levet family!
Jennifer Patterson & Coca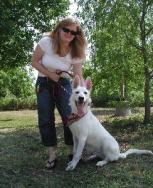 Timing is everything in rescue and Jennifer Patterson of New Orleans could not have called us at a better time. On Wednesday, May 28, 2003, Jennifer called in hopes that we had a young dog, but not a tiny puppy. We had planned to rescue COCONUT or "COCA", an 8-month-old white German shepherd, from the Jefferson SPCA the very next day and invited Jennifer to meet us there. When they met, it was love at first sight, and Jennifer adopted him on the spot. He was neutered Friday and ready to go home with her that Saturday. All adoptions should be that easy. Congratulations!
Hendrix & Cynthia Sarthou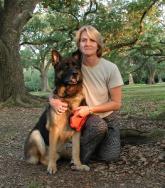 HENDRIX arrived at the LA/SPCA of New Orleans in mid-January 2003 and it soon became clear that he was the most loving, laid back German shepherd we had ever met. But due to his older age, heartworm positive status, and an old leg injury, we feared it would be more difficult to find Hendrix the perfect home. Goes to show you what we know! Cynthia Sarthou of New Orleans agreed to foster Hendrix mid-March and they have been inseparable ever since. On May 28, 2003, she officially made him a member of the Sarthou family, which includes kitties George Henry and Priscilla. She says she couldn't help but fall in love with this big, goofy guy. They start beginner's obedience class in July and we just know that he'll be the star pupil. Congratulations to Cyn & Hendrix!
Doodles with Jo Rea & Stan Williams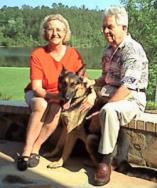 It's hard to believe that the scrawny, nearly bald German shepherd who was abandoned by his owner at the LA/SPCA of New Orleans last December is the handsome, happy-go-lucky dog we know and love today. After months of recuperating from heartworm treatment and then patiently waiting for the right home, DOODLES was adopted on May 11, 2003, by Jo Rea & Stan Williams of Perkinston, MS. Their daughter, Nancy, is one of our best foster moms and she smartly introduced Doodles to her folks in hopes that they would provide his forever home. Clearly, it was meant to be. Thank you Nancy, and thank you Jo Rea & Stan for giving Doodles the TLC he so desperately needed. Now Doodles enjoys long walks in the woods and Nancy tells us he recently went on his first boat ride with Stan and loved it. The only problem was every time big Doodles leaned over to get a drink he would nearly capsize the boat! But they made it back ashore and look forward to more lake outings. Congratulations to the Williamses!
Corinne & Doug Arrowood with Mac, Jazz & Joe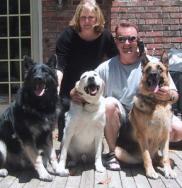 We see wonderful German shepherds dumped at shelters all the time, but the reason why JOE was abandoned at a Mississippi shelter was particularly absurd. The owner claimed 5-year-old Joe kept knocking over the garbage can. Never mind that Joe is so well-trained that he heels off leash; the owner had made up his mind to abandon him. We gladly rescued handsome Joe and started treatment for his severe heartworms. Meanwhile, Doug & Corinne Arrowood of Mandeville, LA, contacted us about him. They liked his protective nature, plus he would be a good companion for their 7-year-old lab, Jazz, and 6-month-old Shiloh shepherd, Mac. And it seemed he'd get along fine with their two cats, 13-year-old Tids and 5-year-old Shadow. So after nearly two months of waiting for him to recuperate from heartworm treatment, the Arrowoods adopted Joe on April 27, 2003. We couldn't be more thrilled for him. Congratulations to the Arrowoods! UPDATE: We are especially proud of Joe's participation in the first annual Rescue Parade. Way to go, Joe!
The Mascaros with Willow & Wyatt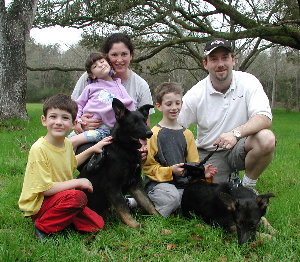 Five-month-old puppies WYATT & WILLOW found a dream home on March 8, 2003, with Ted & Peggy Mascaro and their three children on 20 acres in Covington, LA. The Mascaros had been searching for just the right canine companion to grow up with and protect their family. Needless to say, it was love at first sight when they met the handsome Wyatt and adorable Willow. Congratulations to the Mascaros!
Tammy & Holden Buday-Pace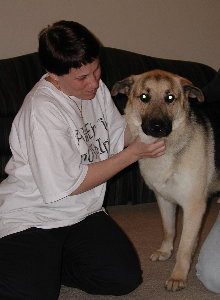 HOLDEN was dumped at a New Iberia shelter by a man who said he wasn't mean enough. We have no idea what that man's "training" methods were, but it took weeks of love and assurance to help Holden come out of his shell. Tammy Buday of Baton Rouge was looking for a dog who was good with cats and she was thrilled to hear that Holden was exceptionally gentle with his foster family's cats. Once she heard Holden's story, she knew he was the one for her and her family, 13-year-old son Thomas and husband Walter Pace. On March 7, 2003, they officially adopted Holden. We get regular updates on just how spoiled he is (a cup of TCBY yogurt or a McDonald's ice cream cone are among his favorite treats). What a lucky boy! Congratulations to the Buday-Pace family!
The Sandersons with Ivy & Willow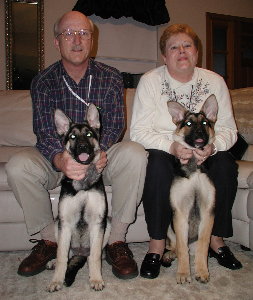 The owner of 4-month-old puppies CAGNEY & LACEY was sobbing when he surrendered them to the LA/SPCA because he had been evicted and had no where else to bring them. His only wish was that they be adopted together to a good home. Fortunately for the pups, Gerald & Jill Sanderson of Marrero, LA, were looking for a companion for their 6-year-old male German shepherd, Thunder. The Sandersons adopted the puppies, now renamed IVY and WILLOW, on March 6, 2003. Jill tells us that Thunder loves his new sisters so much that they feel guilty they didn't get him a puppy sooner. Congratulations to the Sandersons!
SASHA: What could be a better valentine than beautiful SASHA? On Feb. 13, 2003, Sasha's foster parent, Kara Hadican of New Orleans, officially became Sasha's permanent mom. Before Kara came to the rescue, poor Sasha had been in a number of homes, plus she had to undergo the stress of heartworm treatment, so she was desperate for some TLC in a stable, loving environment. We are forever grateful to Kara for coming to Sasha's aid when she needed it most. Congratulations to Kara and Sasha!
MISCHA: Rick & Patrice Lawson of Terrytown adopted MISCHA on Jan. 6, 2003. Rick really wanted a German shepherd and Patrice wanted a smaller dog, so petite Mischa (who's only 51 lbs.) is exactly what they were looking for. Of course, they were also charmed by her calm personality and beauty. She has since completed Beginner's Obedience and has started Intermediate Obedience and Introduction to Agility. We always knew she was a smart girl. Congratulations to the Lawsons!
Susan, Rickie (now Lenore) and Suzanne Sievers
On Dec. 15, 2002, Susan Sievers of Metairie, LA, adopted RICKIE, whose new name is LENORE. Susan first met Lenore on Dec. 14, 2002, at an Adoption Day sponsored by the LA/SPCA. Susan's daughter was volunteering at the event, spotted Lenore, and called her mom to tell her to come over right away. Susan had recently lost Baby, her beloved 13-year-old German shepherd, and her daughter knew Lenore was the dog who would help her heart heal. Sure enough, it was love at first sight for both Susan and Lenore. The next day, Lenore met her new feline housemates -- Destiny, Leopold and Molly -- and toured her new home and big yard. Congratulations, Susan, on your new addition to the family! UPDATE: We are especially proud of Lenore's participation in the first annual Rescue Parade.
RYDER: When RYDER first came to the LA/SPCA, he was so shy and scared that it took daily visits on the part of our volunteers to coax him out of his kennel. Now he has people of his own to love and care for him forever! Gary & Shonna Sharp of Pineville, LA, adopted Ryder, now named SPENCER, on Nov. 12, 2002. His new siblings are Colleen, a gorgeous 9-year-old collie, and felines Braxton and Prentiss. The fearless Braxton likes to chase Spencer around the house -- a twist on the usual cat-dog relationship! Shonna works part-time making deliveries, so she likes to take Spencer on her route. He also loves taking naps with Shonna and especially enjoys it when Gary massages his back. It's possible that Spencer has the perfect home. Congratulations to the Sharp family!
CLEOPATRA: Sweet, darling CLEOPATRA had been at the LA/SPCA for two weeks because our foster homes were full and amazingly, no one had shown interest in this 8-month-old beauty. But on Nov. 7, 2002, Rachel Fernandez met one of our rescue volunteers at the shelter and adopted Cleo on the spot! Rachel brought Cleo home to Chalmette, LA, where husband Julio and their 3-year-old Catahoula, Lucky, were eagerly awaiting her arrival. Cleo has since completed Beginner's Obedience and is proving to be a fine example of her breed. Congratulations to the whole Fernandez family!
TROOPER: It was a dark and stormy morning, but on Oct. 26, 2002, Chris & Amber Gallagher of New Orleans met 2-year-old TROOPER and fell in love with his outgoing personality and good looks. We are thrilled that this young couple has made Trooper a part of their family. And we hear that Amber's mom in Covington is eager to babysit her new granddog! Congratulations to the Gallaghers and to Trooper, who finally has a loving home and a huge yard to call his own.
RIVA: On Oct. 14, 2002, our foster parents Ken Knevel & Toby Burroughs of New Orleans decided to make gorgeous, sweet 5-year-old RIVA a permanent part of the pack. Ken and Toby's two male GSDs, Fargo and Bismarck, are very excited to know she'll always be their big sister. Thank you Ken and Toby for saving Riva's life and giving her a wonderful place to call home for the rest of her days. Congratulations to the Knevel-Burroughs family!
TOBY: We are delighted to announce the Aug. 4, 2002 adoption of TOBY, a 9-year-old sable German shepherd whose elderly, ill owner reluctantly turned him in to the LA/SPCA. Toby's new parents, Deborah & Jason Manasco of Alabama, found him on Petfinder! They were searching specifically for a senior dog as a companion for Tess, their 8-year-old German shepherd who's a retired police dog. Toby has adjusted quite well to country life and Deborah regularly sends us updates on his goofy antics. Congratulations and a big thank you to the Manasco family!
Thanks to all who have selflessly donated their time and money to saving these noble dogs, especially Drs. Erin Reif and Amy Grayson of Lakeview Veterinary Hospital. And to our foster families and voluneers, a huge thank you for your time and support. We couldn't do this without you.
---
New Orleans German Shepherd Rescue
New Orleans, LA
Email: toby_levering@msn.com


Click here for a list of pets at this shelter

---

[Home] [Information] [Shelters] [Search]