---

[Home] [Information] [Shelters] [Search]
Humane Society of Houma-Terrebonne
Is your dog or cat not spayed / neutered? Does your budget not have room for this expense? HSHT has a program to assist you in obtaining this service to prevent a litter produced by your pet from becoming part of the 107 unwanted dogs and cats euthanized weekly at our local shelter.

This program issues vouchers to qualifying Terrebonne Parish residents to assist with the cost of spay/ neuter services through programs administered by our local animal shelter or your own veterinarian. The value of the voucher is equal to the cost of this surgery as quoted by the Terrebonne Parish Animal Shelter's program.
To apply for a voucher, call 873-1095 and leave a message or send an email to HoumaHumane@yahoo.com
Applicants must be Terrebonne Parish residents and are evaluated solely upon their ability to qualify based upon income and necessary expenses, therefore, verification of income and expenses is necessary.
For further information on the services offered: Terrebonne Parish Animal Shelter, 131 Plant Road, Houma, 985-873-6709 or ask for an estimate from your veterinarian so that you will know what your portion of the cost will be.
UPCOMING EVENTS
General Membership Meeting April 10th , 2014 5:30-till at The Bistro in Houma Yearly Garage Sale- June 21st,2014 TBA
ADOPTING A PET
ISSUES TO CONSIDER WHEN ADOPTING A PET
A pet may be more expensive than you think. Be realistic about how much you can afford. Here are some ongoing costs to consider:
Food
Bedding
Litter
Grooming or grooming supplies
Regular well-pet veterinary care
Sick, trauma, or emergency veterinary care
Vaccinations and other medical care as needed

Do you have the time and energy to feed, clean or groom, handle, train, exercise, and take your pet to the veterinarian regularly?

Are you willing to commit to your pet so that even if your lifestyle changes (marriage, divorce, new baby or job) your pet will remain part of that lifestyle?

All pets deserve to be in a loving home with people who have the time and energy to take care of them and spend time building the special bond. These are the homes we search for when placing our animals.
HSHT foster pets are rescued from the Terrebonne Parish Animal Shelter as their time there runs out. If you'd like to adopt an unfortunate animal and give it a loving home, please complete an application. A home visit will be scheduled if your application is complete and the information meets with our policies. We do not adopt out first come but match each of our available pets to the best possible home. We will not place a pet in your home if we do not feel that it is in that pet's best interest. This is not personal but the best for the rescued animal's lifelong interest. Our placements are meant to be a lifelong commitment. HSHT reserves the right not to adopt to anyone for any reason. Adoption fees are $55 for cats and $150 for dogs which helps to cover the cost of having them veterinarian checked, heartworm / feline leukemia tested, vaccinated and spayed/neutered, all of which is done prior to adoption.

All pets in your home must be spayed/neutered, current on vaccinations and heartworm preventative. Your veterinarian will be contacted for a medical history. Large dogs, most medium sized dogs and some smaller dogs will require a fenced yard. Cats must be inside pets. Electric fences and shock collars are prohibited. See application and contract for other information.

For Information or Questions Regarding Adopting, Call 985-873-1095 or e-mail our Adoptions Coordinators : Email: hsht_adoptions@yahoo.com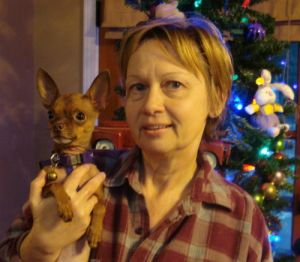 Adopted Dec. 11, 2010 - Louie with new mom, Chris. Not pictured is Rosie (sister/Yorkshire Terrier), Hen-ray (brother, Poodle) and Dad. Louie is now a country boy in Hammond. Mom fell in love in the first minue she saw Louie!
Featured Pets...
Our Featured Pets are the animals at the local Animal Shelter. Please take a look at what sort of pets they have today . All these animals are on VERY borrowed time. Most have only 7 days. So please contact them ASAP @ 985-873-6709 or visit them at 131 Plant Road, Houma.
LOST, FOUND, NEEDS A NEW HOME...
If you've lost or found a pet or need to find a home for a pet you are unable to keep, we suggest that you check the shelter daily and that you post flyers (send copies to local vets, groomers and the shelter).
HSHT shall also seek to enforce by lawful means all laws which are now or which hereinafter all be acted for the protection of animals.
---
Sponsors: If you are unable to adopt or foster an animal, but wish to help a specific animal, you can sponsor that animal to assist with its care until its forever home is found.
OUR WISH LIST
Flea treatment (such as Advantage/Frontline) for cats and dogs
Gift Cards from local pet stores or office supply stores
Monetary Donations to help pay for veterinary costs
Copy Paper, Postage Stamps
Volunteers, Members of All Ages
Foster homes- We are very grateful to those members who wish to open their hearts and homes to foster an animal.
Helpful Hints from the Web
Pet Tip of the Month
Humane Society of Houma-Terrebonne
P.O. Box 1810
Gray, LA 70359
Phone: 985-873-1095
Fax: 985-872-9123




Email: HoumaHumane@yahoo.com

GET OFFICIAL HUMANE SOCIETY OF HOUMA-TERREBONNE T-SHIRTS AND OTHER FUN STUFF AT http://www.cafepress.com/HSHT