COME VISIT OUR STRAY FACILITY AND FIND A FOREVER PET
HOURS OF OPERATION ARE MONDAY - FRIDAY 9AM-3PM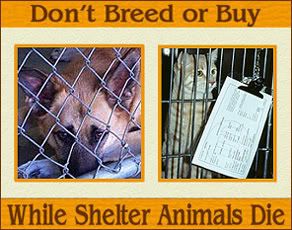 If you live in Picerne Housing it is MANDITORY that all pets be microchipped for identifcation purposes.
---
Spaying and Neutering saves lives....all the unwanted litters of puppies and kittens. Please have your pets spayed or neutered! Fort Polk does not support breeders and breeding in on post quarters is against Housing, Garrison, and VETCOM policies.
-To see up to date photos of all the pets please see our FACEBOOK PAGE just enter Polk Pets in the search box
All Military and Non Military are welcome to view the animals and able to adopt from the facility.
What To Do If Adopting
Once you have viewed the animals and desire to adopt, you will be required to fill out an Adoption Agreement and must go to the Fort Polk Veterinary Treatment Facility with the animal to start the process of adoption. You will be required to fill out a Registration Packet, which starts the medical file on the pet. The staff will then vaccinate, deworm and microchip your new pet. If you are a military member (retired, or hold valid DoD ID card) of the community you then may bring your animal back in for follow-up appts such as vaccinations, spaying or neutering and minor sickcall. If you are a civilian (non-military) you then have to make followup appointments with your own personal Veterinarian for follow-up care. At the adoption, all dogs and cats are given vaccines, also tested for heartworms and tested for the feline leuk/aids virus for appropriate age requirements.

If you can't adopt but would like to contribute to our strays you may do so by making a donation at the clinic or stray facility this will help give the strays some extra days at the kennels and help get others into a rescue. donations cover their vaccines and boarding/feeding needs

For more details you may call 337-531-1323 or come into the Vet Clinic with your questions. Please remember animals are not kept at the Vet Clinic .


You can now see us on Facebook, just look for PolkPets and add us.


Polk Pets

Create Your Badge
So Come Visit Us!

Directions from the Vet Clinic to the Stray Animal Facility. (1). Left on Colorado Ave. (2). Right on Bell Richard (3). Left at the light on 467 (4). Go out the back gate to La10 (5). Left at the light on La10 (6). Turn Right on the 2nd gravelrd (water treatment plant rd) (7). First bldg on left, 1/4 mile down the road. (8). Bldg 3972
---
Fort Polk Strays (Polk Pets)
La 10 & Water Treatment Plant Rd

Fort Polk, LA 71459 Email: polkpets@gmail.com
Click here for a list of pets at this shelter, and THANK YOU for adopting a shelter pet!!>>>

---

[Home] [Information] [Shelters] [Search]