Our Featured Pet ...
-- MUNCHIE --
Can I Be Part of Your Family?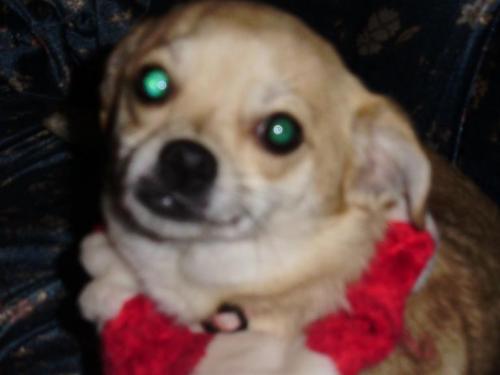 Hi, my name is Munchie and I'm the sweetest little chihuahua girl you'll ever meet!
I'm quiet and loving, I'm the perfect little lap dog just looking for the perfect lap!
I'm tiny and need a home with grown-ups please ... do you think maybe yours is the right home??

Learn more
---
~~ NEWS AND UPDATES ~~
Large & Black Dogs Finish Last :(
The Bowling Green/Warren County Humane Society needs your help! Please check out their pet list, if you are interested in opening your heart to a large or black dog. Large dogs, black dogs and particularly large black dogs are the very LAST to be adopted from shelters. They have the highest euthanasia rate, simply because they don't stand out as much. Think about adopting one of these sweet babies today!
---
Who We Are
The Camel Ranch Rescue and Rehab is a not-for-profit private rescue for special needs & small dogs. Too often, our furry friends are thrown away when they are no longer little and cute or are too difficult to train. These are the dogs we strive to find "forever homes" for. We don't generally take in new animals ... we simply list the ones we come across in our other rescue efforts, in an effort to let them find the families they deserve as well.
---
Adopting a friend
All of our adoptable pets are current on basic vaccines, have been wormed, had rabies shots (if old enough), are spayed and neutered, are heartworm tested and microchipped. Adoption Application and interview are required for Adoption. Contact us for an Adoption Application. Adoption fees are set based on the amount of expenditures incurred on a certain animal, or are set by the Rescue Organization that is sponsoring them. Individual fees are listed in pet's bio sheet. All adoption fees are applied towards the care of other homeless animals.
---
Camel Ranch Rescue
Bowling Green, KY 42101

Email: IResQK9sNKy@aol.com
---
Each Animal also comes with one month of SHELTER CARE Pet Insurance
(please click below to read about this wonderful offer)

---
Important Links
Didn't find the right pet for you at Camel Ranch Rescue and Rehab? Then, please visit our affiliates.
Bowling Green/Warren County Humane Society
ˇAttention: Black Dog Overload!
Leitchfield/Grayson County SPCA
Christian County Animal Shelter
English Springer Rescue America, Inc.
Another Chance for English Setters
Sounds of Silence Deaf Dog Rescue
Owners of Blind Dogs/Blind Dogs in Rescue
---
Other Information