Woodstock Animal Foundation
---
Featured Pet
Our featured pet introduces himself...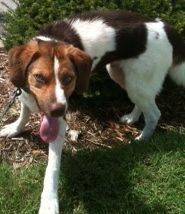 Hello my name is Joseph. He was adopted out as a puppy and then recently found wandering as a stray. He was picked up by Metro Animal Services. We went to rescue him once again and he is now available for adoption. He is a great boy but will need to go home with older children, above the age of 12. He loves to play with other dogs and really loves to go on walks. He doesn't like to share his food so if there was another dog in your home he would need to be feed separately. He is about 1 year old now and is ready to find his forever home. There is an application process and his adoption fee is $150. Please email morgie26@aol.com with any further questions. Thanks .
News
We are in desperate need of foster parents! Our foster parents can take a dog home that has been at our adoption site and give them a change to run and play out of a cage. Also you can take home puppies or kittens who were rescued from shelters. We can only save as many animals as we have foster care homes. If you would like to be a part of the saving of lives, or if you would just like more information about this program, please give us a call a 502-544-8887 or email morgie26@aol.com. Also you can visit us at our website
ADOPTING A PET IS A FAMILY AFFAIR
We love it when our animals find their adoptive families. It is important when considering adopting any pet that it is a well thought out process that involves the whole family. Adopting a pet should never be an impulse decision. You are making a lifetime committment to your new pet and this should never be done without careful and thoughtful planning. Every time a pet is returned it lessens their chances for another placement. If you're considering adopting a new pet, please take the time as a family to discuss it and have reasonable expectations of your new pet. It will be going through a lot of confusing changes and will need your patience and understanding. Love, patience and spending quality time with your pet are all important parts of pet ownership that will result in your having a wonderful new addition to your family.
Come Visit Us!
---
Woodstock Animal Foundation
6791 Shelbyville Road
Simpsonville, KY 40067-6516
Phone: 502-544-8887 or 502-295-2710
Email: morgie26@aol.com
Click here for a list of pets at this shelter
---

[Home] [Information] [Shelters] [Search]