BLESS THE BEASTS CANINE PLACEMENT PROGRAM
---
CONTACT US: The most efficient and effective way to receive a response is to contact us by
e-mail at:

k9resq@cox.net

--Phone messages are not always received in a timely manner or routed to the appropriate person, therefore, phone calls are not always returned.
---
The best way to proceed is to request an application at k9resq@cox.net -- Calling for more information slows down the process!
---
PLEASE CONTINUE READING BELOW

OUR FEATURED PET(s):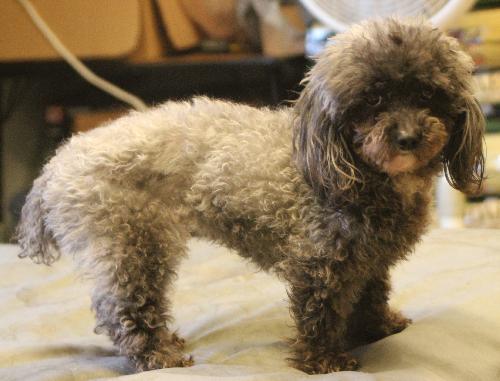 Or mail to:
Bless the Beasts
911 W. Cemetery Road
Nickerson, KS 67561
Please indicate which dog in the lower left -hand corner of the envelope if you wish to contribute to a specific dog and make checks payable to
BLESS THE BEASTS
---
The greatest honor an owner can pay to a departed dog is to get another dog, especially through adoption or rescue. When a human dies his/her friends often offer tributes in the form of donations to a charity in that person's name. How wonderful it is to save the life of a dog and give it a loving home all in honor of the departed dog. What a great memorial gift it is to the memory of that dog.
---
If you are a senior citizen we suggest that you consider adopting an older dog. A healthy small breed dog can live 15 to 18 years and they really don't begin to show their age until about 13 years. Please think about how YOUR age and state of health will affect your new dogs' future. Many pets are abandoned because their caregiver has to leave them to enter a nursing home and their family members do not always have space, desire or the ability to care for a pet left displaced by such an event..
---
---
SPAY AND/OR NEUTER YOUR PETS!!
There's no time like now to get your pet spayed or neutered!

This is a good time to plan to get your pet spayed or neutered. Having your pet sterilized now avoids roaming and breeding behavior that starts in the spring. Most animals born will not get lasting homes; over half will end up abandoned or in pounds. Abandoned animals are not able to feed themselves, many starve or kill livestock to survive, and others are killed by cars or are shot. People often think they can get homes for the kittens or puppies produced by their pets. However, between five and eight million animals are killed in US shelters each year because there are not enough homes for them.

Over two billion dollars is spent on animal control in the US each year. This mainly covers the cost of picking up, housing and then killing unwanted pets. All taxpayers foot the bill for pet owners who produce unwanted litters of dogs and cats. Responsible pet ownership includes having your pet microchipped and sterilized.

If your pet has unplanned litters that you give away, you can help stop this tragedy by having your pet "fixed." Spaying or neutering your pet is one of the most important things you can do for your pet, as well as for your ability to enjoy your pet and for your community as well.

Remember: Responsible pet ownership includes having your pet microchipped and sterilized.

Winter Care

It is important to remember the health and safety of your pet during the winter months. To stay comfortable in cold weather, pets must have adequate shelter and nourishing food. It takes extra calories for your pet to stay warm in cold weather. Worms rob your pet of the nutrition needed to keep warm and also affect the condition of your pets' coat and overall health. It is easy to forget about checking your pets' water bowl when the weather is cool, but wind and cold will make your pet thirsty. Pets need clean water year round. Shelter must keep your pet dry and out of the wind. A doghouse should be 2 inches off the ground and facing away from strong winds. If you build a doghouse, place the door to one side instead of in the center, so that your dog can stay out of direct wind.

Of course, our philosophy is all dogs should be indoor companions unless you live outside, neither should they. They need to be more than a yard ornament and they all want to be an integral part of a family. If it is too cold for you to enjoy being outside, the same is true of most pets.

Anti-freeze is very poisonous, even in tiny amounts. Make sure pets cannot get to any open containers and clean up any spills or leaks from your vehicle.

Summer Precautions:

NEVER LEAVE YOUR PET UNATTENDED IN A PARKED CAR FOR ANY PERIOD OF TIME. On a warm day, the temperature in a car can exceed 100 degrees in a matter of minutes--even with the windows partially open. Your pet can quickly suffer brain damage or die from heatstroke or suffocation when trapped in high temperatures.

IF YOU SEE AN ANIMAL UNATTENDED IN A HOT CAR, CALL YOUR LOCAL ANIMAL CONTROL OR POLICE DEPARTMENT IMMEDIATELY!

You don't just expose your pet to the dangers of heat stress when you leave him in a car, you also expose him to pet theft. Many pets are stolen each year from unattended cars.
---
NUTRITION
We feel good nutrition is a very important part of responsible pet ownership. The addage, "we are what we eat" also applies to our pets.

Please look up "dog food ingredients" on a search engine. You will find informative and enlightening, educational articles about the pet food industry which will assist you in intrepeting the ingredients in dog foods, which can sometimes be very confusing and misleading.

Nutrition plays a very important role in preventative medicine and in the overall health and well being of companion animals. You will have a much healthier pet and most likely have fewer ill-pet vet visits if you avoid foods containing by-products and/or grains added simply as fillers such as corn, wheat, and soy, which are often sources of allergies and other health-related problems in dogs.

There are five categories in which pet food falls: generic (brown bag), private label (store brand), popular brands (those you probably know because of marketing--TV ads, etc.), premium brands, and all natural.

In general, the quality of the product increases from generic to all natural foods.

READ THE INGREDIENTS LIST. Do not compare foods based on their guaranteed analysis because this only indicates what the food analyzes out to be--it is no indication of what your pet can actually use from the food. Be cautious if the first few ingredients are corn. Pets do exactly what we do with corn--in one end; out the other--they can't utilize it.

An ideal pet food ingredient label is one that you can read the ingredients and actually KNOW and UNDERSTAND what is in the food. Choose foods containing whole foods like chicken and beef rather than soybean mill run, wheat middlings, and meat by-products. Pets will eat these things, but they will eat a lot of things we don't. The processing necessary to make a meat by-product end up in pet food renders most of the nutritional value useless.

A complete listing of different ingredients and whay they are can be found at www.aafco.org.

Premium and natural foods produce less waste from the pet; they eat less as well. Natural diets often mean less shedding, decreases in medications, and an overall healthier pet because the body doesn't have to work so hard processing the substandard food and can focus its attention on maintaining good health.

We recommend holistic, natural, human grade ingredient dog foods. These ultra premium foods will cost more, but there will be less waste and the added benefit of a healthier pet.

There are various brands of food that meet the above criteria. Some of our recommendations are Canidae, California Natural, Wellness, Innova, Natural Balance, Solid Gold. This list is not all inclusive; it is important to learn to read and intrepet the labels.
---
GUARDIAN ANGEL
If you would like to become a Guardian Angel or contribute towards any of our other wonderful dogs while they wait for their "Forever Home", you may do so by clicking on the same button above or using the same mailing address. Please specify which dog when you do so. Many of our dogs are special needs or have other problems over and above the normal "vetting" we do on all dogs, such as eye surgeries, diabetes, heart murmur, broken bones, etc. They all deserve love and medical attention and they are all so grateful. We also appreciate your generosity. Your donation is tax deductible and you can be assured that each and every penny goes toward the care of the dogs.
---
---
WHO WE ARE
We are a small, non-profit organization of VOLUNTEERS, volunteers being the key word. We are not running a business and have no paid employees. We have many dogs in our care from varied backgrounds. We are no-kill, but for that reason, we do not take anything and everything. While we would love to be able to help every dog at risk--including those whose people have decided for one reason or another they no longer fit into their lives, that is just not the case. We do not have the space or volunteers for that. We are forced to be somewhat selective. We are a small-dog Rescue for the same reason--lack of space and volunteers..

We feel we are personally familiar with each of the dogs, therefore, we are also selective about what type of home each individual dog requires. You needn't worry about them while they wait for their forever home, however, they are safe and will continue to live in a home environment until the appropriate home is found for each.
---
NEWS
If you see a dog listed--IT IS AVAILABLE. Once an adoption is completed, the dog is removed from Petfinder. We process the applications in the order they are received, however, we do not necessarily adopt on a first-come, first-serve basis. We are sorry, but we do not have the manpower to update you along the way. Although we may be processing applications, the dogs are not considered adopted until the adoption is finalized and the contract has been signed. So, until then they are still available.

IF YOU NOTICE THE DOG YOU APPLIED FOR HAS BEEN REMOVED FROM PETFINDER BUT YOU ARE INTERESTED IN ANOTHER, PLEASE LET US KNOW.

If you submit an application and feel you cannot wait for the process, please let us know so that we can eliminate your app from the line and move on to another. Although our goal is to get the dogs in their new home as quickly as possible, we are going to take the time to do it right.

We describe the dogs the best that we can. E-mailing or calling for more information is a waste of your time and ours. If you have a specific question, please feel free to ask. But, please do not e-mail or call requesting "more information about the dog". If you do, the response you will get is that we need more information about you and a completed application.

If you are serious about adopting , please fill out the application. We will then be serious enough to answer your questions.
---
ADOPTION FEES
AN ADOPTION FEE DOES APPLY.

First and foremost, we are not in the business of selling dogs. The adoption fee is designed to help us defray the costs that we incur for vet fees on each dog and allows us to continue helping more dogs.

You might look at it this way--there is no fee for the dog (it is "free"); you are actually paying for the medical costs and care. In essense--THERE IS NO SUCH THING AS A FREE DOG!

The fee covers the following: spay/neuter, rabies vaccination, distemper and parvo vaccinations, worming, heartworm test (and each dog is kept on the preventative while in our care as well as on flea preventative), dental cleanings and simple extractions when necessary, AND a microchip for identification purposes.

That is the minimum of what is done. Each dog has special needs to take into consideration. There are problems that will quickly raise the cost of "vetting", such as uterine infections, major dentals with numerous tooth extractions, mammary tumors/breast cancer, hernias (all of which require additional anesthesia), further testing such as blood tests or X-rays. Then there are the dogs with even more major problems such as broken bones, dysplasia, luxation, diabetes, eye problems requiring surgery, ETC. ETC, ETC. . .We cannot turn them away for something over which they have no control and that money can fix.

We have tried to establish a consistent fee that will be fair and equitable for all--at this time most are between $200 and $300 per dog.

Be assured that every penny goes back into the Rescue Fund. Not one cent goes to any of our volunteers. There are no salaries paid and most expenses other than vet care are are "out of pocket". We accept that as part of the price of being able to help the dogs.

In addition to feeding and providing for the dogs, Kansas law mandates that we pay a yearly fee in order to rescue dogs. In addition to an annual Shelter Fee, each foster home must pay a fee. Then there are the other daily expenses of doing Rescue: Dog Food, long-distance phone calls to check references, gasoline for home visits, printing, postage, toys, medicine such as heartworm preventative and flea control products just to name a few. Again, these things are "out of pocket" so as not to deplete the funds needed for vet costs.

There is also the consideration of the medical and general care for those dogs that will never be adopted due to their age or major problems that make them undesirable for one reason or another. Since we do not euthanize, they will stay in our care for their remaining time. They are still entitled to have their medical needs addressed. Those medical costs must be covered by the otherwise healthy dogs.

NO ONE WITH A CONSCIENCE MAKES MONEY OFF OF RESCUE.

WE CONSIDER IT AN HONOR TO BE ABLE TO DO WHAT WE DO. WE HOPE THAT YOU CONSIDER IT AN HONOR TO BE ABLE TO MAKE A DIFFERENCE IN THE LIFE OF THE DOG(S) THAT YOU ADOPT.
IF YOU SEE A DOG THAT YOU WOULD LIKE TO ADOPT, PLEASE REQUEST AN APPLICATION at k9resQ@cox.net You will receive the application via e-mail.
---
ADOPTING A FRIEND
THE FIRST STEP TOWARD ADOPTION IS THE SUBMISSION OF THE APPLICATION!!

If you are interested in adopting any of the dogs you see here, please request an application at k9resq@cox.net

You must complete the application in full. The reason we ask for references is because we plan to call them. Without phone numbers, we cannot contact your references and your application will be discarded.

A fence is MANDATORY. If you do not have a fence, please do not apply. We also require a home visit to check your fence to assure it is adequate for your new family member.

Most of our dogs have come from a kenneled environment and for the most part are much more comfortable with other dogs than with new people. They were not given the proper and necessary socialization normally given to puppies and had very little human contact, which will require more patience and understanding when adding them to your family.

It is important to realize that there is ALWAYS a period of adjustment when adding a rescue dog to a family, which will take time and patience and understanding. Some require more time and patience than others and there may very well be an issue or two to work through in order to earn their trust and overcome their fears and lack of socialization.

Being in a foster home is their first opportunity to learn to be a real dog. It will only get better once they get a forever home of their very own where they will progress even faster and further; it will not happen overnight, but the rewards will be so worth it!

If you are willing to look past the possible initial fear/timidity/apprehension and give a former kenneled dog a chance, realizing they can and will adjust to the life of the pampered pet they were meant to be and should have been their entire lives, they will be the most grateful pet imaginable. They really are eager to please.

Even those that do not come from kenneled environments, but have been discarded by their people through no fault of their own, will have issues that need the same patience and understanding.

Please remember, THERE ARE NO PERFECT DOGS, no matter what the background. Dogs generally become what you make of them through your efforts, love, patience, and understanding. And--if you are willing to overlook their slight imperfections, they will certainly overlook yours!

When you bring a dog/puppy into your home, please be aware it should be for their lifetime. Small dogs can live 15 or more years; they should not be brought in on a whim and they are not disposable. You must be willing and able to make that longterm commitment to them for their entire lifespan and equipped to provide the love and care, even and most especially as they age. We live in a throw-away society and too often that includes pets.

Prior to adding a new dog to your family, please visit www.-REMOVED- -SPAM-.com to learn about the various personalities and characteristics which will assist in matching the right dog to your lifestyle.

Our PETFINDER home page may answer any questions you have about our policies and practices. If you have specific questions about the dog not made clear in the listing, please feel free to ask, keeping in mind that the FIRST STEP TOWARD ADOPTION is to submit an application.
---
SHIPPING/TRANSPORTING
We do not ship or transport our dogs. We do not feel it is fair to the dogs.

We do out-of-area adoptions IF you are willing to travel to central Kansas for the dog (and we are able to find someone in your area to do a home visit for us--all adopters must have a home visit prior to an adoption): WE DO NOT SHIP OR TRANSPORT! If your application is approved, you must be able to travel to central Kansas in order to pick up the dog in person. If you are not able to come for the dog, please do not apply. It is often a difficult transition for many of the dogs, so we ask you come to them in order to spend a reasonable amount of time making them feel comfortable in going with you. And, since we have had these dogs in our homes as our own pets, we want to meet you to see that it is a good match!!
---
COME VISIT US!
We are a non-facility shelter. All of our dogs are in foster homes, not in a shelter. All are being socialized and an attempt is made to housebreak them in a home setting. For this reason, we do not show dogs without an approved application. It would be more than we could expect from our foster people to allow strangers into their homes.
---
BLESS THE BEASTS CANINE PLACEMENT PROGRAM
Box 323
Nickerson, KS 67561
We require a fenced yard and we do arrange a home visit to make sure the fence is adequate for your new family member. You must come to central Kansas for your new friend.

E-mail k9resq@cox.net


Click here for a list of pets at this shelter
---
---

[Home] [Information] [Shelters] [Search]