Kansas Furever Shih Tzu & Mini Schnauzer Rescue
---
Our Featured Pet...Buster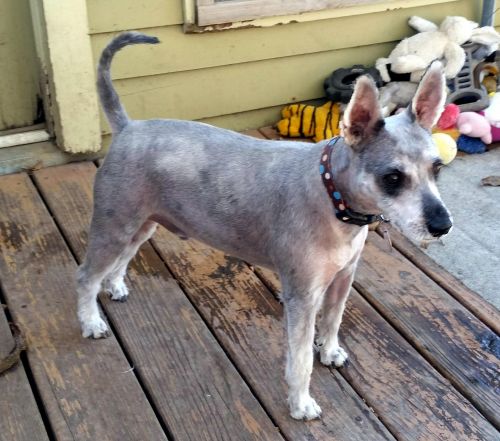 I am considered a 'forever foster' I could use sponsors to help please! If interested, please contact my foster mommy! Thank you.!!!
Who We Are
We are with Furever Shih Tzu and Companion Dog Rescue, which is 501c3. Any donations made are tax deductible.
We do not have a public shelter, but the pets are fostered in private homes. So we do not have 'visitations' to see the pets for adoption.:
Adopting a friend
As you work through the adoption process, please understand that our first and ONLY concern is the happiness and welfare of THE DOG.


First of all, the Miniature Schnauzer is a high maintenance breed and requires frequent and regular grooming. This means a trip to be groomed about every 6 weeks at an average cost of $40 per trip. If this is not in your budget, this may not be the right breed for you.


A Mini Schnauzer is a very loving and loyal dog that needs attention and affection. A Mini Schnauzer will want to be with the family, wherever that may be. A Mini Schnauzer would be miserable as an "outdoor" dog, therefore we won't even consider it. We will only consider those homes who want a Mini Schnauzer as an indoor family member. Further, IF in one of our follow-ups, we find one of our dogs is left outdoors unattended, we will reclaim the dog.
Our Process

Our Mini Schnauzers can come from a variety of situations... We get dogs out of Shelters, owner turn-ins, dogs who are abandoned because of their owners death...etc. Rather than leave these dogs to die in a shelter, we take them in and address their needs. We will treat any medical condition the dog has. Then we spay and/or neuter every dog (no exceptions), bring him or her current on all shots, and begin it on heartworm and flea protection. The dog is bathed, groomed, and put into a foster home for evaluation. Each dog stays in their foster home until they are adopted.

Rescue dogs may or may not have some "issues" to work through. (We will advise you of any "issues" a dog has prior to you adopting it). These dogs are often very scared, and unsure of where they belong. There may be some training involved or some bad habits to correct. Some of our really traumatized dogs may take 1-2 years to turn around. However, rescue dogs usually have plenty of love, affection and gratitude to give back. And you will have the satisfaction of knowing that you saved a dog. (We do not place aggressive dogs or known biters)

Here are some general guidelines we follow in choosing the homes for our dogs:
All pets in the house must be altered before we will place a Mini Schnauzer with you, unless you show for conformation.

If you have little children the age of 7 or under, please don't ask to adopt a Mini Schnauzer from us. The great majority of the rescue dogs do not do well with children under the age of 7.

If you are unsure as to whether you can commit to a dog for the rest of it's life, (regardless of whether you move, change jobs, or get divorced) then please rethink your decision to adopt a dog. Adoption is for the rest of the dog's life.

If you are in hurry, please slow down! This is a lifetime decision and should not be made in haste. Our adoption process takes time and does not happen the same day or even overnite.

Here are some things we insist on if you do adopt a Schnauzer from us:

The dog may never be allowed off a leash unless it is in a securely fenced yard.

The dog must be kept on Heartworm and Flea Prevention medicine at least 9 months out of the year, and in some areas year around. Due to having treated several heartworm positive dogs recently, you must have a history of giving heartworm preventative to be considered for adoption.

The dog must be an indoor dog and treated as a member of the family.

The dog is never to be left outside when you are not home.

The dog must wear ID tags at all times.

You must be 21 years old to submit an adoption application. Our adoptions require a person to be of legal age to be able to sign the adoption contract.

You may not adopt a dog as a present for another person or as a surprise for someone. This is not fair to the dog or the person involved.

Please remember.......our first and ONLY consideration is the safety and happiness of our dogs.
We do not have a shelter. Our whole organization is made up of volunteer foster homes. So...it is NOT possible to go to a "shelter" to view all our dogs. (Please do not call me asking where to go to look at the dogs!) We ask that you submit an application first, and once you are approved to adopt, we will suggest a few dogs and make arrangements for you to meet them. We do not allow strangers who have not submitted an application to go to our volunteers homes to meet a dog. This is for our volunteers safety. We do not place dogs in homes that we do not believe will work out... so please respect our advice. We reserve the right to refuse to adopt to any applicant.

Out of the Area? We will gladly do a "long distance" adoption, however we do not ship our dogs. We expect you to come and pick up your dog. If you are not prepared to go pick up your dog, it will affect your application to adopt that dog. We do not allow friends or family members to pick up the dog unless the adopter is with them. We do not adopt out of area unless you have a vet and groomer reference.

What Age Dog Is Best For You?

An average Miniature Schnauzer will live 14-16 years......so what age dog is best for you?

Puppy through 1 yr. old.........Lots of chewing, not reliably housetrained, needs much attention and training, not good choice if you are gone all day.

1-3 Yr. old........ Still acts like a puppy, may or may not be housetrained, will still chew, needs lots of playtime to burn energy, will become bored easily if left alone too long.

3-5 Yr. Old.......Able to be trusted alone in the house for short periods, needs several hours of playtime daily, will become bored easily, will chew from boredom.

5+ .... A perfect dog. Past the chewing stage, reliably housetrained, content to sleep while you are gone, will want to play for a few hours, but will be ready to sleep again when you do.

The first step to adoption is filling out a written application. Once we review your application, someone from a local rescue will come to your home to meet you and your family. (We like to see where our dogs are going) Once you have been approved, you may begin meeting our dogs.

Our Adoption fees range from $200 to $350 and are used to pay the vet expenses. Dogs up to age 2 are considered puppies. As they get older the fee is reduced. Senior dogs are $175 plus $25 microchip fee. All dogs are up to date on shots, heartworm negative, spayed or neutered and any known problems are treated before they can be adopted.(If you cannot afford the adoption fee, then you cannot afford to properly care for the dog. Please do not ask us to subsize your dog, we do not receive federal or corporate funding. All our vet costs come out of our own pockets! Last year our vet costs were $3000 higher than our adoption fees!)

Also... if your idea is to adopt a rescue Mini Schnauzer, because you don't want to pay a breeders price, please stop right here, because that is not what rescue is all about. Rescue is about giving a dog a chance who otherwise would not get one.

Rescue dogs range in age from puppies to 13 yr. olds. Everyone seems to want the young dogs...so please consider opening your heart to an older dog. They are so much harder to place, and most often are the best behaved. They need homes just as much, if not more, than the younger dogs. If you have made it this far, and are still interested

......Fill out an adoption application

Placing a rescued Mini in a safe and loving home is a high priority. Besides assessing the Mini for its needs, we also assess potential homes to assure that the environment and caregivers will be able to provide the right balance of love and attention that each and every dog deserves. We are always searching for that special person or family that is willing to open up their home and is ready to be smothered with love by these most wonderful animals.
Our procedure for adopting is as follows: First of all you will need to fill out the
Miniature Schnauzer placement application
Adoption Application
This application can be done directly at this web site and it has some drop down boxes with several choices. Choose the most fitting answers and submit. If you have any problems with submitting this application be sure to let me know.
My email address is Cinsto6@aol.com
We require a completed adoption application & home screening. Prospective homes must meet adoption criteria. After you fill out an application and the references are called, we or an appointed rescue person, will meet with you and your family in your home. We want to ensure the Mini you adopt will have a forever loving permanent home. By having a personal meeting and instructional home visit, we will then determine which Mini in rescue would fit well in your household. We will also offer you suggestions at that time to ensure the comfort and safety of the pet. This will also make the transition of the Mini to your home go smoothly. Then we will always be available by phone or email whenever you have any questions concerning the pet. In all cases, the final placement decision is based on the suitability of each dog for a particular home and will not be made until the application has been approved, references checked and the homevisit has been completed.(Please don't call me expecting to get a dog the day you call!) Our group does have a policy of only placing dogs in homes where all pets are spayed or neutered.
Donations and Volunteering
Donations to our rescue effort are tax deductible, if you are interested in donating something for the dogs, please contact SteveC1915@aol.com . We are always grateful to receive cash donations, or donations of supplies (all sizes of plastic crates, premium dog food, towels, blankets, shampoo, toys and treats, etc.) Any donation in excess of the adoption fee is TAX DEDUCTIBLE! Some of our dogs have special medical needs and donations can be made directly towards their medical treatments.

We do not have a permanent shelter facility. All of our dogs are kept in foster homes. Please contact us to set up a meeting with the dog you are interested in AFTER you have completed an adoption application.
---
Kansas Furever Shih Tzu & Mini Schnauzer Rescue


located in southeast kansas.
Email: cinsto6@aol.com Click here for a list of pets in this rescue.

Visit Other Shih Tzu Rescues In Other States
Please click here to see the dogs at other Shih Tzu Rescue groups
Furever Shih Tzu Rescue - Ohio
Blue Grass Shih Tzu Rescue - Kentucky
Texas Shih Tzu Rescue - Houston
Texas Shih Tzu Rescue - Dallas
Furever Shih Tzu and Companion Dog Rescue

---

[Home] [Information] [Shelters] [Search]