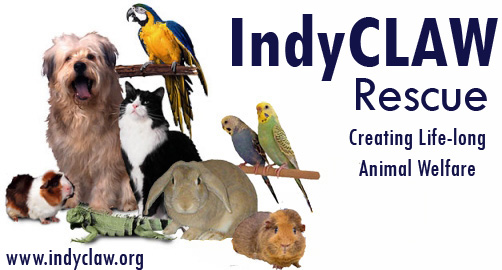 IndyCLAW Rescue
---
Who We Are
---
IndyCLAW is a small all volunteer exotic pet rescue group. We are a registered 501(c)3 charitable organization allowing for donations to be tax deductible. Our focus is tending to the pets in our care. Email, social media and telephone calls will be addressed as time allows, please be patient. Our adoption process has time delays built in to help you and us determine that there is commitment to the adopted companion for the rest of its life and not a spur of the moment decision that is not in the long term interest of the pet.
---
We are an animal rescue group in Indianapolis, Indiana as of February 2009. What began as a loose association of like minded individuals from several animal related industries came together to form IndyCLAW Rescue.
We are primarily an exotic pet rescue (non-traditional pets) with a focus on rehoming house rabbits and "caged" birds. We began as an all-breed rescue but have narrowed our focus in the past few years. We typically leave the dogs and cats to dog / cat rescues as our house rabbit population needed more attention and resources. Our rabbits are spayed/neutered and litter box trained or working on it before they are even listed as available. There are no low cost spay / neuter options for rabbits in central Indiana and the adoption fee only partially recovers the veterinary costs.
Our adoptions begin with an application and usually a meet and greet at the bunny barn. At the meet and greet, potential adopters get to meet the desired pets and make an informed decision about their new companion. From there we schedule a home visit after they have had time to acquire everything needed to properly care for their new pet. We also do a sleepover visit of a few days before finalizing the adoption to make sure no one has an unexpected allergic reaction or something else happens to make them realize their chosen companion is not the ideal pet for them. If all goes well, we would finalize the adoption contract. The contract contains clauses for veterinary care as well as, should circumstances change and you can no longer keep the pet, contact us first.
While our process takes a couple of weeks to complete, it has time built in to help make sure you are ready for a life-long commitment to the chosen pet. Some pets live only a few years while others, such as exotic birds, can live up to 70 years in which case you would be encouraged to have a plan for its care at your end of life. The built in time also allows you the opportunity to make sure it's not a spur of the moment 'purchase' which you will soon regret.


For any further information please contact us at:
---
IndyCLAW Rescue>

Indianapolis, IN 46217

Click here for a list of pets at this shelter

---

[Home] [Information] [Shelters] [Search]