Strays In The Garden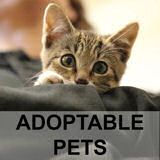 ---
We want to thank all of you for adopting Homeless Animals ...

We are a foster based rescue, with some of our available cats and kittens at the following Petco Locations:

Petco
6220 W. 95th Street
Oak Lawn, Illinois


Petco
495 E. Lincoln Highway
New Lenox, Illinois


Petco
River Oaks Plaza West Shopping Center,
460 River Oaks W,
Calumet City, Illinois

Our Cats and kittens that aren't at Petco locations are in foster homes and can be seen by appointment. Please email us at SIGAdoptionTeam@gmail.com to let us know which cat or kitten you may be interested in. We will send a preliminary questionnaire to you, and once reviewed and approved, Someone will contact you within 24 hours. Please note: We do reserve the right to decline an application without explanation. .
Adoptions events are conducted on Saturdays and/or Sundays from 12:30 PM. until 4:00 P.M. However it is always best to check with us first if you are making a special trip or coming a great distance. We post the days and locations of our adoption events on our Facebook page.
Our animals love window visits. If they are napping when you come, most likely they have just had lots of visitors or activity.
Our Adoption Fee for Felines is $110.00 ( If Declawed $130.00 ) which includes:
1. Feline Leukemia and FIV Test:
2. Strongid Deworming:
3. 1st Distemper Shot:
4. Spay or Neuter:
5. Rabies Vaccination:
6. Microchip:
7. Nail Trim:

Our Adoption Fee for Canines (When we have them) is $120.00 which includes:
1. Heartworm Test
2. Deworming
3. First Shots
4. Spay / Neuter
5. Microchip
6. Rabies Vaccination - If old enough
In certain breeds we do charge an additional $20 which goes into our medical fund to help with increasing vet expenses.
All of our pets are tested for FE-LK-FIV, vaccinated, dewormed and ( if old enough ) spayed and neutered. Each of them is properly socialized and we take pride in getting them ready for their new life in a forever home. Due to the economic downturn we have been overwhelmed with strays and turn-ins. There are some wonderful animals available. It is a wonderful feeling to give a homeless cat or dog a home. We will work with you to let you visit with all of them, to be able to pick the one that will be a good match.
---
* * * * URGENT - PLEASE READ! * * * *
Please! Do not Declaw your cat unless it is absolutely necessary. There are many ways to prevent and retrain your cat from destructive behavior and we will be happy to help you with some tried and true tips. Also, there are products available that work well. In many cases, declawing will alter your cats' personality. They become skittish and can turn against other cats. We have had some wonderful cats come back due to the problems caused by this process. Please only declaw if necessary and AFTER you have tried all the other behavioral changing methods available.
---
PLEASE NOTE: OUR MISSION is to try to make people aware of the importance of picking the animal that is right for you and then doing right to that animal for the rest of its life. Getting the message out about the importance of spaying and neutering is extremely important to us. We are aware that there are many misconceptions about felines and we do our best to clear some of those up.
When an animal comes into our care we do our best to make them feel secure and assess their health to see if immediate medical care is needed. They are tested for serious/contagious disease, wormed, micro-chipped, altered and vaccinated. The next step is of course waiting for adoption. In some cases, the wait is very long. Ultimately, the perfect match comes along and off they go. So many of our adopters come back with pictures or heartwarming stories of their new lives.
We are currently looking for dependable individuals that are willing to give about one hour a week to volunteer for cage attendants, transportation, vet visits, assist on adoption days or foster. There is no reason why any one ever has to be bored. Volunteerism is a win/win situation and one of the most fullfilling activities you can participate in.
We reserve the right to refuse any application that we feel for whatever reason is not going to be a good match. We also reserve the right to not have to disclose the reason.
Strays In The Garden
Highland, IN 46322

Phone: 708-887-8337
WE APPRECIATE YOUR PATIENCE AND INTEREST IN GIVING A HOMELESS ANIMAL A CHANCE. ALSO, WE HAVE HAD POTENTIAL ADOPTERS NOT LEAVING MESSAGES OR VALID PHONE NUMBERS. PLEASE CHECK YOUR VOICE MAIL AND MAKE SURE THEY ARE NOT FULL. IF YOU DO NOT LEAVE A MESSAGE WE DO NOT CALL YOU....
Email: SIGAdoptionTeam@Gmail.com

Click here for a list of pets at this shelter
We would also like to Thank Petfinder and Animal Planet along with all our vets, Petco, Petsmart, foundations and employees, volunteers, fosters and most importantly all our adopters on behalf of all the animals whose lives are saved and made better by all their efforts.
---

[Home] [Information] [Shelters] [Search]