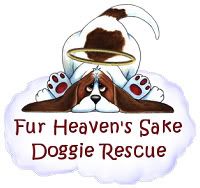 Fur Heaven's Sake
About Us and What We Do
Fur Heaven's Sake is a volunteer based organization dedicated to ending the needless euthanization of unwanted and homeless dogs. We are a not for profit, incorporated organization funded completely by fundraisers, adoption fees and donations. Most of our dogs come from overcrowded shelters where they are in danger of being euthanized. We also take in dogs no longer wanted by their owners....and unfortunately lately we are getting many dogs due to folks losing their homes due to foreclosure. Any dog in need is a dog we strive to save. We work closely with, and have established successful working relationships with several shelters, veterinarians, pet supply stores and other rescues as we believe working together saves more lives. Our vision is to save as many dogs from needless death as possible and to place them in loving homes where they can be appreciated for their true value and enrich the lives of the people who care for them. Please consider volunteering....the more volunteers we have, the more dogs we can save! Please email us if you are interested! There are so many ways to volunteer...so don't hesitate to contact us!
OUR NEXT EVENT
Watch For Future Events
YOUR HELP IS NEEDED
Fur Heavens Sake Doggie Rescue wants to help provide for dogs who are losing their homes due to foreclosure. Due to the struggling economy we need your help to provide families and their pets with financial help more than ever. Please, if you can just spare a little we will help get it to those who need it the most.
Application Process
If you are interested in one of our dogs, please fill out the application below and send it to furheavenssake@yahoo.com. Simply highlight the application, copy and paste into an email. Do NOT send your application as an attachment. Fill out the questionaire as completely as possible. Please be specific in your answers and remember to include phone numbers for references. When you have completed all the questions, send your application. We will process your application as soon as possible. You will be contacted either by phone or email within one week. Thank you for taking the time to search out a rescue dog as your companion as there are so many worthwhile lives willing and ready to be loved.

Adoption Application

Name of dog you are applying for:
Your Name:
Your Age:
Spouse Name:
Spouse Age:
Address:
City/Sate/Zip:
Email Address:
Home Phone:
Your Cell:
Spoues Cell:
Your place of employment:
Spouses place of employment:
Children (Names/Ages):
Current Pets: List all current pets with name, breed, sex and age.List all former pets with name, breed, age, sex and where the dog is now:
Veterinary Reference: List name, phone and address
Personal Reference: List three, one family member only. Name, address, phone and email
• Do you rent or own?
• If own, what type of home (house/condo/modular/mobile)?
• If rent, name and phone of landlord:
• Do you have a fence, if so what type & height?
• Will the dog be kept inside or outside?
• If outside, under what conditions?
• Will the dog be left alone during the day? If so how long?
• Why would you like to adopt this dog?
• Why would you like to adopt a rescue dog?
• Have you ever had to surrender or otherwise give up a pet?
• Will you attend training classes with your dog?
• Are your current pets spayed or neutered?
• Are your curent pets on heartworm preventative? If so, what kind?
• Are your current pets on flea and tick preventative? If so, what kind?
• Do you understand the history of a rescue dog is often unknown?
• Do you understand that all dogs, rescue or otherwise will require potty training?
• Will you use crate training?
• Are you willing to work through behavior issues with your dog?
• What types of activities will you engage in with your dog?
• If your dog has an accident inside, what will you do?
• If your dog chews something inappropriate, what will you do?
• Why would you be the best owner for this particular rescue dog?
• Is there anything else you would like us to know?


---

Fur Heaven's Sake Email: furheavenssake@yahoo.com


---





[Home] [Information] [Shelters] [Search]