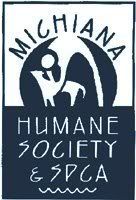 Our Adoptable Pet List
Click to see our events!

Adopting a friend
Here at Michiana Humane Society, every effort is made to match animals with the right people or families. Accordingly, we screen prospective adopters carefully before any animal leaves our care and begins a new life.

Before adopting, you will be required to fill out an adoption application and contract. This contract simply reinforces your pledge to take proper care of the animal, take it to a vet within 14 days of adoption, and spay or neuter it when the proper time comes.

Our adoption fee is $135 for dogs,this includes, current vaccinations (excluding rabies) heartworm testing for dogs over 6 months old, a free sample of Burns Dog Food, $25.00 certificate towards spay or neuter , microchip.

$85 for cats, and includes a $25 certificate towards altering, a free sample of Burns Cat food, current vaccinations, deworming, FIV & Feline Leukemia Test.

We do not do same day adoptions, and we do not ship animals.



Our Wish List
• Bleach • Clay Litter • Laundry Soap • Dog Toys • Cat Toys • Bones & Rawhides • Dawn Dish Soap • Canned Dog & Cat Food • Hand Sanitizer • Kitten Chow • Lotion • Dog & Cat Treats • Puppy & Kitten Formula • New Members



Come Visit Us!
Shelter hours are:

Monday, Wednesday, Thursday & Friday: 11 am to 4:30 pm
Saturday: 11 am to 3 pm
Tuesday & Sunday: Closed






Michiana Humane Society and SPCA
722 Hwy 212
Michigan City, IN 46360
Phone: 219-872-4499
Email: Click here for a list of pets at this shelter