Big Paws Little Paws Rescue
---
Roxanne-Loves Everybody!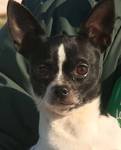 Roxanne is spayed, AVID Microchipped, dewormed, had her Rabies shot, Parvo/Distemper shot, is on heartworm preventative(so she is heartworm negative, and on flea preventative. She anxiously awaits his new family's arrival. Please go to his bio and read about this wonderful dog.
Mailing Address
Big Paws Little Paws Rescue P.O. Box 54, Texico, IL 62889 Open by Appt. Only
News
WE HAVE BLACK DOGS -ADOPT A BLACK DOG!! There are so many black dogs going into shelters that deserve good homes and they are just as sweet and have so much love to share with a family. These dogs get passed by because they are black and not flashy in color. There are too many black dogs in the shelters that DO NOT GET ADOPTED OR RESCUED. Here at Big Paws Little Paws you will find some of the nicest Black dogs just waiting for someone to come and say they want a Black Dog. Please consider a Black Dog and look beyond his or her color and look into their hearts. There is one out there for you. We always rescue a few here and there. Every day there are more and more animals looking for wonderful homes. Many of these dogs are ending up in shelters, being dumped along the roadside, and don't have a chance to share their love with a family that will love and care for them the rest of their lives. These animals have a short amount of time when they go to these shelters due to space. We are trying to help as many as possible before their time is up. If you would like to consider sponsering a dog, as some have, please let us know. We would love to take the opportunity to Thank the families that have helped us in one way or another. Each and every one of these animals, on this website, is just waiting for that perfect family to come along. All of these adorable animals have had a past. Some we may be able to tell you about ( that is if any info is left with the shelter where they were turned in) some we may not. No dog is perfect, just as no human is perfect. These dogs need time and patience to adjust to a new home. You may have to work alittle with one on housebreaking or some other issue. We are looking for the people that are willing to do this, not ones that are going to give up after 5-7 days, or even the ones that expect a dog to adjust in 24 hours.. Remember these dogs have been thru alot and there is more stress on the dog when they leave here and go into a new environment. We will tell you what we know about these dogs and what we have observed of them while they have been with us. Each has their own personality and their likes and dislikes. Some of these animals will need time and patience and if that is not what you have for them then they may not be for you. Some of these animals are shy with strangers, some have been abused in one way or another, and some are just happy to be alive and will adjust right away to their new surroundings. We will help you find that perfect dog and match their personality that will best fit your lifestyle. We are a very very small group of people trying to help where we can. Some of our animals are in local foster homes. We are hoping in the near future to help even more animals that wouldn't otherwise have a chance. We would like to Thank the local citizens that haved stepped forward to help us either by fostering or whatever is needed here. Without some local support we would not be able to save as many dogs as we have. We have wonderful Foster Homes that take wonderful care of the dogs until they find that perfect home. When you adopt from us you help save an animal that was very close to losing it's life. We are their second chance and when you adopt from us we are able to help more animals. So their "Adoption fee" is considered a "Contribution to Saving an Animals Life." The Contribution you make is used right away for other dogs. There are many things we have to buy for these animals, such as medications, shampoos, heartworm preventative and flea preventative which are getting more and more expensive. A few dogs come in Heartworm Positive and those dogs must be treated which is quite an expense for us. We DO NOT take pets from individuals who no longer want the responsibility for them. All these animals have spent their time in shelters where they ran out of time due to space.
Who We Are
We are a very small group of individuals trying to help as many animals as possible. We do not have outside funding so we are limited to the amount of animals we can help at one time. We have tried to prepare each and every one to start their new life by spaying/neutering, microchipping, all shots, heartworm tested, wormed, and on flea preventative. Some are already housebroken. Some may need a little work. Some will need alittle time to adjust. If you think about it this is alot of stress on these animals. But each and every one is well deserving of a warm, safe, and loving forever home. If you are looking for that special dog, most likely we have it in our bunch. Black dogs seem to be passed by. Why? They seem to have the personality that many others don't. If you look beyond the color and look into the eyes you will find some of the most loyal, attentive, and loving dogs. You will see a very special dog that has to try harder to get attention from a human because of their color. They have just as much love as the other colorful dogs, sometimes more because they have to try harder. Please look beyond the color and choose a dog that will love you forever.
Adopting a friend
All of these animals are sweet as can be. For the most part these dogs are mixes. And the mixes are the best. Each and every one has a different personality. They are all so forgiving. They all need to feel secure in their new environment and they will bond very strongly. They need time and lots of love. If you find yourself interested in one of these animals please email us to find out if he/she is still available. An adoption application has to be completed before any adoption can take place. We will email the application when you inquire to whether or not the dog is available. We do require a home visit. So if you do not want one, there is no reason to proceed with the application. The application needs to be completed and returned. We are looking for vet references on current or past animals. Also, we would like to know a little about your family, your lifestyle, and what type of dog you are looking for. Some breeds are more active than others and we will help you find the right dog for your family. We would love for you to meet any of our animals. An appt. will be made once you have completed an application and we have approved it. Adoption fees vary and are determined by the cost of vetting. We look forward to hearing from you! These animals have been through enough. Any animal adopted from us must be returned to us for whatever reason you fill you must let it go. Going into a new home can be a frightening experience for your new adopted dog. Rescued dogs might be overwhelmed by a new home, especially if it includes children, other pets, or alot of noise. Ease your dog into your home with some of these tips. Suggestions for you new adoptee: Keep him or her in a quiet place until he/she becomes comfortable. Give him or her lots of love and attention. Make introductions slowly. Avoid confronting a new dog with many new people, family members, or even pets all at once. Start gradually with a leash and keep introductions gentle and positive. Slowly expand the area he/she can roam. Always supervise interactions and redirect potential problems. Keep the closest eye on kids and other animals. Keep your new addition confined when you have to leave until you are confident she can stay home alone without breaking any rules or destroying things. Your dog's adjustment period my take anywhere from a few days to a few weeks or longer. Until then use patience and consistency to guide your new friend.
Come Visit Us!
We are located close to Mt.Vernon, IL, which is in the Southern part of the state, or approx. one hour and 15 min. from St.Louis,MO. We are about one and a half hours from Evansville,IN. We are two hours north of Paducah,KY and about 45 minutes south of Effingham,IL. We get many inquiries from the Chicago area and we are anywhere from 4-5 hrs. from there. Some weekends we do transport dogs to Joliet, IL. In order for them to be transported to Joliet, which is a four hour drive one way for us, we have to have an approved application in hand. Some animals are in foster homes so making an appt. to meet your next addition to your family is a must. Please contact us by mail @ Big Paws Little Paws Rescue, P.O. Box 54, Texico, IL 62889 or by email, razndaz2@gmail.com or call 618-204-4950(Leave your name and number and leave your number a couple of times since cell phones tend to cut out. If you have not had a return call please call again and leave your number.) and we'll be happy to arrange a visit with the pup/dog you are interested in adopting once we have an completed application! The application is a must. A home visit is required!!
---
Big Paws Little Paws Rescue
P.O.Box 54

Texico, IL 62889
618-204-4950 - We do not accept owner surrenders-All of our animals come from shelters where their time was UP. We do not accept cats or kittens.
Email: razndaz2@gmail.com
Click here for a list of pets at this shelter

---

[Home] [Information] [Shelters] [Search]