PET ADOPTION LEAGUE, INC.
"We can't save them all, but we help the ones we touch."
PAL is a "shelterless" shelter that relies upon the kindness of volunteers to foster companion animals in their own homes in the Southern Suburbs and Northwest Indiana. PAL extended a helping hand to supply all medical care, foster homes when available and placement for all of the adoptable companion animals housed at the Bi-Town Animal Control facility in Dyer/St. John, Indiana from 1998 until December 31, 2006. On December 31, 2006, Bi-Town Animal Control closed it's doors forever. PAL scrambled to place the remaining animals in the last three months of 2006, holding special adoption shows as well as establishing new foster homes. The animals who were not adopted and still residing at the animal control facility were brought into PAL foster homes and are still available for adoption! PAL extends a sincere THANK YOU to all of the wonderful people who stepped forward in PAL's time of need and opened their homes, and hearts, to PAL orphans.
Pet of the Month
Our pet of the month introduces herself...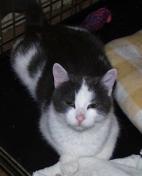 This beautiful girl came to us with a litter of kittens. Her kittens are all grown and gone now and she's waiting for a home of her own. She just loves everyone. How about you, do you want to give her a chance to love you?









Kahler's Story
Hi. I am not up for adoption, but want to tell you my story anyway. I am now in Kitten Heaven. I was found at a grade school in Dyer Indiana and turned over to the local animal control shelter. They in turn let Pet Adoption League foster me at a wonderful home! The lady who fostered me noticed I could not walk right and had x-ray done. I had a broken pelvis that had healed incorrectly. I was in her loving home for one month and then she noticed I had some neurological problems and could not upright my body and walk. She told me I probably had been hit by a car at one time or maybe just been abused by humans! After that month I seemed to go downhill real fast and quit eating good and just could not move. So, this wonderful lady decided it was time for me to go to a nicer and better home. So far the God that is in charge of Kittens is wonderful!! I am so happy to run and play now. I do miss my foster mommy and all those who saved me!!! They know I am looking down on them with all the love I can possibly have!! This was my story and hope we can all learn by this. Please do not let your Kittens or Cats outside!! Only I know what truly can happen to them because it happened to me!! Thank you!!

NEWS
Adoption Show Dates, Fundraisers, Information about PAL, How to Become a Foster Parent, Adoption Policies and Fees follow below. Keep scrolling down for more information!

ADOPTION SHOW DATES
Although you can visit foster homes to see PAL companion animals, other options do exist!

PAL's Petsmart Adopt-a-Pet Shows
Petsmart in Bolingbrook 159 N. Weber Road, at the corners of Weber Rd and Boughton Rd between Meijers and Home Depot.


Join PAL at Petsmart from 10:30 am to 3 pm on these dates:
September 10
September 17
September 24
<!-end of table show dates--!>

ADOPTING A FRIEND

Cats or Kittens -$95 Already Declawed-$115
Dogs or Puppies unless otherwise indicated -$115
Donation includes:
Donation includes:
*spay or neuter
*spay or neuter
*at least first distemper shot
*at least first distemper shot
*rabies shot (5 months or older)
*rabies shot (5 months or older)
*leukemia/AIDS test
*blood anitgen heartworm test
*worming
*worming
*flea treatment as needed
*flea treatment as needed
*collar & ID tag
*collar & ID tag
*microchip
*microchip
*cardboard carrier
*cardboard carrier
DONATIONS

Canned Cat Food (no fish flavors, please)
Tidy Cat litter (scoopable and non-scoopable)
Paper Towels
Bleach
Cleaning Supplies
Old Towels,Rugs,& Blankets
FUNDRAISERS
Please support PAL by buying a magnetic ribbon. These ribbons not only help us care for homeless pets, they show your support! The ribbons are $6.00 each, shipping included, and can be ordered from palanimals@sbcglobal.net. Please include ribbon in the suject of your email.

Once we've confirmed by e-mail that we have the magnets you're looking for, your check made out to Pet Adoption League, Inc, can be sent to
Pet Adoption League, Inc.
1444 Wilderness Dr.
Schererville, IN. 46375

and your magnets will be mailed as soon as we receive your check! Thanks!

* Garage Sale We are currently collecting donations for our 16th Annual Garage Sale to be held July 16th, 17th, and 18th! ANY and EVERYTHING wanted and needed EXCEPT clothing, bikes, and large hard to move items like refrigerators and clothes dryers.

Antiques, collectibles, kitchenware, linens, books, furniture, glassware, toys, radios, TVs, holiday decorations, records, tapes, tools, crafts, pet accessories and all saleable items graciously accepted

If you prefer to shop & are always looking for a bargain, EVEN BETTER!!! Location of PAL'S 16TH ANNUAL MULTI-FAMILY GARAGE SALE IS 984 NO. BUTTERNUT CIRCLE, FRANKFORT, IL. HOURS ARE 8:00 - 3:00 ON THURSDAY & FRIDAY & 8:00 - 1:00 ON SATURDAY. Questions may be directed to palanimals@sbcglobal.net or call 219-322-5776. ALL PROCEEDS benefit homeless animals!!!
PAL has NO paid employees. It is run strictly by volunteers.

E-mail us at palanimals@sbcglobal.net if you are in the area and able to contribute.

WHO WE ARE
PAL is a "shelterless" shelter,established in 1974, that relies upon the kindness of volunteers to foster companion animals in their own homes in the Southern Suburbs and Northwest Indiana.

Foster homes
Provide love, shelter, socialization and food for homeless companion animals in their care. They keep fostered companion animals in their homes until permanent placements can be made. Foster parents transport fostered companion animals to Adopt-a-Pet shows at area Petsmarts, transport foster pets to PAL's veterinarian as necessary for surgery, testing, etc. and screen potential applicants for fosters in their care following established placement guidelines. Most important foster homes are desperately needed!



What makes a shelterless facility so special?
Foster families discover their foster pets individual personalities, including their quirks and short-comings and often observe first-hand (and on a daily basis in a home setting) how pets interact with children, other pets, and even strangers.


Homeless companion animals come to PAL as
Strays rescued by Good Samaritans, owned animals given up by caregivers who can no longer keep them and unplanned, unwanted litters that owners/finders cannot locate homes for


How can YOU adopt a pet?
e-mail PAL at palanimals@sbcglobal.net or palshelter3@earthlink.net

* Note: unfortunately, phone calls may not be returned due to sheer volume and expense to volunteers. Also keep in mind that PAL reserves the right to refuse adoptions; ours' is the only voice the foster animal has, and we must use it to make the best choice for each and every animal

Be prepared to fill out an application and be ready to go through a screening process PRIOR to meeting a fostered animal


Volunteers

WELCOME to all the new volunteers who have joined us in recent months: Welcome aboard, Samantha, Amanda, Kristin, Jenny, Pam, and Sue and Mike.

THANKS to those who help time after time after time... Melissa M., Leigh, Leslie, Sue H., Dawn, Kaytee, Alee, Aaron, Bridget and Dave, Cathy, Jane, Wendy, Michelle, Sara, Melissa, Jeanette, Kourtney, Genny, Marie & Midge.
Come Visit Us!
Pet Adoption League Inc.
PO Box 84
Frankfort IL 60423
Phone: 219-322-5776 and 708-614-8107
Email: palanimals@sbcglobal.net
Click here for a list of pets at this shelter

[Home] [Information] [Shelters] [Search]