Elmwood-Grove Animal Hospital
---
Our Featured Pet...
All of our adoptable pets are the greatest and most loving pets. Visit our website or Shelter listing here on Petfinder to see all of our pets available for adoption.
News
We receive our animals from the local police, they are found wandering the streets trying to find a warm and loving home. Once they are in our care we hold them for 7 days and if not claimed by the original owners we then place them for adoption. We have a small adoption fee which includes spaying or neutering for the pet, microchipping, heartworm testing for dogs and felv/fiv testing for cats, and the first round of vaccines before they leave our clinic.
Who We Are
For more than 35 years, our veterinarians and staff have been providing compassionate and quality health care for your pets. Dr. Lawrence M. Fox founded the Elmwood-Grove Animal Hospital in 1972 as a place of healing, help and kindness for the creatures with whom we share our homes and our lives. Dr. Kathleen Heneghan grew up on the Northwest Side of Chicago and received her bachelor's degree from Loyola University. She first came to us as a University of Wisconsin veterinary student extern in 1993. Upon graduation, she joined us as a full time doctor in July of 1994. Veterinary medicine is her "dream job" and her interests include dermatology, oncology, behavior, ultrasound and surgery. Dr. Ericka Haynes is a native of Milwaukee and also received her DVM degree from the University of Wisconsin at Madison. She is outgoing and exuberant, and you'll love her when you meet her. She shares her life with two kitties and enjoys music, dancing and the culture of Chicago. For more information about our clinic you can visit our site at www.elmwoodvet.com
Adopting a friend
We are a small animal clinic that receives strays off the streets, they are brought in by the local police (Elmwood Park and River Grove Police). There is a small adoption fee which includes all that is listed above. We will hold any pet with a deposit, first come first serve. Any additional questions please call.
Come Visit Us!
---
Elmwood-Grove Animal Hospital
8035 w Grand
River Grove, IL 60171
Phone: 708-456-6700
Visit our site: www.elmwoodvet.com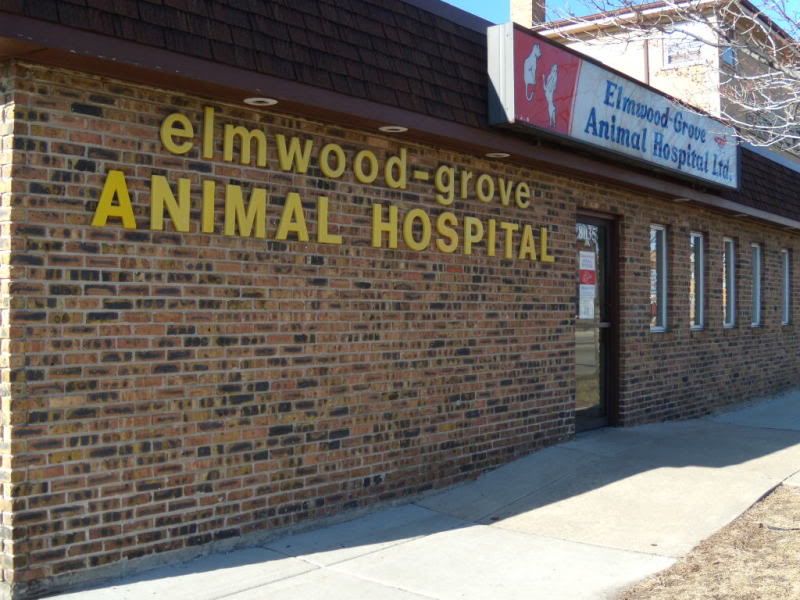 Click here for a list of pets at this shelter
---

[Home] [Information] [Shelters] [Search]