UNDERDOG RESCUE, INC.
Underdog Rescue matches wonderful people with wonderful pets. Our adopters are people who have a special place in their hearts for orphaned, abandoned or neglected dogs and cats. Most of our pets are dogs and cats that overburdened animal control facilities and other shelters don't have space to hold. Our name, Underdog Rescue, grows out of our passion for the "little guys"--the waifs and strays who've had a bit of bad luck but never quit hoping to win someone's heart and a home. All our "underdogs" and "undercats" have a story. Our goal is to give each one a happy ending.
Underdog Rescue does not operate from a shelter but rather from a network of foster homes in Northern Illinois. Underdog Rescue seeks loving and caring homes for our rescued dogs and cats. We are willing to work with many situations to ensure an appropriate placement. For more information on adopting an underdog, contact the foster home listed in the animal's profile. For general questions, call Joan at 847-529-5959.

MEET AN UNDERDOG
The foster home setting allows us to better evaluate the dog's or cat's temperament in order to make the best possible match with their future permanent homes. Foster care also helps the pet to readjust to family life after living in a shelter or being a stray.

When you have chosen an animal that you are interested in, please call or email the foster home contact identified on the pet description page to arrange a meeting. The foster home can provide you with the most up-to-date information on the pet and answer any questions you may have. Before the appointment, you may also print and fill out the Adoption Application Form from the links below and bring it with you.

After you meet with an animal you'd like to adopt, your application is processed by Underdog Rescue's foster specialists. Your references will be contacted, and we may arrange to conduct a home visit. Our goal is find a good match between our adopters and animals. We want you to be happy with the "underdog" or "undercat" you bring home!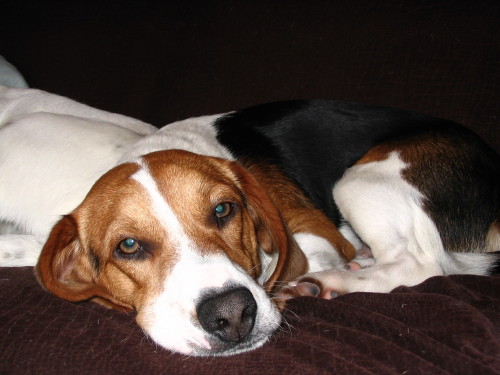 ADOPTION DONATIONS
On average, we suggest the following baseline:

All dogs and puppies $300. All kittens and cats $100. Senior animals going to senior citizens cost half that rescue pets fee. Please be aware that our adoption fees are based on the MINIMUM required to cover basic veterinary and related costs at the special rates our wonderful vets give Underdog Rescue pets.

Every animal we adopt out has had a recent health examination, is micro chipped through Home Again and is up-to-date on essential, age-appropriate vaccines. Our dogs are tested for heartworm, our cats are tested for feline leukemia and all are de-wormed for intestinal parasites. Because animal overpopulation is a major concern of ours, our pets are spayed/neutered prior to adoption. If a medical issue requires postponement of the surgery, we work out an arrangement with our adopters.

Unfortunately, some of our rescued animals require medical care above and beyond the basics. They may need prenatal care or treatment for kennel cough, heartworm, injuries or other illnesses. Your donations above and beyond the baseline adoption fee go a long way toward helping us offset the medical costs for these needy animals.


Help us provide care for sick, injured and needy puppies, kittens, cats and dogs! Please donate!
<
WHO IS UNDERDOG RESCUE?
A not-for-profit (501c3), state-licensed (Illinois Department of Agriculture), all-volunteer organization based in Northern Illinois, Underdog Rescue is founded on the belief that kindness to animals builds a better world for all of us.

Collectively, our members have decades of experience in animal rescue, including disaster relief. (See our Hurricane Katrina photographs below.) We have personally saved the lives of hundreds of dogs and cats through our foster homes. And we are always seeking to learn more. Prior to our launch in spring 2007, our president completed an intensive, week-long rescue workshop at the nation's largest and perhaps most respected animal sanctuary, Best Friends Animal Society in Kanab, Utah. Today, we are making a difference through the care we bring to the adoption process, our reasonable adoption fees, our all-breed focus, our humane education programs and our quality foster network.


Be a Hero. Adopt. Volunteer. Foster. Donate. Or simply voice your support. We thank you!
Photos from the Underdog Rescue scrapbook:

Above, pictures 1-8 show our animal rescue efforts following Hurricane Katrina. Below are UR's president, Joan Boro (center), at Best Friends Animal Society in Kanab, Utah, the largest pet sanctuary in the United States, with Best Friends co-founders, Faith Maloney (left) and Jana de Peyer (right). Click on any picture to enlarge it.

Join Our Adventure
We need more foster homes! Foster families provide temporary care for an animal prior to adoption. Becoming a foster parent is a wonderful and personal way to contribute to saving homeless pets. Wtih so many pets unfortunately being relinquished to Underdog and local animal shelters due to the ecomony, this would be a great way to help save more dogs and cats as a family project. Medical care for all foster pets is paid by Underdog Rescue. Please call Peg at 847-420-9997 for more information.

Our organization also needs and values volunteers for other tasks besides fostering. We have many opportunities to get involved. Please contact Peg at 847-420-9997 for more information.


In light of the economy, the volume of calls Underdog receives to assist families in need has heightened. If you find yourself in need of having to make the tough decision to relinquish your pet, please call Peg at 847-420-9997. Underdog will certainly try to work with you and your situation for your pet.

Contact Info

Underdog Rescue, Inc.
40136 N. Circle Ave.
Antioch, IL 60002
Phone: 847-529-5959

Email Joan Boro @ : Joan@Underdog-Rescue.com
Email Joanne Widseth @ : Joanne@Underdog-Rescue.com