Petable Adoptions
---
Next Adoption Show
---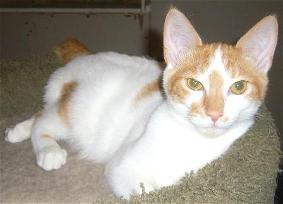 Charlie is such a sweet little boy. He is six months old, loves to play with cats or dogs. Won't someone give him the Forever Home he deserves.
---
Our Featured Pet...
Our Featured Pet changes often, so please visit our website at www.Petable.org to see the cat that is our featured one today!
What Makes Us Unique?
We discover whether our animals work well with other pets or children or whether they would be happier in an only-pet environment with a quieter lifestyle. Prior to adoption you may come and visit the prospective pet. The visit permits you to get to know the animal and see if you bond well together. The end result is that you pick each other with plenty of time to make a thoughtful choice.
Who We Are
We are an all-volunteer, not-for-profit, state-licensed foster home network dedicated to finding loving homes for discarded and homeless animals. All of our activities are funded exclusively by donations and adoption fees.
Where Do Our Cats Come From?
Homeless cats and kittens are referred to us by police departments, veterinarians, and citizens within the northwest suburban communities. We wish to stress that unless you are returning a cat you adopted from us, we generally do not accept "owner give-ups". Our foster home network is kept sufficiently busy dealing with the problem of stray and homeless animals.
Where is our Shelter?
Our corporate headquarters is in Arlington Heights, but there is not a single "shelter". Instead, we use a network of private foster homes, which provide loving care for each animal we rescue.
How to Contact Us
For anyone interested in adopting one of our cuties, please contact us by emailing us at petables1@aol.com . Please reference PETFINDER.
---
Petable Adoptions
Email: Petables1@aol.com
Click here for a list of pets at this shelter

---

[Home] [Information] [Shelters] [Search]