Illinois Shorthair Rescue
---
Our Featured Pet...

FEATURED PET: OAKLEY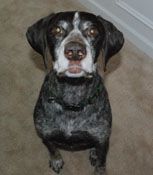 If you are interested in adopting OAKLEY or another one of our dogs, please fill out an application through our website at http://www.ilshorthairrescue.com
Who We Are
Illinois Shorthair Rescue operates as a not-for-profit breed rescue group based in Northern Illinois. The goal of ISR is to help German Shorthaired Pointers in need, to place them into responsible, permanent homes, and to educate the public about the breed. Our dogs come from animal control organizations, humane societies, and owner give-up situations. We are always in need of foster homes as we can only save as many dos as we have homes for.

After entering the program, our GSPs are all spayed or neutered, vaccinated, heartworm tested (and given monthly heartworm preventative), and microchipped (a computer microchip placed in the dog's lower neck for help with identification should the animal ever become lost). While awaiting adoption, our GSPs live in foster homes where we evaluate their temperaments, learn their behavioral quirks, and work on basic manners and obedience.

We endeavor to place each GSP into a home best suited for that individual dog. Some factors we take into account include the dog's reaction to children, other dogs, and cats. We carefully screen all applicants since we want to insure that each adoption is a good match and provides a permanent home for the dog. We maintain contact with our adoptive families and encourage them to contact us in case of any questions or problems.
Since we are a small group, we strongly give preference to both GSPs and adopters in our local area. We will consider qualified applicants in adjoining states but we will not do "long distance" adoptions.
To learn if this breed is right for you, or to find a rescue GSP outside of Illinois, please go to: http://www.gsprescue.org/main2.html
Adopting a friend
Some of our rescues may be able to serve as good hunting companions, some may not, all of them are more than capable of being your best friend & loyal companion. Each individual foster person can give you more detailed information on the dog living with them.
We will not adopt our dogs to homes that plan for their GSP to live outdoors 24/7.
To inquire about adopting one of our GSPs, please contact: ilgsprescue@aol.com
ISR is an all-volunteer rescue group, consisting of a network of private foster homes. Dogs will be shown to approved adopters by appointment only.
---
Illinois Shorthair Rescue
Gurnee, IL 60031
Phone: 847-276-6995

To give up a dog or tell us of a GSP in need, please contact: ilgsprescue@aol.com
Click here for a list of pets at this shelter

---

[Home] [Information] [Shelters] [Search]