Adopt-A-Pet Inc.
Site updated: 12/1/15
View our Adoptable DOGS
---
Our Featured Pets...
Meet Lovey & Thurston!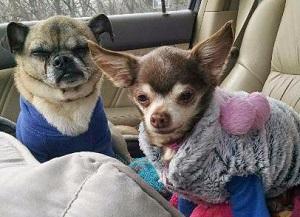 Sit right back and we'll tell you their tale: Lovey and Thurston were found by a jogger at a park called Loverís Leap in Southern Illinois. Not a place two tiny senior dogs would wander off to on their own, so they were most likely left there by some uncaring person. A rescue person put them in a foster home after no one showed up to claim them at the local animal shelter. The foster home reports that they are both super sweet and well mannered. They are friendly, but not necessarily lap dogs demanding a lot of attention, as they are content doing their own thing. They are house-trained if kept on a regular schedule and taken out every few hours.
Lovey is a Chihuahua and Thurston is a Chugg (chihuahua/pug), and they weigh in at less than 15 pounds total! As you can see, their cuteness factor is off the charts!
Just like the Howells on Gilligan's Isle, these two senior citizens now await rescue again where they can live out their golden years in love and comfort. Because they are a senior bonded pair, they have to be adopted together. They are looking for that special someone with room in their heart and home who will give these two their truly forever home, and never leave them stranded again. Thurston appears to be a tad younger than Lovey (estimated to be about 9 and 11 years, respectively). They appear in decent health considering their age, and still looking forward to many good years ahead, with tons of love and gratitude to give.
Their adoption fee of $175 each ($350 total) includes: comprehensive vet exam, heartworm test, DAPP (distemper combo) vaccination, Bordetella vaccination, Rabies vaccination, flea/tick preventative, heartworm preventative, deworming, microchip, dental cleaning for Thurston, and spay/neuter.
Meet Bonnie!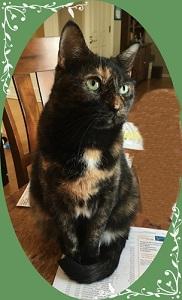 Bonnie comes with her own very special blanket...you don't hear that too often!
When it's time for a rest, Bonnie loves to sit on your lap, especially if her blanket is part of the equation. She has a favorite blanket that she loves to knead and suck on. This magic blanket makes her instantly relax, she starts to purr, and she is in cat-heaven! Her special blanket is hers to keep in her forever home!
Bonnie is a beautiful Tortoiseshell, "Tortie" girl! She has some great markings, especially on her tummy. She loves to explore her foster home and play with her humans. When she is ready for some human loving, she will seek you out for some attention! When petting starts, she starts to purr, it's that easy!
Bonnie likes to play with respectful children (as long as they don't pick her up). She appreciates pets from the kids, and even sleeps with her 8 year old foster human. If anyone has her blanket on their lap, she will settle in :).
Bonnie will need time to transition into your home, as she still has a tendency to get scared with any new situations or loud noises. If she gets startled, once she realizes everything is alright, she will come right back into the room. If you can be patient, because she is so worth it, she's the cat for you.
Although she has been in a foster home with cats and dogs, we think Bonnie would do best in a quiet home as a single cat.
Bonnie's estimated date of birth is 5/1/13. Her adoption fee of $50 includes: vet exam, FeLV/FIV test (neg), distemper combo (FVRCP) vaccine, routine deworming, flea control, microchip and spay.
Upcoming Events: Adoption Events There are no adoption events at this time. Please check back for future events.
New Volunteer Orientations
Please leave us a phone message at 847-550-9690 of send an email to info@adoptapet-il-org to let us know if you will be attending so we make sure to have enough written materials for everone.
Please note: Times, dates and locations are subject to change. The latest information will always be posted on our website.
If you would like an email reminder when Orientations are taking place, please email us and ask to be put on the "Orientation Email List".
Who We Are
ADOPT-A-PET is an all-volunteer not-for-profit humane organization dedicated to saving the lives of lost, abandoned, neglected, abused or otherwise homeless dogs, cats, puppies and kittens in the Chicagoland area.

ADOPT-A-PET provides a safe refuge for each animal until a permanent loving home is found.
ADOPT-A-PET provides all necessary medical care for every animal. All animals are health-checked, vaccinated, treated for any medical problems. All adult animals are spayed/neutered before adoption or a participating vet's certificate is included in the fee for kittens or puppies too young to be altered before adoption.
ADOPT-A-PET makes educational visits to schools and community organizations to promote proper pet care, compassion for animals, spaying and neutering.
Adopting a Friend
ADOPT-A-PET adopts pets to Chicagoland families and adults, not to children, teenagers, or college students living in a dorm. Ideally, all members of the family should be present to meet the pet and the ADOPT-A-PET Volunteer.

Adoption Guidelines
More information about our adoption guidelines may be found at Adoption Guidelines

Adoption Fees
Our adoption fees may be viewed at Adoption Fees

Phone Inquiry
Please call ADOPT-A-PET at (847)550-9690 to talk with one of our volunteers about the animal in which you have an interest.

Email Inquiry
Email inquiries about a specific animal you've seen on our Petfinder page MUST be made by completing our Find A Pet Form


Our animals are shown by appointment only, after an application has been submitted!
ADOPT-A-PET does not own a shelter facility. All of our animals are boarded at cooperating animal hospitals or in volunteer foster homes until they are adopted into their new families. For more information about ADOPT-A-PET, please visit our website at www.adoptapet-il.org

---

Adopt-A-Pet Inc.

PO Box 408
Mt. Prospect, IL 60056
Phone: 847-550-9690

To receive a response, any email to Adopt-A-Pet at info@adoptapet-il.org MUST INCLUDE YOUR PHONE NUMBER.
For information about a specific animal, please contact us using our direct Find A Pet Form

Click here for a list of pets at this shelter
---

[Home] [Information] [Shelters] [Search]




test@petfinder.com