Heartland Greyhound Adoption
---
Our Featured Pet...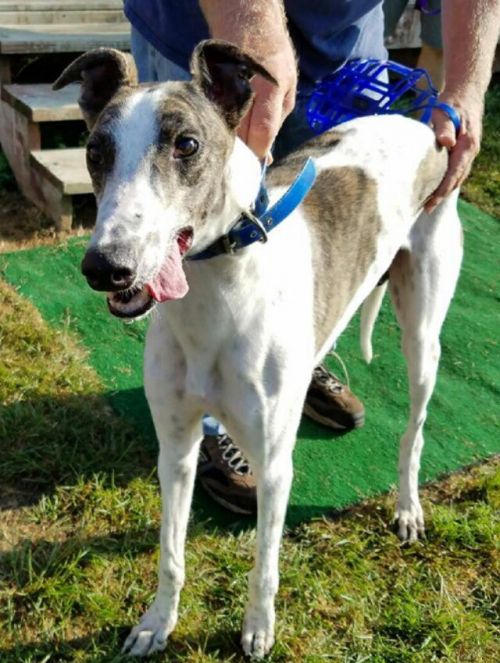 Say hello to Gamer!
News
Meet the hounds at Wines of Iowa in Valley Junction (West Des Moines) the second Monday of every month from 6:00 - 8:00 p.m. Additional meet & greets will be announced on HGA's Facebook page and website calendar.
Who We Are
Heartland Greyhound Adoption is a volunteer non-profit 501(c)(3) organization, formed and operating in central Iowa to promote the adoption of retired racing greyhounds. The mission of Heartland Greyhound Adoption is: to educate the public about greyhounds through outreach projects; to encourage and nurture the adoption of greyhounds; to accept and screen applications for greyhound adoption; to establish foster homes for greyhounds prior to adoption; to aid and support the efforts of other greyhound friends and adoption groups; to establish and promote cooperation and understanding with local humane societies and other animal-interest groups.
Adopting a friend
A greyhound's life at the track is dramatically different from that of a household pet. Racers lead highly regimented lives focused on athletic training and performance. The books Adopting the Racing Greyhound by Cynthia Branigan, and Retired Racing Greyhounds for Dummies by Lee Livingood are very good sources of information about helping your greyhound adapt to pet life. Beginning July 1, 2014, the adoption fee for greyhounds through HGA is $275 (the fee for senior dogs age 7 and older is $200). This fee pays for medical costs including spay/neuter surgery, shots, parasite treatments, and teeth cleaning. HGA also microchips every greyhound prior to adoption as a permanent form of ID. The additional cost for this service is $17.99 ($10.99 if you register at the time of adoption through the Petfinder website or phone number) which covers the chip, activation, and membership and is a substantial savings over the usual cost for microchipping. Each dog also comes with a special sighthound collar and leash set and muzzle. There is a $25 non-refundable application fee that is applied to an approved adoption.
Come Visit Us!
Heartland Greyhound Adoption
Please visit our website for more information about
greyhounds and our adoption and screening process.


If you are in central Iowa, check our Calendar of Events for the next Meet & Greet and come meet our adoptable hounds!
---
Heartland Greyhound Adoption
PO Box 342
Bondurant, IA 50035
Phone: 515-967-6564

Email: Joreneross@aol.com
Click here for a list of pets available through Heartland Greyhound Adoption

---

[Home] [Information] [Shelters] [Search]