cut
Homeless Hunters Dog Rescue
Come visit my store on CafePress!
Our Featured Pet...
Aubrey was adopted in May of 2005. She waited over a year for her new family but she is now happy and healthy! Aubrey is a German Shorthair Pointer. She was a stray in western Iowa and then spent some time in several foster homes and boarding kennels. Now she is staying with Homeless Hunters in a local kennel. Aubrey seems to be housebroken. She is sad to not have a person of her own to love. She is one of the sweetest ladies ever!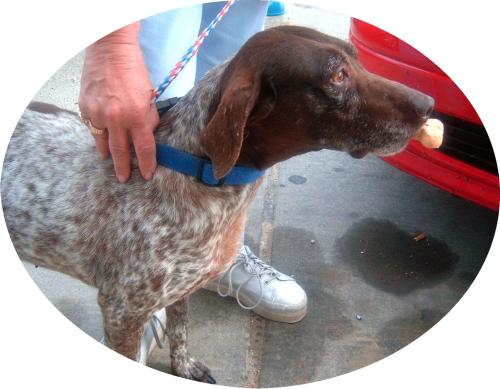 | | |
| --- | --- |
| | We use Patented Kuranda Dog Beds because they are durable, chew proof and easy to clean. If you would like to donate a bed to us, click here. |
News
In August of 2008, Homeless Hunters made the difficult decision to cut down on the number of new animals coming into our program. Due to lack of foster space we decided to concentrate on helping our local shelter place dogs in their care. We still would be happy to help anyone by listing their available, vetted animals on this Petfinder site, but for the foreseeable future we are unable to take new dogs. No dog will be adopted through Homeless Hunters that is not altered.

In August of 2005, a disaster known as Katrina visited the United States South. One of our volunteers was able to spend a few days helping Best Friends Animal Society in Tylertown Mississippi. Best Friends, along with St. Francis Animal Sanctuary, helped many hundreds of displaced animals from the New Orleans area. It will be many months until all these animals are reunited or adopted, so please keep them all in mind and heart.

Allie is a German Wirehair Pointer who waited a long time for the right family. Once she met her new Mom, it was full speed forward. Mom is a triathlon competitor and Allie has become her running partner. A truly happy ending for a sweet girl!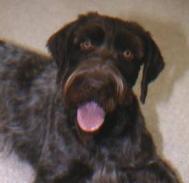 Click here to see our other Dog Happy Tails!
Who We Are
Homeless Hunters is an all volunteer group dedicated to finding homes for hunting breed dogs. Working with animal shelters and other rescue groups in the Midwest, Homeless Hunters Dog Rescue provides an opportunity for these dogs to be seen by interested families. Homeless Hunters also can help with transportation for a dog to a new "forever" home. Some of the dogs listed could be trained to be hunting partners, but many of these fine animals are homeless because they do not perform well in the field. Just because a hunting breed dog doesn't like to hunt doesn't mean the dog won't be a loving and loyal addition to any family. Please consider one of the many Homeless Hunters as a special new member of your family.
Adopting a friend
Many of the dogs on the Homeless Hunters Dog Rescue list are being fostered by other rescue groups or in animal shelters. These dogs are available for adoption from the sponsoring organization and contact information is included on each dog's picture page. Any dog who has Homeless Hunters as the contact information is a dog in our care. These dogs are available for adoption by first filling out a Pre-adoption form.
Come Visit Us!
All of the dogs at Homeless Hunters Dog Rescue are living in private foster homes or animal shelters in the Midwest. Contact the individual group for the location or to set up a visit.
---
Homeless Hunters Dog Rescue
Click here for a list of pets at this shelter
---

[Home] [Information] [Shelters] [Search]